Has Aberdeen chosen the right design for its City Gardens?
Yes, says David McClean, it understands the city's history; while Stuart MacDonald says it obliterates its sense of place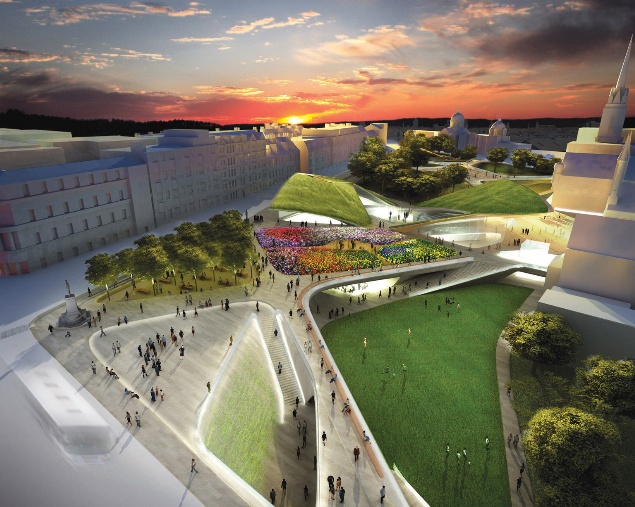 "YES"
David Mcclean
Head of school at the Scott Sutherland School of Architecture & Built Environment
The design was selected following an international competition and the highly unusual step of a public referendum, which voted in favour of proceeding with the winning scheme. Hence the question seems perilously close to challenging the value of architectural competitions at all,
at a time when the quest for design excellence is frequently subordinated in increasingly risk-averse procurement processes.
Architectural history abounds with design controversy, but in Aberdeen questions of design have become hopelessly entangled with politics, stifling any public debate about quality. Yet, after years of twists and turns, there has emerged a design vision of integrity that is contemporary, transformative, and which offers an amenity that communicates civic pride through public space and cultural infrastructure.
The selected proposal by Diller Scofidio & Renfro creates a dynamic new parkland that draws people into its heart through connecting pathways and bridges. The landscape is varied, from lawn to meadow to woodland to city square. Tucked into its folds, and utilising the topography of the site, is a cultural centre and outdoor performance space which complement existing facilities to enrich urban life.
While retaining the memory of the valley, the design cleverly interprets the three-dimensional nature of the city's historic development.
It is a design that understands Aberdeen's history and observes its architectural qualities, yet which is absolutely of our time.
"NO"
Stuart MacDonald
Emeritus professor, Gray's School of Art, and former director of The Lighthouse
The Granite Web is wrong for Aberdeen. I preferred the Hoskins/Snøhetta proposal.
Union Terrace Gardens is an amazing public space, the accidental result of Victorian engineering forming a curving bowl and making a quite unique topography.
It's got everything: dramatic dips and slopes; flanking historic buildings; a listed viaduct offering a dreamy architectural panorama; a park with an authentic geography. Despite this, Diller Scofidio & Renfro's Web obliterates the very thing that makes the park unique — its sense of place. Laughably, it compounds insult to injury by adding some fake hills.
This hybrid piazza and mini-Central Park is a McGuggenheim, whose credo is that iconic architecture can transform a city's fortunes. This is architectural hyper-inflation and possibly fatal. One Guggenheim might cause shock waves but the followers have to raise the stakes to get the same effect but with diminishing returns.
Another reason is that the gardens are "common" good land and many citizens see the project as a private sector hijack. There is also the city's precarious deficit position. Borrowing heavily to fund the scheme is seen by Audit Scotland as a long-term risk.
For my money, and a fraction of the cost, the best scheme predates the Web. This was Brisac Gonzalez's sensuously crafted arts centre, respectfully integrated into the bowl of the park, with access from street level and, with minimal intervention, opening out into the greenery.
It reflected climatic and economic reality and a different, more civic vision — a life not dominated by the demands of retail and parking.
When the new council votes in August that vision may yet win out.