Celebrating Segal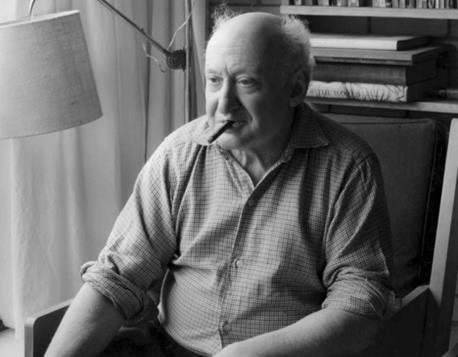 Walter Segal's son John, in conversation with Zoë Blackler, traces his father's life from his Jewish Roumanian roots to life in St Anne's Close and the realisation of his self-build method in London's Lewisham
Early life
My grandfather, Walter's father, came from a Roumanian jewish family. They had a bank in a provincial town and they were a very middle class family and my grandfather wanted to study art but they got him to work in the bank and he hated it. In the 1890s he was arrested in Bucharest in a left wing demonstration and the family said to him, OK we'll let you study art but go away, because he was beginning to become an embarrassment to them.
He went first to Paris and then to Germany ending up in Berlin. He had a Romanian cousin who also moved to Germany and they started corresponding eventually marrying in 1905. My father was born in 1907 and my sister a year later.
And so my father's early life was in Berlin where my grandfather was a painter with a painting school, involved in the beginning of the art movement which reached its height in the 1920s.
In 1914 my grandfather took them all to the Italian part of Switzerland as a refuge from the First World War, to live in Ascona.
Ascona had been a centre for all sorts of intellectuals - Lenin had been there at some time in about 1900 - and there was a commune of nudist vegetarians and all sorts of other people seeking refuge, intellectuals and artists all penniless and with no way of earning a living. It was a great cultural hubbub and my father found it a very significant, formative time.
My grandfather was also involved with a group, largely formed to show their paintings, called the November group and quite a large number of the Bauhaus architects contributed. My Father told me of the time that he met the photographer Andrea Feininger who told my father "not to come to the Bauhaus because you won't learn anything here" and my father didn't as a result of that.
Becoming an architect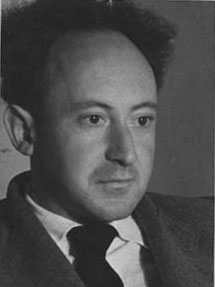 From the age of 14 my father knew he wanted to be an architect: there were childhood drawings of grand schemes and he was always drawing. He really was a modernist and a child of that time.
After finishing his studies in Berlin, my father spent a year in Cairo as an archaeological surveyor with a German school of egyptolology. He started a study of ancient Egyptian chairs, thrones and stools and to photograph, measure and describe them which is what brought him to England. At the end of 1935, after spending the 30s in Germany, he came to the British museum to carry on with his studies.
When he finished studying he built his first house with Bernard Meyer, a timber frame summer house in the garden of Meyer's home in Ascona. This was a very important house in my father's career and a forerunner of work he was to do later. In Britain, he always wanted to build the way he had done in his first house but because of fire regulations, wasn't able to until the 60s.
Coming to Britain
Then in 1933 my father went with his family to Majorca for a couple of years where he did some buildings in a conventional way with local architects but in 1936 the Spanish civil war broke out and my grandparents did not know what to do. Somehow my father knew of a battleship called the Hood which was going around the Balearics taking off British ex-pats and my father somehow managed to get his parents included and so they were evacuated. And that is how the family all ended up here in Britain.
By 1948 he had built his first main building which was a block of flats in south London. He had also married my mother. She had come from a German Jewish family and her mother had been a pupil at my grandfather's school. The two families knew each other but not well. She was also arrested in a communist demonstration in Berlin when she was 12 or 13 and the Gestapo searched her family's house who became very scared and so sent their daughter away. She eventually moved to London and knew about my father and looked him up. So that was their story. They married during the war and I was born in 1948, but my Mother died when I was very young.
St Anne's Close
We moved into St Anne's Close at the bottom of Highgate Hill when I was five. The house was on an estate of eight houses - six semis, two detached - that my father had built behind St Anne's church. It was done as a collective of families who raised their own funds and then brought in a builder. Among them was Monica Pigeon who's still there.
My Father did have some great difficulties with the neighbours. St Anne's Close has changed a bit, it's not as open an area as it was, but basically it's the same layout as he had intended with each house having its own garden as well as a communal area in the centre.
The land for St Anne's was bought communally and the families got their own mortgages and there was a general contractor and each paid their share, with my father designing all of the houses. The families largely accepted my father's designs as he must have been something of a tyrant in those years in the sense that he would have the layout he wanted. It was just me and my father for a while then after my mother's death.
Walter the architect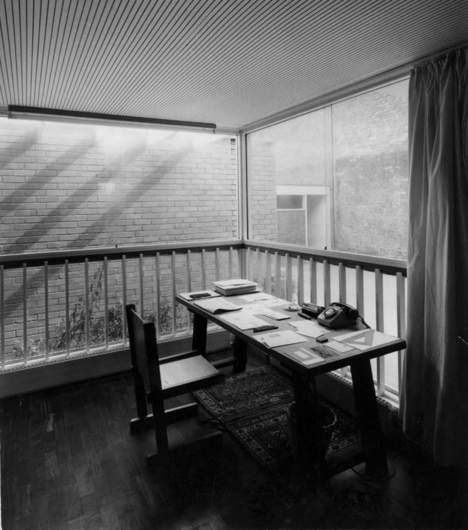 A lot has been written about the way my Father used to make drawings, always by freehand. He did this because he found it much quicker to simply draw than to explain it all to a draftsman. Also my Father was a very erratic worker and he used to respond very well to pressure, where sometimes he would work furiously. This also meant that he found it very hard to work other peoples' hours or 'normal hours'. He relished working on his own or 'ploughing his little architectural furrow', as he would say.
He was happy to be doing relatively smaller jobs which were entirely his own thing. And he really had no-one working for him until the very end when he worked with John Broom on the Lewisham schemes and this was really because he was in his 70s and in very poor health. He died when he was 78 in 1985.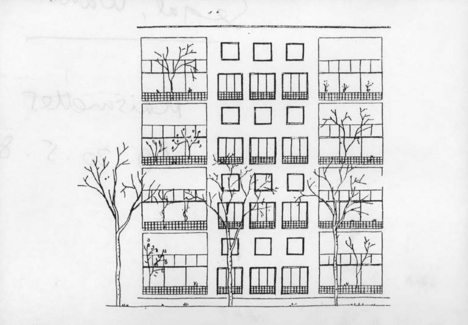 He was a very gregarious man, a talkative person. He would give lectures and talk to students. He would talk for hours; it wasn't a normal lecture. He actually wasn't that fluent a speaker but people found him enthralling because his knowledge was vast and everybody seemed to like him. He would often have crowds of people at these lectures. I think that his knowledge and enthusiasm were what people came to see and he inspired them.
My father's career really grew in the 50s and the 60s, he built a lot. In the post war period he built a lot of modernist but conventionally built buildings, and he had ongoing relationships with builders but by the early 60s he got really fed up with working for these people, who he felt exploited him and he had all kinds of stories about the way he had been treated by them- because they were always difficult payers.
He built a lot of conventional buildings and another estate of buildings in West Heath Gardens for a man called Jack Berry, one of amongst a dozen of the middle class clients that caused my father a lot of problems. They also constantly wanted changes and to do things that my father didn't want to do. I remember as a childe some filthy rows that my father had with clients and builders. He would be on the phone for hours and hours having the most terrible rows.
Remarriage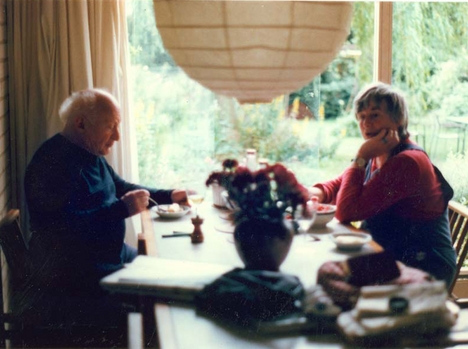 He met my stepmother when I was about 11 or 12 and married her when I was 13. My stepmother had five children from before and her own resources, as my father never really had much money, even from childhood. He lived a simple life, an intellectual life. He had a huge interest in general history and a huge knowledge of art and architecture and the modern way but he was also a very practical man.
My Father married my stepmother in around 1962 and she had her own big Victorian house which she had bought in the late 50s for £5K, just down from High Point on North Hill. At first he tried to extend her property. At the time my stepmother had four children living with her. My father also looked at extending St Anne's Close but the other residents wouldn't allow that. So he moved in to her house but just couldn't abide it because he was a modernist.
Eventually my Father decided that they would pull down the Victorian house and rebuild a smaller one in its place (because that is all they could afford) all from the proceeds of the St Anne's close house. So in effect, they were going from two houses down to just one. Tragic really. In the meantime, they had to live somewhere so that was when my father realised that the best idea for them was to build a house in the garden, so that was one of the first of my father's self-build, small houses. We all lived in the garden house until the new 9 North Hill was built.
The Segal self-build method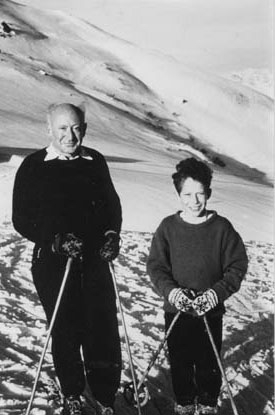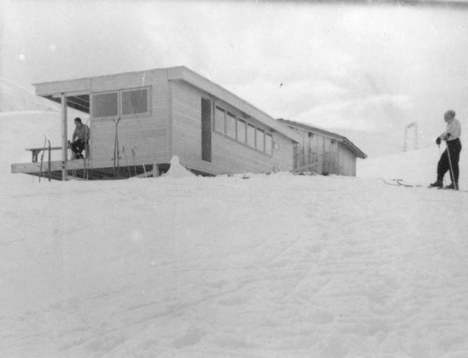 My Father was a keen skier, but did not like to go to the large resorts; he preferred the more remote and less developed. On one of our ski holidays in 1958, my father purchased an area of land for £50 and built a cabin on stilts. The cabin had huge sliding windows and they were brought up by horse and sledge.
A lot of houses followed during the 60s, modernist in appearance but with timber frames, like the cabin and the Garden House.
The Garden House was built as cheaply as possible and one way that he achieved this was to use as much of the material in the sizes that came from the factory to minimise the labour and to make the houses as simple as possible to put together. The main philosophy was one of extreme simplicity - in appearance and in construction.
In the 70s, people from Lewisham came to my father and said that these houses would be very useful for self-build since they don't require skills in plastering and bricklaying.
There were one or two people that did self build before my father, but the difference was that his schemes were built by virtual lay people off of the housing list with regular day jobs. It was largely each family building their own house.
My father tried to specify everything so that it could all be ordered and assembled on site - so that you would have a parts list. His structures could be thought of as a grid and you could arrange your rooms on this grid, like a checkerboard but for various reasons. In other self-build projects that came later, some of the simplicity of my father's original ideas have been lost.