Winners and losers
Architectural rivalries and online errors
Send in the AA team
London's higher education establishments were thick with schadenfreude this week on hearing of London Met's problems with foreign students.
AA past president Alex Lifschutz sent Brett Steele and the AA council an email linking to press stories of the crisis and assuring them: "This shows how well you and the AA team did."
Presumably a reference to its dealings with the Home Office — not office equipment supplier Direct Technology Solutions.
Absent friends
Wolf Prix's press release berating the David Chipperfield-curated Venice Architecture Biennale made the headlines, despite the fact that the Coop-himmelb(l)au founder hadn't actually been to Venice to see it.
Boots hears Prix's animosity has a history: nine months ago he issued a press release to tell the world that Chipperfield's new department store in Vienna was "a piece of shit".
Identity parade
An "exclusive" photograph of all the UK architects involved in the Venice Biennale failed to materialise in last Sunday's Observer as promised.
So what went wrong? Well, it seems the paper was less keen on the picture — for which it sent a photographer all the way to Venice — once it realised that David Chipperfield was missing.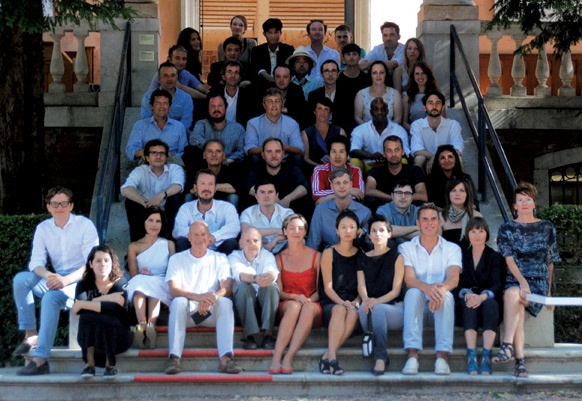 The picture appeared as an "interactive photo" on the paper's website but a technology failure meant that it was impossible to tell who was who. The same picture can be seen correctly captioned on bdonline.co.uk.
Koolhaas and the gang
As the Venetian parties died down, thoughts turned to the next curator of the biennale. Some thought the Italians were long overdue a go, suggesting Mirko Zardini, director of the Canadian Centre for Architecture, as a candidate.
But the favourite is Rem Koolhaas, according to this year's biennale's deputy director Kieran Long — with some even claiming Koolhaas was appointed at the same
time as Chipperfield.
So poor old David was just a filler?
Difficulty with figures?
A press release trumpeting RMJM's new office in New York overlooks the fact its previous landlord issued an eviction notice. Onwards and upwards.
"At 622 Third Avenue we sit in the heart of the largest concen-tration of architectural comp-anies in the world," gushed chief executive Peter Morrison.
One minor point, though. His email signature lists the address as 662 Third Avenue.