Sporting interests
Boots reveals more Olympic marketing ban woes, designer athletes and a Q&A at China Day
Be a good sport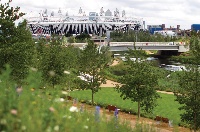 Source: Oliver Wainwright
Boots hears some mutterings from the Team Populous camp.
As an official Olympic sponsor Populous has been allowed to capitalise on its role as the stadium's designer but seems less keen to credit other firms, including Allies and Morrison and Lifschutz Davidson Sandilands, for the joint work they have carried out on the Olympic Park and other venues.
Meanwhile, Angela Brady is still waiting to hear if Populous will support her call to end the marketing ban. Something tells us she won't.
Designer athletes
Architecture and town planning ceased to be Olympic events in 1948, the last time London hosted the Games, but that hasn't stopped three budding architects from competing in 2012.
Team GB's windsurfer Bryony Shaw, who studied architecture at Cardiff and won a bronze medal in Beijing, narrowly missed out on a medal in the Women's RS-X race on Tuesday.
And as BD went to press, the quest for Olympic glory was ongoing for German decathlete Jan Felix Knobel and Australian synchronised swimmer Jenny-Lyn Anderson. If a podium place doesn't materialise, Boots suggests they reinvigorate their architecture careers and aim for the RIBA's Gold Medal instead.
China in your hand
Boots was bemused by one of the questions from the floor on China Day at the UKTI's British Business Embassy. "It strikes me that one of the great skills of architects and designers is to understand the needs of users," the questioner began, promisingly enough.
"You can see how that skill will be applied at individual locations but how do we apply that at a scale like Heart of Doha or Canary Wharf?"
This would be fair enough from, say, a Chinese client, but the questioner was none other than RIBA chief executive Harry Rich, who should surely have a better grasp of what the profession does.
As Zaha Hadid replied, somewhat dismissively: "If you go to a good architect they should really understand these differences."
Source: Morley Von Sternberg
Credit where it's due
Who is this lavishing praise on its architects? "It is inspiring to work with them and we greatly appreciate their talent and creativity."
Step forward RMJM. More gems in the accounts for its London business include this: "Existing clients are subject to regular monitoring to ensure that further credit terms are granted only to customers who demonstrate appropriate payment history." Yeah, right.