Reach for the Skylon
Boots on the rebirth of the Skylon, congratulating David Adjaye and Hadid's word on the Welsh
The skylon's the limit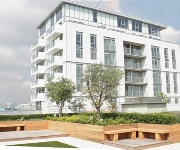 Jack Pringle, Angela Brady and John Assael are among those up in arms over the re-emergence of the Skylon in east London.
This Skylon, the work of Bellway Homes, is "a pretty ordinary building", says Assael.
"The Skylon represents that amazing rebirth of British architecture after the war and it's one of the few words that hasn't been tainted by other people," he fumes. "Bellway should be shown to be the insensitive philistines they are."
Power surge
Congratulations to David Adjaye, who has been hailed as the most influential black person in Britain by the annual PowerList.
Tanzanian-born Adjaye, who splits his time between London and New York, saw off Olympic gold medallist Mo Farah, shadow business secretary Chuka Umunna, and Archbishop of York John Sentamu, who were third, eighth and 10th respectively. Extraordinary.
Welcome in the hillsides?
Boots was interested to read Naomi Campbell's interview with her architect Zaha Hadid in Germany's Interview magazine — in which the latter revealed her love of Mad Men and the discomfort of British Airways' new first-class seats.
But most revealing was what she had to say about the Welsh: "They can't stand women. They have some sort of a brotherhood with limited admission." As they say in the sisterhood, right on.
Lost in translation
Studio Egret West is celebrating its eighth birthday in style, Boots hears, with an event at the Chelsea Arts Club.
However, Boots was puzzled by the French-themed dress code, including "a bowtie, a string of onions, a beret and a French maid's outfit". This was in honour of the 125th anniversary of Le Corbusier's birth. Except that Le Corbusier was Swiss.