Party time
The Architect of the Year Awards dominates this week's Boots
Keep them in creases…
At Tuesday night's Architect of the Year Awards ceremony William Mann of Witherford Watson Mann came on stage to collect two awards — and nearly picked up a third for scruffiest person in the room.
Compere Fred MacAulay quipped that thanks to digital imaging, the jacketless Mann would appear properly attired. Mann put on his jacket for the second award but no technology could have rescued his footwear — dirty trainers — or crumpled shirt.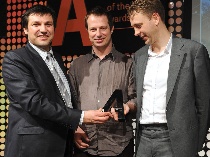 …or play it smart
Alison Brooks, by contrast, was dressed up to the nines in a beautiful draped black silk number. In the words of a fellow guest, she looked a million dollars.
So when she won her third prize of the night — the dot-to-dot competition for identifying famous buildings and their architects — MacAulay quipped that the £500 Selfridges voucher she won would get her about one-third of a frock.
Just freewheeling
At the start of the evening, Phil Coffey explained to Boots that he was going to have to be on his best behaviour as he had a 6am training session for the forth-coming Cycle to Cannes.
However, after taking both the Young Architect of the Year and Small Practice awards, a change of plan seemed to be in order. He was last heard of tweeting from the top of the Heron Tower at 2.30am.
Disco inferno
AYA juror Julian Harrap proudly told Boots how he saved the timber-trussed roof of The Brewery's main hall, where AYA was held, from destruction when he worked on the building's conversion in 1973.
Sadly, he was less convinced by the decor of the reception and "disco room", whose pillars were covered in glitter. "It was just obscene," he said, sadly.
Winning ways
Congratulations to David Morley Architects, which won a stay in the Hopkins-designed Long House, kindly donated by Living Architecture as a prize in the raffle held in support of Maggie's Centres.
Other winners collected OMA's model of its Maggie's in Glasgow, while Peter Murray was the happy recipient of dinner at China Tang at The Dorchester.