Misquoting the mark
Happy holidays, Christmas reunions and Boris travels in style
Lost in translation
Boots was surprised to receive a press release summarising the LSE's Urban Age Electric City conference last week.
This was the forum where David Cameron announced £50 million of funding for a new institute of innovation round the corner in Shoreditch. In the release Richard Sennett is quoted saying: "The reason this place is innovative is because most of the firms that are here weren't meant to be here."
In fact what the venerable academic really said is: "When the prime minister and mayor announced there will now be a dedicated space for creativity I thought, 'This area is now over'."
No hard feelings
Last Christmas was probably an unhappy one for many of the 70-strong Austin-Smith Lord staff who lost their jobs shortly before the holidays began.
But bitter they are not. Despite the fact that the majority of employees never saw the return of their unpaid wages, the result of an Abu Dhabi client owing the firm millions, they are meeting up next week for a reunion.
"It was such a great place to work and we all got on so well, so we thought we'd all meet up for a Christmas reunion," one ex-employee told Boots. Happy holidays, indeed.
How the other half lives
At the launch of Stuart Lipton's report into the Tottenham riots, London mayor Boris Johnson had an admission. He wasn't due to attend the event at Tottenham Town Hall but decided he must.
The last-minute decision meant he had to eschew public transport and even his beloved bike. "I came in the back of Stuart's limo," he said. Still,
at least it was car-sharing.
Seats of learning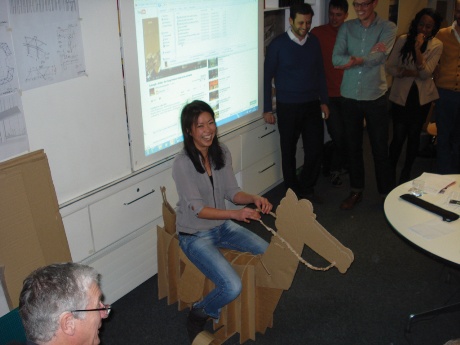 To mark the the completion of a new wing of its London office, Bennetts Associates held a day of events on Friday, including a competition in which staff made chairs out of cardboard for assorted Islington residents.
Among these were a heavily reinforced chair for Boris Johnson and a horse-shaped one for Rolling Stones drummer and racing enthusiast Charlie Watts. But the top prize went to a chair for astronomer Edmond Halley, allowing him to rock back and forth surveying the stars.
Missing in action
It seems one of RMJM's most vocal supporters has left the company. Known to bdonline as Big John T, later Rumpy Pumpy, he regularly took the opportunity to bash BD for writing about RMJM. Perhaps he got fed up of waiting for his wages and legged it, like so many before him.