Lifestyle choices
Richard Rogers' sock drawer, sex in the city and some locally sourced lettuce
The joy of socks
According to last week's New Yorker, Richard Rogers maintains an open-door policy, allowing friends trusted with the code to his front door to crash at his house whenever needed.
When writer Deborah Copaken Kogan found herself caught short earlier this year she headed to the Rogers' house to use the facilities. In a lengthy article she describes the quasi-religious experience that ensued.
Snooping through Rogers' sock drawer, she was so moved by the poetic organisation that she burst into tears and resolved to change her lifestyle through paying renewed attention to matters of domestic storage.
She also took a photograph of the sock drawer and has had it reproduced as a 20in by 30in canvas which has pride of place in her office.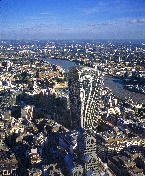 Something in the city
The City of London's new landmarks, including the Walkie-Talkie, will be the subject of a forthcoming BBC Culture Show. But will chief City planner Peter Wynne Rees reveal what he really thinks makes the City so successful — gossip, free sex and shopping?
This was the thrust of a talk at the V&A on Tuesday where Rees was paired with Muf's Liza Fior. While Fior rightly laid into the Walkie-Talkie, Rees took aim at the street outside — describing the makeover of Exhibition Road as "demented".
"It was a wonderful street and now it's a service yard," he opined.
Winter of discontent
The news of John Winter's death reminded Boots of the last time she bumped into him — at a lecture by Denise Scott Brown.
That arch-modernist Winter should spend his evenings listening to the high priestess of post-modernism was more than a little surprising, but Winter explained that Scott Brown, a contemporary at the AA, was his oldest friend.
He wasn't too persuaded by her lecture, however. "Denise keeps talking about how important it is to respect what's on the ground," he fumed. "But what's on the ground is crap!"
Little gems
Journalists on press visits are often sent home with a bag of goodies, usually press releases, a memory stick of images and maybe a branded Biro.
The South Bank Centre does it differently. Hacks on a tour of the redevelopment plans this week were surprised and delighted when the head gardener started pulling up lettuces from the roof of the Queen Elizabeth Hall for distribution. Boots feels Dennis Crompton would approve.