Change is afoot
A critic turns curator, sportsmen become architectural enthusiasts and London Bridge is labelled a 'gallimaufry'
Playing the long game
Is the V&A heading for a turf war with the Design Museum once it moves to Kensington?
Its decision to appoint Evening Standard critic Kieran Long as curator of contemporary architecture, design and digital is a clear indication it wants to up its game, say some — going head to head with the Design Museum's Deyan Sudjic, previously critic of the Observer, who's already pledged to run architecture shows.
Will Long, unlike Sudjic, break the mould of critics turned curators and give exhibitions to people other than his friends?
Second life
In the old days, retired sportsmen used to open pubs. Now architecture is the new Half Moon. Former Arsenal player Freddie Ljungberg recently told the BBC: "For me architecture and design go hand in hand and it is something I have always loved." And Australian rugby league player Darren Lockyer is now a global ambassador for Queensland architects. He outlined his vision to an Australian magazine: "I am not looking to make millions of dollars." Spoken like a true architect.
Meat of the matter
Boots's word of the week is "gallimaufry" — used by one commuter in Monday's Evening Standard to describe Grimshaw's plans for London Bridge station. Bemoaning the decision to move a bus information kiosk, Robert Matthew-Walker described the redevelopment as an "architectural gallimaufry".
Boots discovered it means "a confused jumble or medley of things" or "a hash made from diced or minced meat". We assume he means the former.
Hard to swallow
Boots wonders how the Guardian's review of Allies & Morrison's "staff canteen" went down. Like the River Café, The Table in Southwark blossomed from refectory to restaurant and the paper's critic was lured there by "breathless tweets invok[ing] thrilling comparisons". One violently grilled octopus tentacle and a collapsed panna cotta later, she concluded: "I'm far from wowed.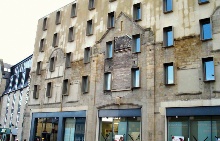 Pierced to the heart
The Victorian Society is not unreasonably up in arms over a recently completed student housing scheme in Lancaster by Union North which utterly subsumes an existing Victorian facade and perforates it with a grid of cookie-cutter windows. Quite how this wanton vandalism of a historic structure squares with Lancaster University's role as home of the Ruskin Research Centre, Boots really can't imagine.