MPs aim to get Britain cycling
Following on from The Times' Cycle Safe campaign, a cross-party inquiry has been launched to seek opinions on how the government can get more people cycling.
Initiated by Conservative, Labour and Liberal Democrat MPs in Westminster on Monday, the campaign "Get Britain Cycling" aims to collect views on how to make cycling safer and easier. The inquiry is also backed by the UK Cycling Alliance (UKCA).
The All Party Group on Cycling (APPCG), Ian Austin MP and Julian Huppert MP will look into a variety of issues that affect cyclists, ranging from road safety and public transport to the urban design of streets and pavements. The findings will be presented to the government in April 2013.
Ian Austin MP said: "We're launching this inquiry to build on the momentum created by The Times' brilliant campaign which has given cycling safety a higher priority than ever before. It's great that all the political parties have expressed support for the campaign, but the time has come for the government to commit to real change in the way Britain's transport system is run to make cycling safer and get more people on their bikes."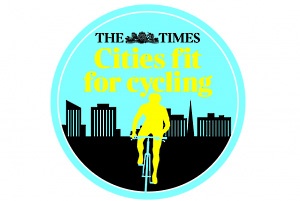 Yesterday, the Times welcomed "the age of the bike" and suggested "the car has passed its peak and may have entered a long era of decline". It envisaged a future in which cars were demoted and streets were given over to pedestrians, cyclists and public transportation. Its Cities Fit for Cycling campaign entered its second phase recently with an online survey circulated to more than 36,000 supporters. The Times concluded that the government should fund improvements using existing taxes, for example, by taking 2% of the existing Highways Agency budget for better infrastructure for cyclists.
Peter Murray, chair of New London Architecture, is urging cyclists to make their views known to the Get Britain Cycling inquiry. He told BD: "The more pressure that can be brought to bear on authorities to reduce the hegemony of the car the better. A cyclised city is a civilised city and streets should be safe, social spaces rather than life-threatening utilitarian corridors."
Next summer, Murray and a team of architects and planners will be cycling 6,500km from Portland Oregon in the USA to Portland Place in London to study what other cities are doing. Murray, who is on the board of New York City's Center for Active Design, which addresses how design can provide better choices for city dwellers, believes we should be looking to New York as an example, "There is a new enthusiasm in large metropolises like New York, Chicago and Philadelphia to deliver better cycle facilities fast. New York has done things in four years that took Copenhagen forty years."