Cycling Cuba
A few years ago I cycled across Cuba with George Ferguson to raise money for the Architects Benevolent Society. It was a couple of years after George had been RIBA President and he was very active in supporting the charity that helps those members of the profession who have fallen on hard times. I hadn't planned to go on the ride but in his usual charming, no nonsense way, the new Mayor of Bristol signed me up.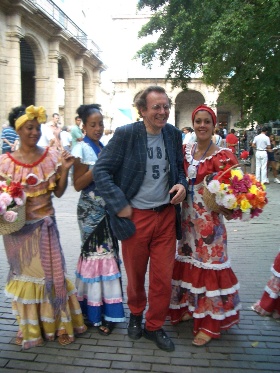 Source: Peter Murray
I suggested that in return he should turn up for the promotional photoshoot in red lycra cycling shorts. In equally characteristic fashion he agreed without demur.
We were riding together for almost a week and three things about George remain with me. First, he is great company, jolly and in party mood even after a hard day on the road. Second, he was very competitive and courageous. He didn't like being overtaken at all and in spite of having a slightly gammy leg he pushed himself mercilessly as we climbed high into the Sierra de Trinidad.
But most importantly in the light of his new appointment, I realised he was a wise analyst of cities. He knew a lot about Havana, had a wealth of good connections there and was able to discuss the very complex issues facing the deteriorating metropolis with intelligence.
Speaking to him recently, he agreed enthusiastically to ride from Bristol to London with the P2P group if he won the Mayoral election. I look forward to riding around George's city - which has such a rich history of connections with the New World - and then cycling with him up to London so he can have a chat with Boris about creating better cities.
I have to admit the hair on the back of my neck rose when George proclaimed the Athenian Oath: "I shall not leave our city any less, but greater, and more beautiful than I found it." Architects often use this classical quote, but few are in a position to deliver such a promise as fully and effectively as Mayor Ferguson. I wish him well.