Architects invited to chase the sun next summer
As December approaches and the nights close in, a keen group of cyclists will be thinking ahead to next year's summer solstice.
Organisers issue an open invitation for new riders to participate in next year's "Chase the Sun", a ride held annually since 2008 to celebrate the longest day of the year.
Previous years have involved cyclists from a number of architectural practices, including Wilkinson Eyre, Patel Taylor, Bennetts Associates, Design Engine, Nicholas Hare and MOR Architecture.
The aim is simple: to cycle across the UK though the daylight hours of the summer solstice, from sunrise to sunset, chasing the sun from east to west.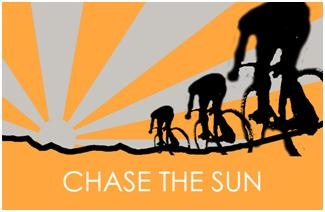 In 2013 the ride will be held on Saturday, June 22, starting at 4.30am with the first rays of morning sun over Kent's Isle of Grain, with the scheduled finish some 17 hours and 200 miles later at sunset on Brean Sands, Somerset.
The route is a carefully planned cross-section of the UK's geography and history, from coastal industry to wetlands, roman roads to the suburbs of London, parks to pastures, villages and vales, climbing hills and descending gorges, following the rivers to once again reach the coast.
Previous participant and ride co-ordinator Olly Moore said: "Despite the physical challenge of completing the distance against the clock, the ride is first and foremost a group event, with a good spirit on the road. Enthusiasm is the key."
"Teamwork is essential, while communication and navigation are critical challenges. Keeping on the route and being aware of and ahead of time is key. Stronger riders can work to take on the elements and shepherd the peloton through."
He stressed the event is simply "a ride". It is free to join, with no competitive or charitable agenda. Organisers have taken inspiration from the early years of the Dunwich Dynamo, as well as renowned artist Richard Long, himself a keen cyclist, and his works on experience of time and landscape.
Contact the organisers now for more information at chasethesun.org
By Oliver Moore
Oliver Moore is an architect and one of the organisers of Chase the Sun