Working Prototypes: 2010 Smart Geometry conference in Barcelona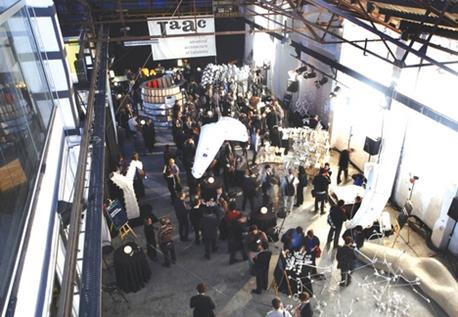 This year's Smart Geometry conference focused on combining parametric software with rapid prototyping
Even in the world of computer- aided design, architecture moves at a measured pace. Having attended my first Smart Geometry conference in San Francisco last year, where I was belatedly introduced to almost a decade's worth of examples of the application of parametric design software, I did wonder what this year's conference in Barcelona could offer.
The Bentley-sponsored conference was preceded by a four-day workshop that allowed users of Generative Components, Bentley's parametric design software, to hone their skills. The workshops were hosted by the Institute of Advanced Architecture of Catalunia (IaaC) in its cavernous 19th century warehouse building in the El Poblenou district.
The conference theme, Working Prototypes, had been em-braced, with participants using parametric software not only to design but also to realise full-size prototypes. IaaC was filled with computer-controlled milling machines, laser cutters, fabric pattern-cutting machines, rapid prototyping printers, a Kuka robot (usually found on car assembly lines) and half a dozen sewing machines.
The workshops demonstrated just how parametric design, rapid prototyping technologies and good old-fashioned teamwork can combine to create incredibly fluid and fast problem solving, where the design process moves seamlessly between hand-drawn sketches, computer design, manufacturing techniques, and component assembly in a constant and complex matrix. After the four days, IaaC was filled with a variety of completed projects which will be exhibited during the summer at the Design Museum in Barcelona.
One project led by Bruce Bell and Ben Doherty to produce tapering branched shuttering using solely plywood based components to hold itself together was particularly successful in exploring the process and producing a potential real-world application.
Dini has built the world's biggest 3D printer, capable of creating a 200cu m building
Exceptional presentations
The conference included two exceptional presentations about the possibilities of rapid prototyping machines: Adrian Bowyer of Bath University has masterminded "RepRap", an open source project to infiltrate the norms of manufacturing with a low cost (less than £300) 3D printer which can not only fabricate a large proportion of its own components (to allow it to replicate itself) but also a whole host of products available as freely downloadable files.
Meanwhile, Enrico Dini of D-shape has an equally ambitious vision of 3D printing. Most rapid prototyping machines are limited by the size of the "printing bed" (often a 600mm cube) and the material they use (usually some form of plastic or metal). Dini has built the world's biggest 3D printer that is capable of fabricating an entire 200cu m building out of a unique mineral and inorganic chemical based cementitous material which resembles the properties of sedimentary stone.
To ground this enthusiasm for rapid manufacturing into the field of parametric design there were two highly contrasting presentations: Darren Davies from Wirth Research explained how 3D modeling, virtual testing and immersive 3D computer simulations were being used to recreate the traditional design, fabrication and real-world testing design process of a Formula 1 car in an entirely virtual environment. Meanwhile, Mark Burry of RMIT built on last year's presentation about using computational design to complete Gaudi's Sagrada Familia in Barcelona, to give a more in-depth account of how computational design sits alongside new technologies and traditional skills.
The conference hinted at these innovations opening up new ways of working, which cut across traditional demarcation of roles in design and construction. Bentley added further fuel to this process by announcing it was releasing Generative Components as a free product, available to download at www.Bentley.com/GetGC. The door has been thrown open to all designers to evaluate if parametric design has a place in their working process.
Postscript:
Hugh Davies is a co-founder of IT consultant Lomas Davies.