The hotel with its own ecosystem
GXN's new project uses bim to test the boundaries of green technology
Danish architect 3XN's research and development unit GXN is developing new processes within the practice's bim workflow to deliver its greenest building yet.
Due to start on site this spring, Green Solution House is a 4,500sq m, £7.4 million conference centre and hotel for Hotel Ryttergården on Bornholm Island in Denmark.
The client wanted a building that could act as a living showcase for the possibilities of green technologies within construction. GXN's approach was to design the building as a self-contained ecosystem. It teamed up with William McDonough to bring to life some of the ideas contained in McDonough's manifesto Cradle to Cradle.
The aim was to create a structure using only biodegradable or fully recyclable materials, with almost as much focus on deconstruction as construction, integrating every available technology to reduce waste — from climate control to rainwater recycling.
The project is being managed by Kasper Jørgensen, head of the GXN unit's eight-strong team.
GXN, which operates as a collaborative sister company to the main practice, working on all 3XN projects as well as 11 of its own research projects, has been experimenting with bim modelling since its inception in 2007. 3XN made the move from 2D into 3D design at around the same time, moving from Autocad into Revit.
'Today we have a major shift in technology and architecture should reflect it'
But Jørgensen says that Green Solution House is going to be the first project that reveals the full potential of the models the practice has been generating.
"What we're trying to do in Green Solution House is let technology inform how architecture can exist as an ecosystem and move towards a regenerative architecture."
Each element of the project will have its own data set — the complicated materials passport demands precise information not just for construction, but for post-occupancy management, monitoring and assessment.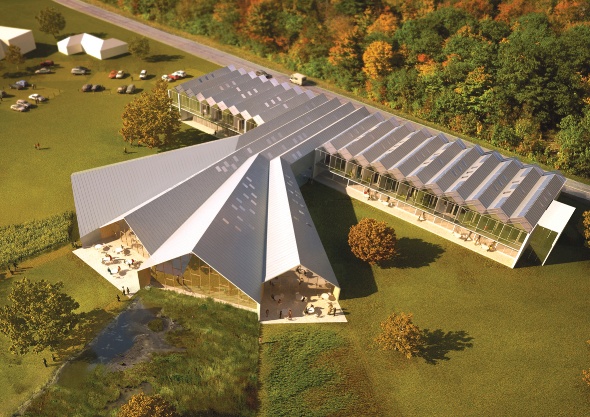 The GXN team's network of willing contacts allows it to experiment with software and materials in a way that would be beyond the budget of most practices. For Green Solution House it has been given access to a whole team of helpers at Autodesk, including Azam Khan, its head of environmental and ergonomics research, who has helped it develop the existing software to cope with the demands of the project.
The building is due for completion in 2013, but will continue to evolve to integrate new solutions to sustainability.
"Architecture should reflect what's possible within the technological framework," says Jørgensen. "In the industrial revolution you saw a huge shift in technology that totally revolutionised architecture. Today we have a major shift in technology and architecture should reflect that."