Learning from Las Vegas: Autodesk University
Autodesk's senior architect Phil Bernstein on bim, Paul Morrel and Cesar Pelli at the software company's annual event in Las Vegas.
By Las Vegas standards Autodesk University isn't a big event.
The following weekend's Cowboy and Rodeo convention is generating far more buzz among the thousands of fare-hungry taxi drivers, croupiers and souvenir hawkers.
But then Vegas has a pretty skewed sense of scale.
By most people's standards Autodesk U is pretty large – over the four-day event more than 7,000 people descend on the Mandalay Bay's thickly carpeted convention centre to catch a glimpse of the latest technological innovations.
Although the company started off as a software vendor for the construction industry, with Autocad and similar products, its remit has changed – it now has entertainment and gaming arms and pours vast amounts of investment into developing products for the manufacturing industry. A screening of a preview clip of the latest film to use Autodesk software, Tron Legacy, is treated as the highlight of the conference, alongside the unveiling of the electric Tesla car.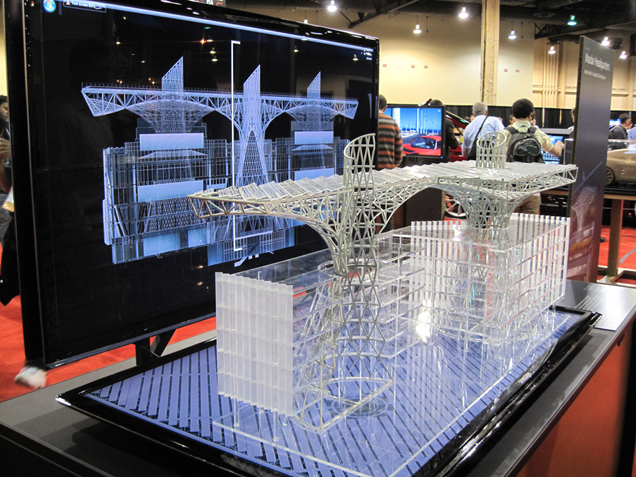 Yet the built environment is still its bread and butter and where it is doing its most interesting work, largely under the umbrella of its research arm Autodesk Labs. And then, of course, there is bim. Building information modelling may be more about process than programs – there are hundreds of other software vendors offering bim-friendly programs – but the term was invented by Autodesk's most senior architect, Phil Bernstein.
In person Bernstein is charming and easy to talk to, a corporate figure and Yale professor who avoids sounding too much like either. The conversation ranges from his wife's awareness of "the cloud" to Geoffrey Moore's chasm theory of technology adoption, via the RIBA fee calculator and price fixing, anecdotes about James Stirling's time at Yale, the bad business of open competitions ("My least favourite part of the European model") and digitally scanning Gaudí's Sagrada Família.
He is obviously excited about the possibilities new technologies offer; frustrated by how slowly practices are embracing change.
An anecdote about working for César Pelli who has an "encyclopedic knowledge of everything he's ever worked on" turns into a conversation about a world where "your library is no longer going to be sample books and flat files of drawings, your library is going to be little digital prototypes of every building you've ever worked on".
And it becomes clear that Autodesk, particularly Bernstein, have had no small part to play in Paul Morrell's attempt to move the UK towards a bim procurement model. "Paul and I talked about this," says Bernstein. "Here's what I don't understand: the UK is the intellectual heartbeat of a lot of the theory from which bim has evolved. The theoretical framework has been in place in the UK for 15 years. Where's the big shift?
"Here in the theory-free zone that is the States, bim just took off because people rapidly correlated the idea of a transformational technology with a process transformation. There was so little theory going on, that in my other job as an academic, my colleague and I wrote a book about it just so that there was something around what all this stuff actually means. In the UK there are these beautifully written white papers. The quality of the discourse is very high."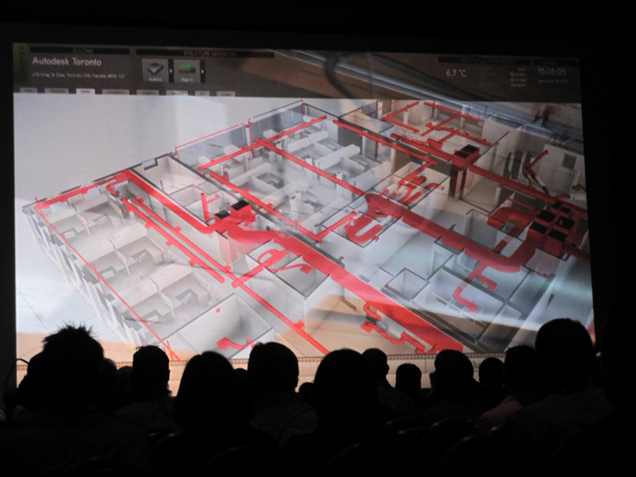 Bernstein is convinced that bim can offer something for everyone, although keenly aware that the low profit margins across the built environment mean no money to experiment and that adoption of new technologies can be "painful".
And it is small practices that suffer the most. "They operate at a scale where there is no economy and no advantage to get involved in these kinds of technologies. What yanks these guys in this direction is when someone like Paul Morrell says OK, the next school project you do has to be delivered in bim."
But moving towards bim doesn't mean abandoning everything we know about design.
"You have to separate the process knowledge from the technological knowledge. What you know about design and how a building goes together and what the end result is supposed to be is not affected by bim. But you have to decouple that from the process of creating and executing a design. That's where the challenges are going to be."
According to Bernstein, some of the most interesting work now is by contractors, not designers. But the next generation of architects will be "less timid, lighter on their feet, technologically enabled designers who define design as a different problem from 'I make cooler shapes than Norman Foster'.
"It's the younger practices that are much more interesting right now, because they're fearless. I'm really in favour of asking hard questions and then not worrying about the answers."
"Design still remains this fundamental activity and the magic of design isn't going to change. But the infrastructure and the tools and the technologies are all going to change. I really believe that." 
Phil Bernstein's words of wisdom
On the ipad and apps:
"It's an interesting technology. We're not making money on [Sketch Book]. We're trying to understand the whole dynamic of mobile devices. We took a piece of technology that we already had and imported it over so it wasn't difficult. We've made a couple of million dollars maybe but, as Carl (Bass, Autodesk CEO) is fond of saying, that doesn't pay the light bills around here. A business that's only doing £3 million a year doesn't survive. But that's not the point. The point is to raise awareness of the company about people using these devices and for us to learn more about how they work, what the implications of them are."
On working in 'the cloud':
"We believe that the work of our clients ultimately has to become hardware independent. I imagine that in the very near future an architect, instead of going out on a job site with a laptop with $11,000 worth of hardware and software, will simply take any device connected to the internet."
On bim:
"The idea of parametric 3d modelling in the AEC market has been around for 40 years. What hasn't been around is the technology or the market conditions and enough vendors interested in it to really push it. It's very, very expensive. Autodesk has spent somewhere around 6 or 7 hundred million dollars on this. it's not something that 3 guys in a garage can work on.
"if you say 3d to an industrial designer she knows exactly what you're talking about. But if you say 3d to an architect you could be referring to Piranesi, Form Z, Autocad, Sketchup — all dumb 3d. We created this term bim because we wanted to talk about the inherent value of the 3d model as a model of the building.
"I would actually argue that BIM is good for young architects, it does not relegate them to another circle of cad monkey hell. It's different.I think it is a fundamental paradigmatic shift in the infrastructure of design that has not been fully explored or understood."
On intelligent design programs:
"We've solved the problem of taking an accurate point cloud and bringing it into Revit and using it like an underlay. Now what we're interested in is can you take a point cloud and recognise architectural elements? Kind of like google, going ok the last twenty times I saw a 3d element that was a cylinder with a base and a top it was a column, so there's an 85% chance that that's a column, let's turn it into a column and see if it's right."
On working with universities:
"I'm extremely wary about software vendors affecting pedagogy, so we are very cautious about that stuff. Where Autodesk are invited to help we do it but we don't try to insert ourselves into anybody's teaching model. It's not our business — we're a software vendor. We're in the middle of a major restructuring of our technology curriculum at Yale and so I'm helping with that, but I was invited to help. We don't go around saying here university of X, here's a whole bim curriculum, because they'd basically tell you to piss off."