How architects can open up to online IT services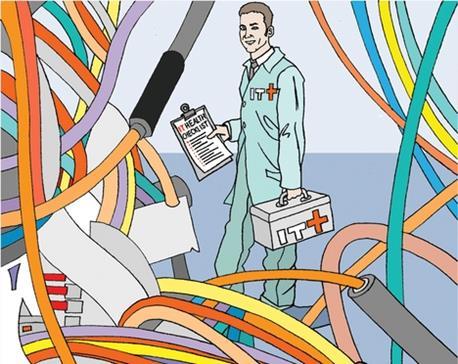 Architectural practices can spend less on IT and still get more from technology — just the ticket in a recession
Like it or not, IT is at the heart of all business operations. Get it right and it becomes a key strategic asset. Get it wrong and your practice will fight against itself to work efficiently and competitively — not something any business can afford in the current economic climate. Most practices are now engaged in cutting margins to hang on to experienced staff and the knowledge they embody. But when managers review IT, it is all too easy to forget that the "I" in "IT" stands for "information". Our view of IT is that it is possible to do more with less, particularly if inventive thinking is brought to bear.
Infrastructure: monitoring and measurement
IT infrastructure is like plumbing. It comprises the network, servers and services that run on them. This is the foundation of IT. As a rule of thumb, no practice should experience more than eight hours of unavailability across all services in any 12-month period. More than that and there is something badly wrong. Less than that and you have probably overinvested in infrastructure. It is essential that a practice knows how well its infrastructure is performing: how else do you know that you are getting your money's worth? This basic information can quickly tell you if your infrastructure needs further investment or simplification.
Data storage: cheap, fast and shippable
Riding on your practice's IT infrastructure is your key IT asset: data. Data is the intellectual property of your business in digital form. It is usually wise to keep data from old projects easily accessible — live — so that tried-and-tested approaches can be reworked into current schemes. However, the quantity of data generated by design offices is typically doubling in volume each year due to the proliferation of 3D cad models, walk-through movies and digital camera image dumps, together with archive data. Few practices seem to be aware that fast new computer disk arrays can provide for 90% of storage needs at less than 30% of the cost of the "enterprise" systems commonly sold. And for little over £100 per terabyte each month, your data can be shipped offsite nightly over the internet for back-up and disaster recovery.
Services: untie from hardware
Another issue is the amount of server kit needed to operate the range of services practices require — from email and directory services, to cad licence and application functions. Strides have been made in recent years to "virtualise" hardware, which allows services to be aggregated onto fewer physical devices. More interesting still is the ability to turn several computers into a single "virtual" machine, helping keep vital services running despite inevitable hardware failures. Virtualisation can make straight savings in kit, power and cash.
Telephony: VoIP saves over 50% on voice calls
Voice-over IP telephony (VoIP) — routing calls over the internet rather than over the telephone network — is a simple means of making immediate and significant cost savings. Stump up for some ISDN server cards, some new handsets and a few how-to manuals and you can run your own VoIP network and reduce your call charges by over 50%. Of the many additional benefits offered by VoIP such as being able to email voicemail to your mobile phone and route mobile and other calls through your office, the excellent conferencing facilities available can cut your travel costs overnight.
Online apps for management
Online web apps, applications running on the internet, allow managers to access key information securely from anywhere at any time. Packages are available for management accounts, practice management and — perhaps most usefully — issue and knowledge management. We recommend seeking out the best-in-class online applications to complement your local IT eco-system. By providing an overview of how your practice is performing, these applications can promote greater efficiency and thereby save you money.
People, not licences
Investing in your IT staff is almost certainly better than paying out licence fees. Your IT staff can save you thousands by implementing an open-source VoIP solution, and they may also be able to make savings in those other areas of your business that are currently licence-bound. This option may involve sacrificing some features of the commercial version, but in exchange you will develop a highly capable in-house resource that can ensure your IT is aligned with the needs of your practice, now and in the future.
Postscript:
Rory Campbell-Lange is director of Campbell-Lange Workshop, http://campbell-lange.net/bd
A blueprint for IT services AT Design Companies, a Campell-Lange Workshop forum for directors and senior staff, is on April 21, 4-6pm, at the Building Design Centre, London WC1