Grip your glass and say hello to networking
Social networks are no substitute for face to face conversation – however nerve-wracking the experience may be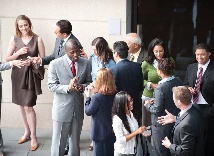 Source: iStock
Mention "networking" to architects and most recoil in horror.
I am not sure why, but many exist on the "shy" side of the personality spectrum and break into a sweat when they think of entering a crowded room, white-knuckled, with the only security being a cheap glass of warm white wine. I share your pain, I've been there.
However, networking is not about being the life and soul of the party, it's about making connections with people and forming professional relationships that may be mutually beneficial.
The reality is that clients do not exist inside your computer — they are living, thinking, feeling beings who will respond to another live human. So networking, in whatever form, is an essential part of practice life. Obviously social media is important. Twitter and LinkedIn are great tools to help you understand more about the people you want to meet. But don't use social media as a crutch — you still need to get out.
Don't underestimate the power of informal one-on-one meetings. The person you are meeting will be focused on you and this is a good opportunity to get to know them and understand the problems they are trying to solve. Don't be scared to reveal what you want: "I am trying to build my practice and would love to do more work in… do you know anyone who may be able to help?" I am a firm believer that most people will try to help you if they like you.
When attending large events, take a friend or ask in advance who else will be going. Meet outside and walk in together — it makes the "entry" much less daunting. If you don't know anyone, get in a queue. It's a natural place to strike up conversation.
Obviously, listen to the speakers in conference sessions but also listen to those who ask questions. Remember what they asked and approach them after the session — showing that you are interested in what another person thinks is an easy way to break the ice.
If the process is too excruciating, keep the engagement brief, get a card and follow up next day.
Be realistic in expectations. It sounds vulgar, but set yourself some targets. For example, "I want to meet at least one new person for coffee once a week." "I want to leave this conference with five really good contacts — I don't need to know everyone."
Also, remember that most people are as nervous as you. The way they are intently looking at their phone is just a cover for the fact that they have no one to talk to. Go up and say hi.
Leanne Tritton is managing director of ING Media