Data Brief: November 23 2012
A good week for the Walkie-Talkie but a bad week for EU business
Leisure sector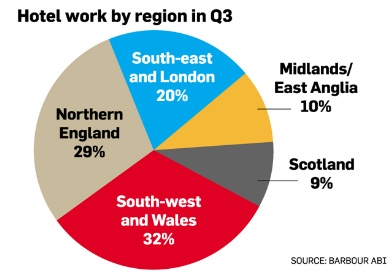 Hotel building dominated the hotel, leisure and sport sector but the total value of work awarded in Q3, £947 million, was down 2% on the previous quarter — a reflection of the end in 2012 Olympics-related projects. For once, the south-east and London isn't the leading region in a sector which is dominated by expanding budget chains.
Number crunching

The amount of low-carbon business opportunities in Brazil, identified by the Carbon Trust in a report published by UK Trade & Investment. The report said work associated with the country's stints as World Cup 2014 and Olympics 2016 hosts was creating "an array of significant low-carbon opportunities".
A good week for: Walkie-Talkie
The team developing Rafael Viñoly's Walkie-Talkie building at 20 Fenchurch Street in the City of London has said nearly a quarter of the space is now pre-let with a further 11% in solicitors' hands. The 38-storey tower for Land Sec and Canary Wharf group is due to be completed in April 2014.
A bad week for: EU business
Aecom slipped £37m into the red for the year to September after a £200m writedown on its European and management support services businesses. CFO Stephen Kadenacy said Europe had been hit by "chal-lenging economic conditions, particularly in the UK". Revenue was up 2% to £5.2 billion.