The #BDTwitter100 - the top 100 Twitter users you can't afford to ignore
Today's most powerful networking tool is quite literally at architects' fingertips
Twitter has been hogging the headlines recently thanks to a number of high profile celebrity injunctions. But the social networking site is about more than just gossip – it's also the perfect forum for collaboration, social marketing, brand building, and connecting with local communities and specialists.
Twitter lists of architects are all well and good, and you can find a very comprehensive one via a simple search for The Architects Twitter League compiled by social media and marketing expert Su Butcher, but just talking to other architects defeats the point of Twitter as a business tool.
Twitter represents the perfect opportunity for architects to broaden their horizons by making new connections and plugging into a vast online community of opinion-formers.
The 175 million-plus users of Twitter include critics, journalists, developers, investors, product manufacturers, sustainability, heritage and bim specialists, and the democratic nature of the site allows individuals to ask direct questions to people they would not otherwise have such easy access to.
Only a tiny fraction of the UK's architects use Twitter. At time of writing, the Architects Twitter League includes 1,480 Twitter users from around the world who describe themselves in their profile as an architect.
BD's preliminary research uncovered fewer than 300 Arb-registered architects or practices with registered members on Twitter – less than 1% of the 33,000-strong UK-registered community, though more members are joining every day. However, the number of users who are connected to architecture in the wider sense is innumerable. So, at the beginning of June, we launched a survey to find 100 useful architectural tweeters for architects to follow.
The BD Twitter 100 doesn't aim to be comprehensive. The organic nature of Twitter makes any attempt to create a definitive list a little pointless, but this is a good jumping-off point for any architect looking to use Twitter as more than just a way of telling the world what you had for breakfast.
We have attempted to list only tweeters who can be genuinely useful to architects. We have used a combination of public nominations from Twitter users using the hashtag #BDTwitter100, nominations from the architectural community, and nominations from BD editors.
All of these nominations are included in a #BDTwitter100 PeerIndex Group, which ranks them using mathematical algorithms covering a number of different categories to create a final judgement on their strengths as authoritative voices online (reflected in a score out of 100).
However, PeerIndex is not a perfect scoring system (see box below), especially when you consider that prolific posters covering a wide range of subjects are bound to score higher than those who only tweet occasionally but are possibly more useful to architects.
So, rather than simply rely on this ranking method, we've also looked at the recent output from all the nominees to ensure that the BD Twitter 100 mainly cover relevant topics in their tweets.
The 100 are not listed in any particular order, so for those craving a more fixed ranking, we are also publishing a PeerIndex snapshot of the top 10 UK architects and the Top 10 UK architecture practices from the #BDTwitter100 PeerIndex group on bdonline.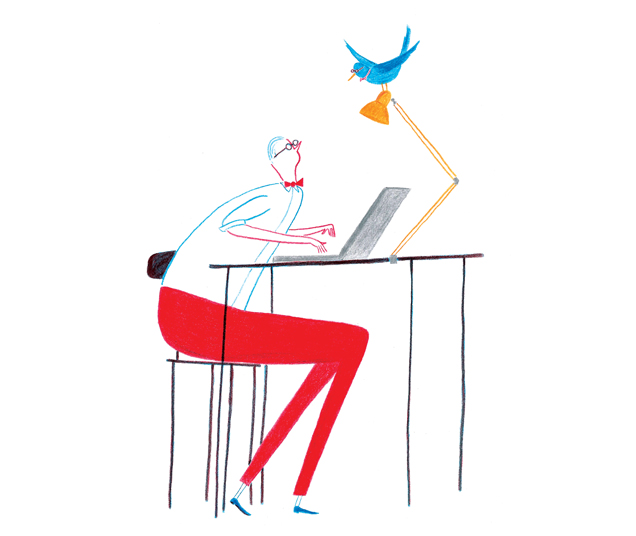 Follow the BD team on Twitter
The #BDTwitter100
@subutcher (@architectleague) Practice manager for Barefoot Gilles, Butcher is a blogger specialising in practice management, and founder of the Architects Twitter League.
@melstarrs The Breeam queen of Twitter and a font of knowledge on regs and sustainability issues.
@hughpearman Editor of the RIBA Journal, the Gabion blog and archi-tecture critic for the Sunday Times.
@fatcharlesh Charles Holland, director of Fat Architecture and author of the Fantastic Journal blog (see also fellow director @anothersam).
@langrabbie Anonymous south London built environment enthusiast.
@nemisisrepublic Prolific tweeter and the Marmite of architectural tweeters according to BD's editors, NemesisRepublic tweets regularly on Heritage and Scottish developments.
@archforhumanity (see also @cameronsinclair) the largest architecture charity on Twitter, with updates on current projects, competitions and on-the-ground reports.
@alaindebotton The philosopher and founder of Living Architecture doesn't engage with other users much but his enigmatic tweets trigger lots of conversation.
@kieranlong Architecture critic for the Evening Standard – often tweets opinions unsuitable for print.
@indy_johar The highest PeerIndex ranked UK architect on Twitter uses the network as a genuine tool for collaboration, rather than promoting his practice which tweets from @infostructure00.
@jeremytill Dean of Westminster's architecture school and occasional critic.
@classical_man Twitter account for the UK's leading traditional architect and Prince Charles fan Robert Adam.
@leannetritton Head of PR firm ING Media and author of the PR's guide to Twitter for architects.
@rowanmoore The Observer's architecture critic occasionally weighs in with a well-timed diatribe.
@edvaizey May well be the only Tory who actually understands what architects do.
@wolfgangfeist Passivhaus movement founder tweets updates on energy efficiency innovation.
@bldgblog Twitter account for the successful Los Angeles-based blog.
@thomholbrook Director of 5th Studio on architecture and politics.
@chrisromerlee Director and co-founder of Studio Octopi was an early Twitter adopter.
@stoneroberts Dominic Roberts, a traditional architect and historic building consultant, regularly posts pictures of beautiful buildings in various states of disrepair.
@hatprojects Usually manned by HAT co-founder Hana Loftus, it covers projects, client relationships and materials among other things.
@owenhatherley Author of A Guide to the New Ruins of Great Britain, BD's Urban Trawl series and the Nasty Brutalist and Short blog.
@willwiles Vocal critic and deputy editor of Icon magazine.
@ruralise Matt Wood, community right-to-build advocate, ex-Conran director, residential design specialist and author of the Ruralise blog.
@vcky_rchrdsn Director of architecture, design and fashion at the British Council and a useful connection for anyone wanting to get involved with the British Pavilion at Venice.
@georgiangroup Updates on campaigns and buildings at risk from the UK's leading Georgian heritage group.
@davidbarrie Urban regeneration and renewal specialist and a great believer in using social media for collaboration.
@theplannerman Ian Butter is the most helpful town planning consultant and chartered surveyor we've found on Twitter thus far.
@riba Updates on RIBA events, white papers and news.
@eamonncanniffe University of Manchester academic, urbanist and author of the Guttae blog.
@knight_david University of Kingston tutor, senior lecturer at UEL and researcher at the RCA.
@tomdyckhoff Architecture critic for The Times and the BBC's Culture Show.
@kevin_mccloud The Grand Designs presenter and founder of Hab Housing is another Marmite entry to the list but has a large audience.
@civic_voice Twitter mouthpiece for the charity that stepped into the shoes of the Civic Trust.
@marcusfairs Critic and founder of design blog Dezeen.
@makeken Ken Shuttleworth is one of a tiny handful of big names with personal accounts who posts regular personal updates and personal responses to other tweeters.
@article25 Updates and information on the latest projects and opportunities to get involved with the UK-based international built environment charity.
@princesfound Built environment charity the Prince's Foundation posts links to relevant news and resources, as well as updates on its own activities.
@timabrahams Design and architecture critic and author of cosmopolitanscum.com.
@notagateway Deepa Naik and Trenton Oldfield are founders of not-for-profit urban ideas and criticism platform This Is Not A Gateway.
@steveparnell Architecture writer and academic at Sheffield University.
@pgsmurray Personal account of Wordsearch's Peter Murray, founder of the London Festival of Architecture and Cycle to Cannes.
@pitmantozer Luke Tozer of Pitman Tozer Architects.
@tombloxhammbe The chair of Urban Splash has taken the celeb route of including his MBE in his handle, but is still worth a follow.
@autopilotgraeme Design academic, author and advocate for the interior educators group.
@studioklaschka Practice run by Robert Klaschka, one of the foremost voices on bim.
@urbanverse Kansas-based futurist and urban designer Cindy Frewen Wuellner, judged the most influential architect on Twitter by PeerIndex.
@entschwindet Douglas Murphy, architecture correspondent for Icon Magazine, but an independent critical voice on Twitter and his own blog youyouidiot.
@nivenarchitects / @jmoreels The practice Twitter account with the highest ranking on PeerIndex and its resident tweeter. @boidus Architecture blogger focused on showcasing work from architecture students and unsurprisingly passionate about issues around education.
@irenabauman / @baumanlyons Director at Bauman Lyons Architects and a good source for localism.
@ecominimalnick One of the best UK voices on Passivhaus on Twitter.
@martynday Design technology writer for AEC Magazine and bim writer for BD.
@rtpiplanners Official account for the Royal Town Planning Institute.
@hyde_architects Welsh practice with a very active Twitter account.
@lma_architects Another small-ish practice doing the right things on Twitter with account run by partner Steve McGhee.
@morrisonbrink Robert Morrison is co-founder of Morrison Brink Stonor.
@pazzaarchitect Pascale Schuerer, co-founder of Surface To Air Architects and a Twitter natural.
@eversion Rob Annable: architect, director of @axisdesign, sharer of highly informative links and a rather good blogger.
@elrondburrell An associate at Architype (see also @architypeuk), Burrell mainly covers sustainability and revit and is a friendly first port of call for a number of architect tweeters in the UK.
@shropsarchitect Founder of small Newport-based practice MBF Design but also launched Ask The Architect (@ask_architect).
@davewlight Revit Specialist for HOK London – good person for software advice.
@ianfordham Associate director of the British Council for School Environments
@gensleroncities Interesting feed from one of the world's biggest practices.
@hoknetwork Another major practice that seems to understand Twitter.
@virtuarch Space Group's James Austin, blogger and font of wisdom on bim (see also @spacelifetweets).
@anders1156 Personal account of Rob Scott from John Lyall Architects covering a wide range of subjects.
@tim_stonor Urban planning specialist and founder of Space Syntax.
@architectmark Mark Stephens, an architect specialising in housing with an eye on sustainability.
@studiojleeds Small practice account run by James Butterworth, who shares a mix of project and personal info.
@heritagehub Managed by Cathie Clarke, the Heritage Hub Twitter feed is a good resource for those looking for heritage skills training and news.
@markasaurus Another early adopter who recently moved from London to California but is still plugged in to the goings on of the UK.
@snowarchitects Practice co-founder Dave Cornett has made this firm a big voice on Twitter.
@mark_elton Passivhaus and sustainability expert and critic.
@sagharchi Chair of the Traditional Architecture Group at the RIBA with some very strong views on sustainability and the quality of modern architecture.
@stesmif Steve Smith: architect at AHMM and concrete specialist.
@geoffrich Studio leader at Feilden Clegg Bradley – will happily share experiences on projects and a good source of info on materials.
@abirarchitects Brighton and Hove-practice account manned by Olli Blair.
@justinpnicholls Partner at Make covering a good range of interests across the built environment.
@angelabradydesi The outspoken president elect of the RIBA.
@huntfeneley Run by practice partner Andy Hunt, it shares information on innovative use of materials.
@bobbartoneng Structural engineer and head of design at Barton Engineers.
@habitables Part I student Nick Varey, founder of the Habitables blog, also runs this Twitter account.
@icecreamarch Young practice with a very open approach to using Twitter to share ideas and make contacts.
@brugestozer Somerset-based practice and specialists in sustainability with a relatively new Twitter account that is a good model for how practice accounts should work.
@pidginperfect Urban think-tank created by a group of young students and graduates based in Glasgow.
@yiangouarch Twitter account for architecture practice based in the Cotswolds specialising in heritage projects, manned by director Neil Quinn.
@ehsimonthurley A direct line to English Heritage's chief executive.
@ChrisMBowes Chris Bowes is founder of Scottish practice McGregor Bowes.
@djdarchitects A good example of a regional practice using Twitter to plug into the wider architectural community and share updates on local developments in Worcester.
@ryanbriggstcn Manager of the Construction Network.
@chrisigloo Chris Brown: chief exec of urban regeneration company Igloo with strong opinions on planning.
@jamesgoodfellow Co-founder of online construction collaboration hub Woobius.
@jbenedictbrown Post-grad researcher in architecture and pedagogy at Queen's University Belfast.
@eepaul PR, marketing and social media specialist Paul Wilkinson focuses on the built environment with a popular blog at pwcom.co.uk
@francinehouben Creative director of Mecanoo regularly tweets updates on the practice's Manchester projects.
@cany_ash Personal account of co-founder of Ash Sakula Architects.
@cast_architect Dublin-based practice.
@archfoundation Occasionally useful information on workshops, competitions and exhibitions from the AF.
@savebrit Regular updates from Save Britain's Heritage, recently focused on their campaign in Liverpool.
The top 10 PeerIndex ranked UK architects
The top 10 PeerIndex ranked UK architecture practices
What is Peer Index And Why not use it to create a definitive 100?
PeerIndex is an online initiative that its creators hope will become the standard measure by which users judge each other's "authority" as new voices emerge to challenge traditional experts.
It can create a PeerIndex ranking for every social media user using a unique algorithm that is supposed to reflect the online "social and reputational capital" of the individual user.
Rather than just look at the size of your audience (ie the number of people following you, "liking" you or connected to you), PeerIndex uses eight benchmark topics to create a footprint to show whether your opinion is valued and trusted by your connections. It also looks at how active you are. Scores are then normalised to a scale of 1 to 100.
However, PeerIndex is still in its beta phase and the final ranking is far from perfect. Its algorithm takes into account all of a user's tweets or posts, whether they're related to a specific subject or not, meaning that users who only occasionally talk about architecture but talk a lot about other subjects can rank higher than those who are more useful professionally.
The diversity of the topics PeerIndex looks for is also unhelpful when looking for authority around a specific subject – an individual's top-five benchmark topics can range from baseball to design. Some users have reported that their benchmark topics bear little relation to the subject of most of their tweets.
It isn't difficult for someone to boost their ranking by repeatedly tweeting or posting around certain subjects without contributing useful content.
Until PeerIndex resolves these issues, it remains potentially confusing, which is why BD has also used subjective human judgment to create its list.