Is the British Council's Venice Takeaway junkfood or haute cuisine?
The premise for this year's British Pavilion is nothing if not ambitious. Ten teams of "explorers" would be sent to 10 corners of the globe to bring back 10 nuggets of architectural wisdom from which the UK could learn to do things better.
"The British Council is not about exporting British talent," says Vicky Richardson, its director of architecture, design and fashion, who curated the show with the AA's head of exhibitions, Vanessa Norwood. "It is about building international networks and understanding on both sides, learning from overseas. We wanted the pavilion to embody these values."
Titled Venice Takeaway, the exhibition follows on from muf's theme of "two-way traffic" in 2010, which transformed the building into a live laboratory for learning from the lagoon. While controlled anarchy was the underlying structure of their Villa Frankenstein, this year's content is neatly ordered into two sections. The first room is set up as a timber-framed "research emporium", where each team is given two plywood panels to display their findings in the manner of a final crit. The loop of galleries that perambulate around the edges then contain varyingly abstract interpretations of what this research might lead to.
The research themes encompass a compelling range of issues, each of which has clear lessons for our own context, from Aberrant Architecture's investigation into the standardised school building programme of 1980s Rio de Janeiro, to Elias Redstone's work on the Argentinean Fideicomiso structure that cuts out the developer middle-man between architects and residents. They all read like promising dissertation topics, and I had high hopes for how their findings might be displayed.
And herein lies the first problem. Despite the diversity and vitality of the individual research work, it has been fatally diluted on the wall by a deadening template of ordered informality – large format holiday snaps of the explorers in their exotic locations, accompanied by occasional talking head videos, related books and other scrap book ephemera, all propped, pinned and tied in a shallow work-in-progress collage.
Appropriate as an introduction, perhaps, with the meat of their findings, and how they can be applied in practice to the UK, to be revealed later?
Disappointingly, no. Instead what follows is a series of semi-conceptual interpretative "pieces" in the adjacent galleries: from dRMM's space-filling mock-up of a floating raft, to Smout Allen and Geoff Manaugh's impenetrable contraptions for an Exploratory Land Archive. No doubt each piece has a fascinating back-story, but unfortunately the gallery attendant is as baffled as I am: "I think it's all explained in the catalogue," she informs me politely.
"We didn't want to be too didactic," says Richardson, the common fear of curators. "These pieces are provocations to go and find out more." It is a brave position, but one that negates the fact that most visitors are subject to around 60 such pavilions, each with as many oblique means of display as the next, without the necessary time or enthusiasm to go and read the accompanying essays. The most successful nations stick to one idea and do it well, with confidence; the Venice Takeaway, by contrast, has enough ideas to sustain ten separate pavilions, but each is depicted in the form of a tentative précis, never reaching the vital conclusions of how this research can be applied.
"We wanted to create a microcosm of the Biennale itself," Richardson explains, and this is precisely the problem.
Despite these frustrations, there are moments of delight that stand out from the melee, from Anna Gibb and Ross Anderson's beautiful drawings inspired by Moscow's paper architects, to Daryl Chen's exquisite 4m-long Chinese scroll drawing of Beijing's Caochangdi. But the best thing is perhaps the easiest to miss – learning from risk and regulation in Lagos, Liam Ross and Tolulope Onabolu have "adapted" bits of the pavilion to comply with British Standards, thickening balustrades and plastering steps and doors with DDA stripes.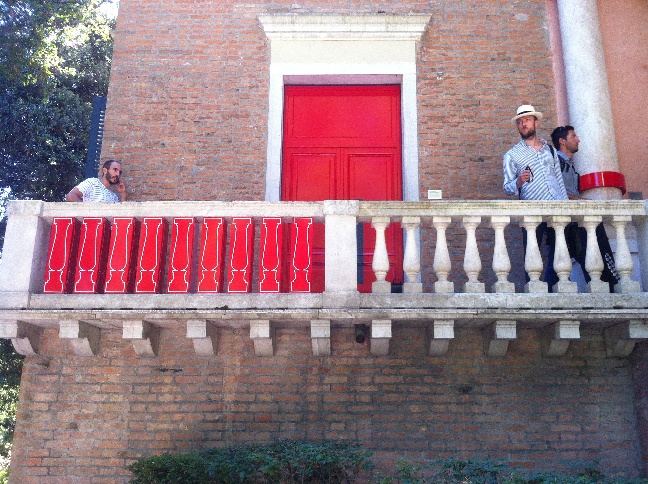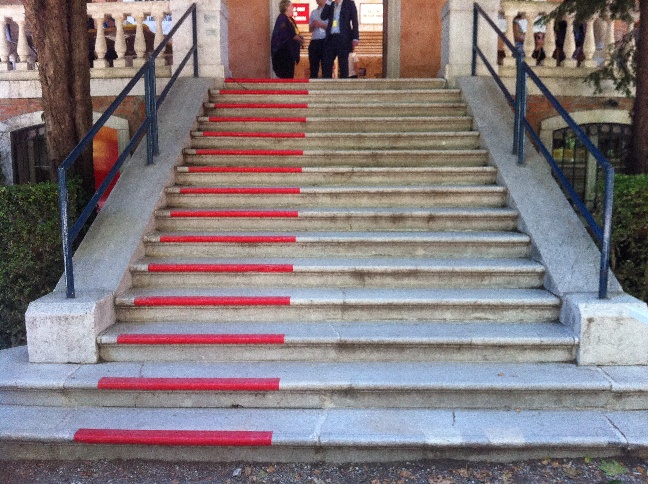 The work will move to London's RIBA gallery in February, with an accompanying series of debates, so let's hope the real use of all this research will make itself clear then.