The Pines Calyx - curvy carbon-neutral conferencing
The Pines Calyx building in Dover, designed by Helionix Designs, is the most sustainable conference and events venue in the UK. With energy consumption figures attached
A collaborative team of Helionix Designs, Cameron Taylor and Conker Conservation has produced a building that outdoes its contemporaries in terms of performance by using age-old techniques and construction methods.
The brief for the project, set out by client St Margaret's Bay Trust, was the creation of a carbon-neutral catalyst for rural and urban sustainable development and for grass roots responses to climate change. In essence its design had to reach the parts that other sustainable projects could not.
Architect Alistair Gould, of Helionix Designs, says: "Sustainability was core to the project at every level but not to detriment of it being a successful cost-effective project and a top quality learning environment."
The result is a curvaceous conferencing venue that achieves savings of 66% in target energy consumption and 67% in target CO2 emissions. These figures are exemplary; but the way they have been achieved is even more fascinating.
"The success of the design comes in the fact that we developed both aspirational designs and fall-back solutions," says Gould. "For instance, the rammed chalk walls could have been normal masonry, and the timbrel vaulted roof constructed of reinforced concrete."
Thanks to the fallback solutions, the design team didn't finalise methods or materials on site until the last possible moment. This philosophy proved its worth when reclaimed Japanese maple, the first choice for the upper roundel floor, became available just one week before the fallback of marmoleum would have had to have been ordered.
The build
Situated on a steeply sloping site, the building is set back into the hillside. The resulting excavations exposed a large amount of high-quality chalk, which was recycled into the walls of the main structure in a technique called rammed earth. This involves adding water to the chalk spoil to bring it to optimum moisture content and packing it into standard ply-faced formwork in 100-150mm layers using pneumatic rammers. The walls, which are a maximum thickness of 650mm, and height of 7m, provide excellent thermal massing properties.
Capping the rammed earth walls are two reinforced concrete beams, the bases for what are believed to be the first examples of Guastavino or timbrel domes in the UK. Using no concrete or formwork, crafts folk built the low domes of the conference centre to techniques patented by Spanish-American architect Rafael Guastavino in 1885. Rings of local clay tiles are glued together with fast setting gypsum plaster to form a self-supporting dome that is constantly in a state of compression. As more layers are added, including in this case a grass roof, the construction simply becomes stronger.
"We were blessed with time between planning consent and commencement of work on site," says Gould. "It enabled us to piece together our options and seek help for specialist methods such as the timbrel roof, for which we worked with MIT.
"The timbrel roof is the most exciting aspect of the project because it is a rediscovered technique that is proven to be sustainable and cost effective, which is now being taken forward and used on project as near as Kent and as far flung as South Africa."
Sustainability was core to the project at every level but not to detriment of it being a successful cost-effective project and a top quality learning environment

Alistair Gould, Helionix Designs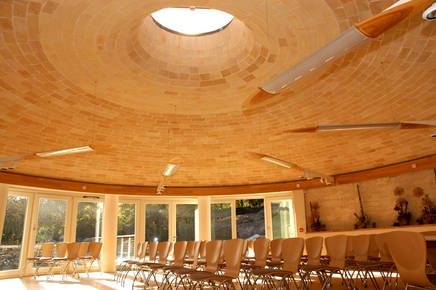 The use of these traditional construction methods for the walls and roof has a stunning effect when compared to conventional concrete construction of the same building type. Total embodied energy is calculated to be 299 MJ/m2, while embodied carbon is 33kg CO2/m2. This is compared to 1393 MJ/m2 and 147 kg CO2/m2 for a similar concrete building shell.
Passive controls
The heating and ventilation of the building is supplied entirely through natural, carbon-neutral sources. Passive climate controls are employed throughout, including a 30m earth tube, which supplies fresh air at a constant 12°C. The energy used to pump the air into the building is a nominal 100W to power two low-velocity fans.
Hot water is supplied via solar thermal panels, while a small woodchip-fed biomass unit produces heat for an under floor system if additional warmth is required. However, given the building's high thermal mass, ultra efficient triple glazing and orientation to maximise solar gain, heating is only necessary if the building has been unoccupied for a long time.
Water management is also an integral part of the design. The water supply comes from a sustainably managed bore-hole with all rainwater run-off feeding back into this supply. Grey and black water is fed through a reed bed filter and the resulting cleaned water is used to feed the Pines Garden.
Finally, further provision for waste material management includes timber felled for the construction project being reused for internal fixtures and furniture at the centre. Chalk excavated but not used in the construction has been distributed around the site for landscaping and delivered to a local farm where it was spread over soil to improve the pH-level and increase fertility.
Carbon neutral plan
The targeted energy consumption for the complete building is 35kWh/m2/yr, with CO2 emissions of 11.3 kg CO2/m2. The aim is for full carbon-neutrality within three years, once a renewable-based locally generated electricity supply has been established as part of a wider scheme within the local community.
"Keeping our options open was the key to the project's success," says Gould. "This is an easy thing to say but in reality it only works with a very flat hierarchy and collaborative approach."
The Pines Calyx is an exemplar: a testimony to the innovative thinking of a design team willing to look beyond the norm when it comes to sustainable design. It is a deserving award winner and, while site specific and not easily replicable, it should serve to encourage creative thinking in the sustainable design arena.
Postscript: