Welsh group targets Passivhaus window market
A consortium of Welsh joinery firms is making a new high-performance timber window.
"We may see south Wales becoming the Vorarlberg of the UK," says Justin Bere of Bere Architects. Vorarlberg in Austria, he explains, has in the past 10 years become a highly concentrated centre for high-quality low-carbon technologies.
Bere's hopes have been fuelled after he and window designer Bill Robertson inspired the formation of a consortium of Welsh joinery companies to make a new high-performance timber window approved by the German Passivhaus Institute.
"We share a vision of wanting to build a highly skilled, low-carbon skills base in Wales," says Bere, who met many of the people who helped set up the consortium through entering a Passivhaus competition in Ebbw Vale, which he describes as a meeting of minds of people who shared his beliefs about sustainable issues.
With technical support from BRE Wales and Woodknowledge Wales and funding from the Wales Forest Business Partnership, the Welsh Passivhaus window is the first such window manufactured in Britain and certified in the UK.
Bere argues that in order for the Welsh Passivhaus window to compete with comparable German and Austrian products it is essential that a window frame laminating plant needs to be established. At the moment window manufacturing in Wales is largely a handcrafted process.
The Passivhaus window was made by Custom Precision Joinery, a Welsh company, and has been installed in the Lime House, a Passivhaus designed by Bere Architects situated in Ebbw Vale. If the Welsh-made Passivhaus window is specified in the future, it won't just be Custom Precision Joinery that will benefit from the commissions as the consortium will draw up a rota so that the different joinery companies can take turns making the window.
Lime House
Location Ebbw Vale, South Wales
Architect Bere Architects
Completion date November 2010
Joinery company Custom Precision Joinery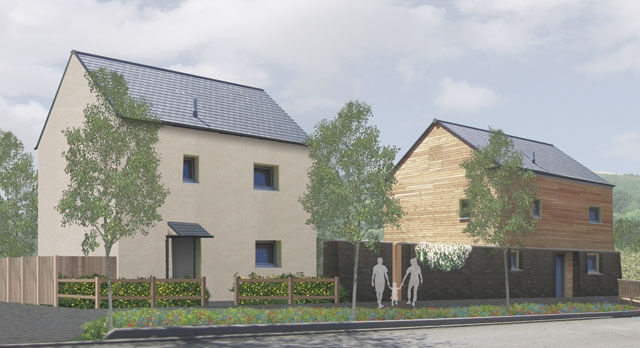 The UK's first Passivhaus-certified window has been made by a Welsh joinery company. In one week, Custom Precision Joinery, a 45-strong business based in Buckley, north Wales, made seven windows and doors for Bere Architects' Lime House in Ebbw Vale.
The joinery firm made the windows using a German-inspired Passivhaus model that was certified by the Passivhaus Institute in July this year and was based on a design by Justin Bere and window designer Bill Robertson.
The two-bedroom Lime House is a low-cost Passivhaus, which is being built on the Future Works site in Ebbw Vale. When complete, it will be occupied and monitored. Its windows and doors use larch sourced from Pembrokeshire that has been thermally modified to make it more durable and stable.
The frame itself comprises five layers: 23mm larch; 24mm insulation; 16mm insulation; 24mm insulation and 23mm larch, all glued together.
The triple-glazed unit is made using warm edge spacers and the build-up from the inside out includes: 4mm low-e glass; 16mm argon gas filled cavity; 4mm low-e glass; 16mm argon gas filled cavity and on the outside, 4mm low-e glass.
Each window pane is sealed using a bead of silicone, and features twin memory foam seals to guarantee long-term airtightness.
The windows incorporate a European style open-in tilt-and-turn mechanism. They are fitted with stainless-steel ironmongery and the timber
is painted.
The windows achieved a U-value of 0.79W/m2K, the German Passivhaus window standard calls for a U-value of below 0.8W/m2K
www.cpjoinery.co.uk
More sustainable projects in Wales
Ty Unnos
Location Ebbw Vale, Blaenau Gwent
Architect Design Research Unit Wales
Completed July 2010
Joinery company Vintage Joinery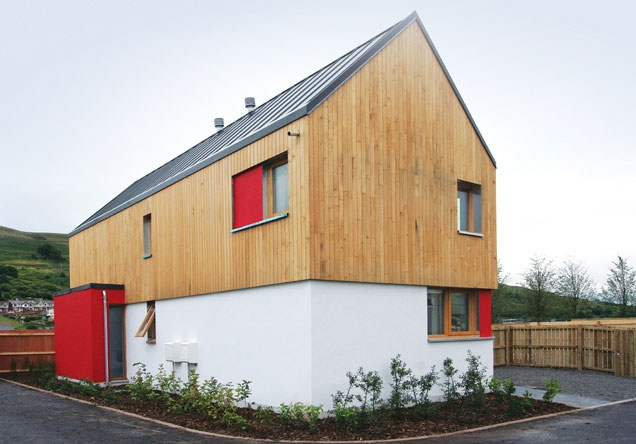 Designed by the Design Research Unit Wales, Ty Unnos was built as a visitor centre for the Eisteddfod festival and forms one of the case studies into sustainable living that can currently be visited on the Future Works site at Ebbw Vale.
To assess airtightness, three air pressure tests were carried out, achieving 0.30m3/(h.m2)@50 Pa – building regulations specify 10m3/(h.m2)@50Pa.
The quality of windows and doors was crucial to this. DRUW chose Vintage Joinery, in Abertillery, south Wales to make the triple-glazed timber-framed windows and doors. Its brief, says co-founder Adam Pegler, was to be "as thermally efficient as possible" while using local timber and being affordable.
Ty Unnos features window frames made using chestnut, from Wentwood Timber Centre in Newport. These windows are the first where the firm has introduced thermal breaks into the frame and sash section to reduce heat transfer.
From the inside out, the window features: 4mm Pilkington Optitherm S4 plus annealed glass; 16mm argon gas filled cavity; 4mm Pilkington Optitherm glass; 15mm argon gas filled cavity and finally, 4mm Pilkington Optifloat clear annealed glass. The glass is fitted with a butyl tape and the void around the glass is filled with silicone. Intello, an adhesive membrane by Pro Clima, creates an airtight seal. The timber is coated with preserver and finished with Fiddes wood oil. The windows achieved a U-value of 0.95W/m2K and cost some £680 per sq m.
www. vintagejoinery.co.uk
Tyddyn Castell
Location Eglwyswrw, north Pembrokeshire
Designer Liam Siggins
Completed August 2010
Joinery company Thomas Joinery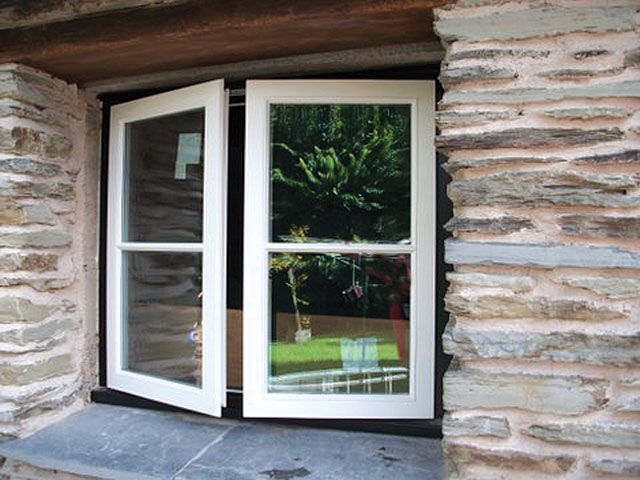 The owner of a traditional Welsh farmhouse commissioned Thomas Joinery to make triple-glazed doors and windows for an adjoining barn.
The six-strong firm, based near Fishguard, Pembrokeshire, has been making bespoke joinery for 22 years. It made its first triple-glazed windows in 2007 to its own design.
The barn had been restored for use in 2007. This year planning permission was granted to convert it into a high-spec holiday cottage.
Thomas Joinery used iroko hardwood from Africa, specified by the designer, for the outward opening stormproof window frames. Iroko was chosen for its durability and the fact that it doesn't need to be treated. John Thomas of Thomas Joinery says he has used locally sourced timber before, but the supply chain needs to improve.
From the inside out, the build-up of the window conversion includes: 4mm low-e glass by Derw Glass, Pembrokeshire; 8mm argon filled gas cavity; 4mm standard clear glass; 8mm argon filled gas cavity and 4mm standard clear glass. A dry glazing system was used to fix the glass into the frame. Stainless-steel friction hinges were used for the ironmongery, together with traditional black handles and stays.
The windows achieved a U-value of 1.51W/m2K, and in softwood would achieve a U-value of 1.4W/m2K. The hardwood windows cost approximately £656 + VAT per sq m unpainted.
www.thomasjoinery.co.uk
Network with fellow architecture professionals at Sustainability Now from the comfort of your own chair! Less than 3 weeks to go – Register now for FREE!