Wahaca Mexican restaurant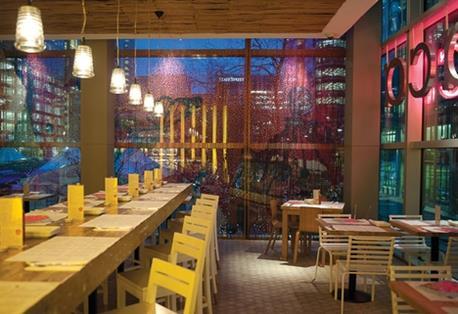 Softroom brings vibrancy and street market chic to three Mexican restaurants
Architect Softroom
Location Canary Wharf, east London
Completed October 2009
Wahaca is a celebration of Mexican market eating. Rather than serve high cuisine in a formal restaurant, Mike Selby and chef Thomasina Miers offer instant snacks and meals that are informal and rough — as well as ethnically and authentically Mexican in ingredients and cooking.
Selby and Miers were keen to spread the raw energy of a street market through their three restaurant interiors in London and, with this in mind, they commissioned Softroom, a free-thinking architect well outside the restaurant chain circuit.
If such an anarchic approach conjures up images of down-at-heel ethnic restaurants tucked down shabby back streets, the owners have gone for the exact opposite. The second restaurant is ensconced in mega-shopping centre Westfield, in Shepherd's Bush, and the third has ventured even deeper into London's high-spending, high-rental firmament. It is in the bonus-rich banking centre of Canary Wharf, at the base of Cesar Pelli's gleaming central tower.
All this corporate precision engineering is forgotten the moment you step through the doors of Wahaca Canary Wharf. Here, the colourful, off-beat vibrancy of an open-air Mexican street market really does take over.
"We wanted something energetic, informal and warm in feel," says Softroom partner Chris Bagot. "And to give the impression of a collection of street stalls, we're happy for there to be a random juxtaposition of different elements."
This seemingly random collection of furniture and fittings from many sources dispels what could have been a cloying effect of wall-to-wall pastiche ethnic Mexicana.
There are six different dining chairs, including creations by Shigeru Ban and Lucian Ercolani, while a Robin Day sofa has been converted into a swing-sofa on the upstairs open-air balcony.
One of the walls has been painted in raw, colourful murals by street artists Nigel Dunkley and Lachlan Thom. Other walls are splashed in sunshine yellow, shocking pink and tingling turquoise in homage to Mexican architect Luis Barragan.
To get the raw, scuffed and natural effect of a Mexican street market, many of the materials are reclaimed or rough sawn. But it wouldn't do to install them in a slapdash manner.
"It was harder to agree degrees of roughness and distress than a normal perfect finish with the contractors," says Bagot.
He points to a ceiling in roughly split chestnut lath. "This had to be taken down and refixed. The first version was so chaotic it drew attention to itself," he says.
Timber Banquette
Near the centre of the restaurant, a chunky island of timber rises above the sea of loose dining tables.
The interior of this island has been hollowed out as a high U-shaped banquette wrapped tightly round a fixed table. And around its perimeter, it is ringed by another banquette, this one at a lower level to serve adjacent dining tables.
As well as adding an architectural feature to the interior, this booth packs in a total of 20 seats in a compact, convivial arrangement.
Its raw, street-market effect comes from its cladding in reclaimed floorboards supplied by Victorian Woodworks. These have been further distressed with a wash of white slaked lime. Where they meet at the corners, the boards have been carefully mitred to conceal the freshly sawn edges that would otherwise have destroyed the antique effect.
Reclaimed floorboards also line a couple of walls and the staircase of folded steel plate leading up to the open-air balcony.
The banquettes are upholstered in soft leather.
In the top surface of the booth, glass discs concealing uplighters are embedded, to add that extra sparkle.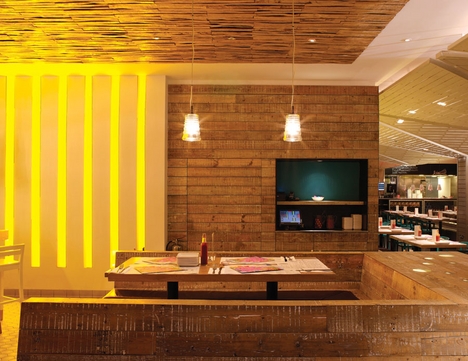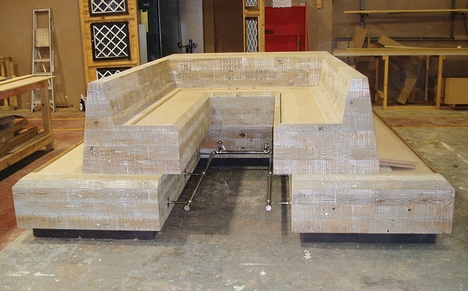 Market stall canopies and precast concrete benches
The most overt references to Mexican market stalls are the slatted timber canopies that stretch over much of the seating area.
The canopies take the form of shallow upturned pyramids rising from the building's structural columns. They are made from softwood boards, left in a rough-sawn state.
The structural ceiling is painted bright yellow and reflects bright artificial light through narrow gaps between the timber slats. The effect is as if sunshine were percolating through to the street market below.
The only elements shared by all three Wahaca restaurants are precast concrete banquettes.
"They're like those high kerbs on Mexican streets, where people just sit down and eat their tacos," says Softroom partner Chris Bagot.
But far from being coarse chunks of street furniture, the two concrete banquettes at Canary Wharf are as comfortably rounded and smoothly polished as a bath-tub.
The leather-upholstered seats are arranged back to back and separated by a low concrete upstand that contains uplighters as in the timber booth.
The concrete has an attractive natural patterning of rounded river pebbles in beige and light grey, set in a dark grey matrix. The aggregate was exposed by honing down the concrete surface by a few millimetres after casting.
In all three restaurants, the entire banquettes, including the plywood supports, were contracted out as a single package to creative concrete specialist Kit Kaboodle.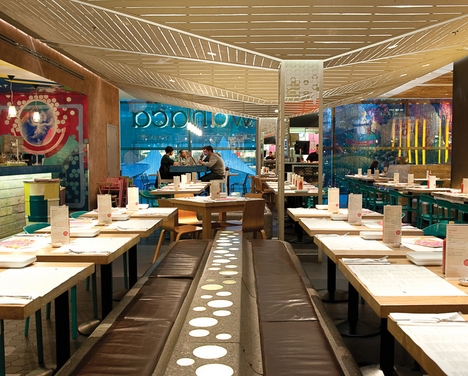 Chain-link curtains
The tricky interface between Wahaca's evocation of a rough Mexican street market and the polished corporate palace of Canary Wharf tower occurs at the clear-glazed window wall around the perimeter.
As the restaurant is on the first floor, the challenge, as Chris Bagot saw it, was to project a suitably alluring image to the street while adding warmth and texture to the cold aluminium-framed curtain wall on the inside.
"But the landlord, Canary Wharf, didn't want us to stick anything on the windows, so instead we hung chain-link curtains of anodised aluminium," says Bagot.
The curtains bear colourful Mexican motifs of dancing skeletons and fish, designed by Buro Creative. The search for a suitable manufacturer led to Spain, where KriskaDecor makes anodised, rather than polyester-powder-coated, aluminium links to add lustre, and sports a standard range of 20 colours. The links were assembled into the patterns specified.
The colourful motifs read more vividly inside the restaurant as, from the street, they are outshone by the glare of the bright internal lights. They have proved less than effective as a modesty screen across the unisex toilets. After neighbours complained, an obscure milky film was added to the glass.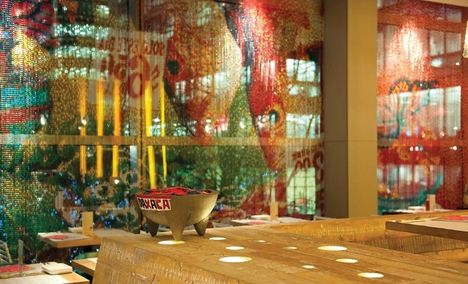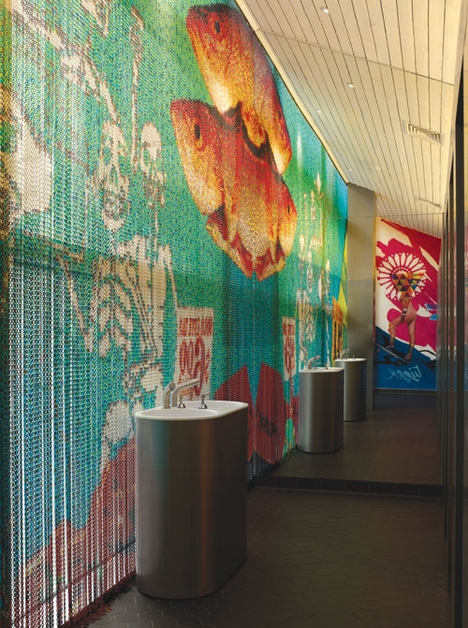 Project team
Architect Softroom
Client Wahaca
Project manager Marchini Curran Associates
Structural engineer Arup
Mechanical engineer TRMS
Contractor DeBoulay Contracts
Joinery contractor Kennedy Clayton
Suppliers
Precast concrete Kit Kaboodle
Reclaimed timber Victorian Woodworks
Chain-link curtains (pictured) KriskaDecor, Spain
Hexagonal floor tiles Argelith
Hexagonal wall tiles Swedecor