Uncorking the secrets of Dennis Sharp's Bayford house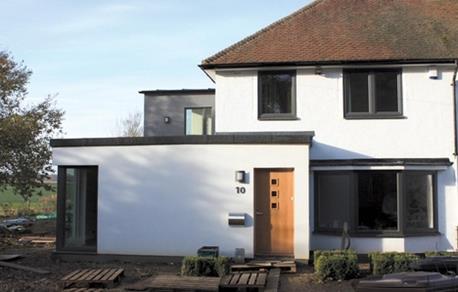 Cork insulation has been used in the Dennis Sharp Architects' extension and refurbishment of this former Hertfordshire council house
Project: Bayford house
Architect: Dennis Sharp Architects
Location: Bayford, Hertfordshire
When building physicists like Robert Lowe argue that the government needs to spend £10 billion per year to upgrade Britain's existing housing stock, the £100 million announced in last month's budget, to improve the insulation of 150,000 homes in the social sector, seems paltry.
"The government needs to recognise that much larger sums — £10 billion per year averaged over the next 40 years — will need to be spent for the whole of the stock to be refurbished to the level needed for 2050," says Lowe, deputy director of UCL Energy Institute.
Lowe welcomes the budget allocation, but says this figure will need to be ramped up steeply over the coming decade. "In overall terms, our current situation is as serious as anything the country has faced, including the first years of the second world war," he says. "A problem of this scale requires a sustained and utterly realistic response."
We may be facing a deeply serious problem here, but at least some building owners are taking the matter in their own hands and quietly "greening" their homes to make them more energy-efficient.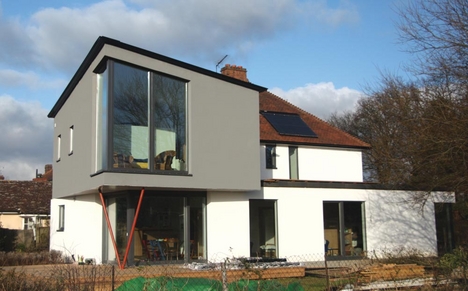 One such project involves a two-storey ex-council property in Bayford, a small village in Hertfordshire, where the owners appointed Dennis Sharp Architects to upgrade their late 1940s house and design an extension using the unusual external insulation material of cork. This does not signify a desire by the clients to regress to the 1970s, but instead, explains Yasmin Shariff partner at Dennis Sharp Architects, "the client wanted an eco building that used natural materials as much as possible, because of this we explored different insulation systems and came across the cork walling system".
The recently completed £250,000 project has enlarged the building from a two-bedroom semi into a four-bedroom one. The design uses a mix of construction methods and materials and incorporates several different insulation products by Kingspan and British Gypsum together with German manufactured triple glazed windows by Fritzglock.
The house's new lower floor is constructed from concrete block and features 180mm-thick external Alumasc cork insulation. While the new upper floor is timber framed — Rockwool's Warmcell is placed between the frame and 140mm of external Alumasc cork insulation. The existing north-facing rooms have been lined internally with thermal board by British Gypsum while an evacuated tube solar panel fixed to the west elevation supplies hot water in the summer months.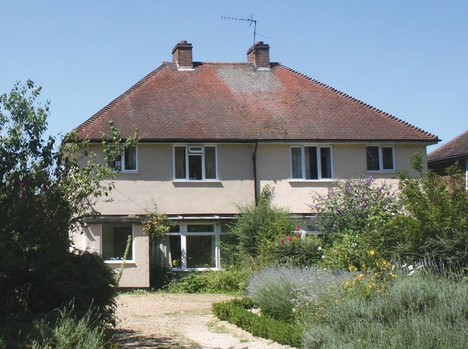 Following the building's refurbishment, the passive energy design of the house was unexpectedly tested when the snowstorms earlier this year cut off the electricity for 24 hours. External temperatures remained below zero while the internal temperature of the house (without heating) stayed at 20°C.
This project is just one example of how a former council property can be transformed into a low carbon modern home. It demonstrates, albeit on a very small scale, that it is possible to upgrade our current housing stock to deliver a low carbon future providing the will, the commitment and the money is there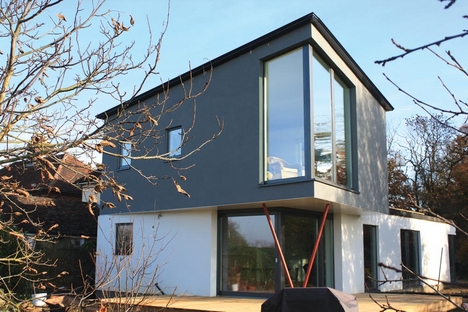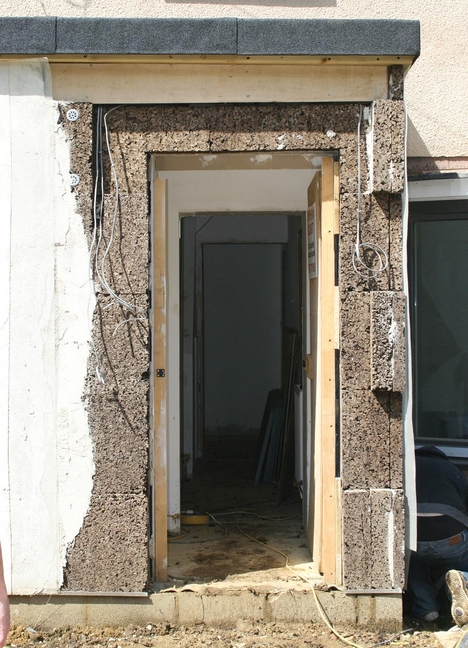 .
Cork External insulation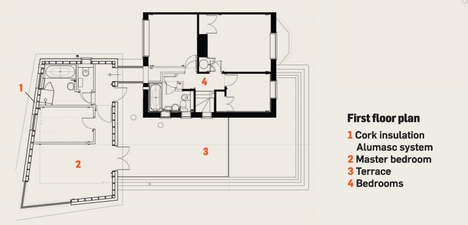 Alumasc's cork insulation — the Swistherm external wall insulation system — is fairly new to the UK market, having only been introduced to Britain about four years ago. On the continent, however, cork wall insulant has been used for more than 50 years.
Cork can maintain an even temperature and has the lowest embodied energy of all commonly used insulation materials. The cork boards don't slump, therefore they maintain their structure and insulating properties over time. They are also self-supporting, mould-resistant and non-toxic. Cork is also a good acoustic and fire insulant because of its density and because it contains natural fire inhibitors making it fire-retardant, while on combustion, it doesn't release any toxic gases. At the Building Research Establishment's external cladding test facility, Alumasc's 100mm-thick external wall cork insulation was fire tested and it performed well.
The 600mm x 1,200mm sized batts produced by Alumasc, can be fixed with adhesive to the outside of a brick structure or solid masonry wall. But at Bayford house, the cork boards were fixed to the structure and a layer of mineral render or silicon render applied.
It was calculated that the 140mm-thick cork insulation used on the first floor timber structure with the warmcell between, would achieve a U-value of 0.2 W/msqK.
The downside of cork insulation is that to achieve low U-values, the insulation needs to be very thick, making it relatively expensive.
According to Alumasc, comparative costs for insulation achieving a U-value comparable to that achieved by a system using 140mm thick Cork are: cork (140mm) £26 per sq m; phenolic foam (80mm) £23 per sq m; mineral wool (140mm) £23 per sq m and expanded polystyrene (140mm) £14 per sq m.
How cork is produced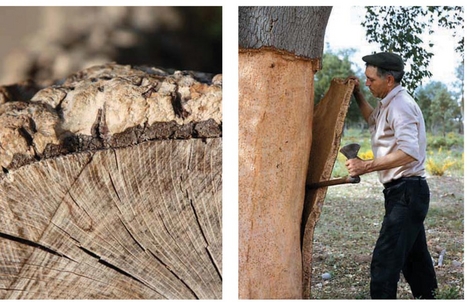 Cork is sliced off the trees every nine years.
A curious fact about Cork oak trees is that if their bark is not stripped, roughly every nine years in a mature tree, they will eventually wither and die. In an extraordinary self-regeneration process, about 25-75mm of bark re-grows to be harvested again nine years later.
Cork has been used as stoppers for bottles since the 1st century AD, and it is only relatively recently that the demand for wine corks has fallen, though high grade cork is still used for quality wines. However because of the material's unique cellular structure it also makes a good building insulant.
Cork oak trees can be found in the Alentejo region of Portugal, the largest proliferation of cork oak trees in the world, and the world's largest producer of cork is the Portuguese company Amorim. To this day, individual farmers still own the cork oak forests and they sell cork to Amorim via the co-operatives that have been established in the region.
In 1983, Alumasc Exterior Building Products decided to purchase 20% of Amorim because it had begun using low grade cork as a flat roofing insulant and considered this would be a good investment.
The production of cork is on the whole, a fairly benign process. No chemicals or additives are used and very low amounts of energy are involved in its manufacture. Production involves stripping the bark from the tree, grading it for quality and then processing it into granules. Any waste is separated at this point and used to fuel the production process. The granulated cork is then placed into an autoclave and steam is injected causing the cork to expand.
The granules bond themselves together using the natural resins (ie sap) in the cork. Once bonded, the block of "black" cork is cooled using recycled water and then left to rest, after which it is trimmed square and cut to the required thickness.
Understanding heat loss and insulation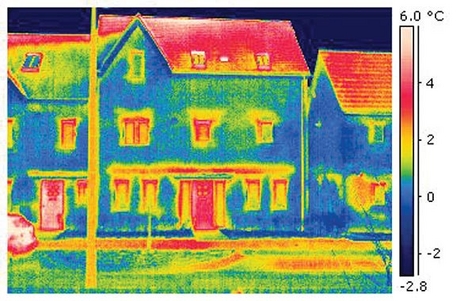 Thermal image of typical semi-detached houses, showing major heat loss is through roofs, doors and windows.
Robert Lowe writes:
The function of thermal insulation is to reduce heat flow. Flimsy, finely divided, low density materials eliminate convection and reduce conduction and radiation.
In the cheaper insulation materials, the spaces within the solid matrix are filled with air. Such insulants have conductivities in the range of 0.03-0.04 W/mK. Replacing the air with heavier gases such as pentane, reduces the thermal conductivity of insulants by around 30%. Evacuating the gas spaces eliminates heat transfer by conduction through the gas, leaving only radiation and conduction through the solid matrix. This further reduces conductivity. Cost effective levels of insulation for buildings in the UK are in the range of 0.1-0.3 W/m2K, equivalent to between 100 and 400mm of material —less for evacuated insulants, which are able to achieve such U-values in thicknesses of the order of 1cm. Performance of all insulation systems depends on continuity and absence of thermal bridging and convective bypassing (see http://tinyurl.com/d38cs7 for an example of the potential impact of convective bypassing).
In its recent Heat and Energy Saving Strategy consultation document, the government signalled its intention to upgrade the performance of the entire UK housing stock. Deployment of about one cubic kilometre of insulation over the next three to four decades will be needed to reduce the heat load of the UK housing stock from around 6 GW/K to 4.5 GW/K, while allowing for a 30% increase in the number of dwellings.
UCL recently took part in a project to insulate a Victorian semi-detached house in Camden to better than the current building regulations requirements for new housing. Measured heat loss was close to predicted and monitoring through 2008 suggests that summer overheating should not be a significant problem.
Robert Lowe is deputy director of UCL Energy Institute.
More information
Architect Dennis Sharp Architects, Engineer Price & Myers, Contractor IMR Builders, Swistherm cork insulation Alumasc , Insulated metal roof Kingspan's TR27 and KS1000 RW, Gyproc phenolic thermal board linings British Gypsum, Warmcell Rockwool, Window sub-contractor Fritzglock