Thin metal cladding is the shape of things to come
Unveiled recently at the Building Centre, John Gould's Formtexx has developed a revolutionary process that will enable double curvature metal panels for facades to be produced at a fraction of the cost
It takes a few minutes for the significance of what innovator John Gould has just told me to really sink in. In an unprecedented move, Gould and two other specialists have developed a unique software program and machine that will produce 3D double curvature metal panels for facades with automotive precision at a fraction of the current cost and time.
"There has been no manufacturing capability available to make double curvature panels apart from very experienced handcrafted pieces," says Gould.
"If an architect wants a metal freeform structure, the main resource is the boatbuilding industry, where a lot of force is used to bend the metal. Due to the severe beating applied to form the metal — a bit like silver-smithing on a very large scale — you can't use a material thinner than 10mm. We've developed a process that uses metal that is only 0.7mm thick, with the knock-on effect of a reduction in the weight of the material."
What Gould and his partners have done is to remove the handcrafted process of forming double curvature panels and transformed it into a much more affordable digital process.

Gould likens the digitally controlled device to a desktop printer only larger: instead of paper, there is sheet metal. Instead of a print head with a USB connection there is a robotic double-curvature forming machine with a USB-connection. The significance of this analogy is that both printer and forming machine are unfazed by the quantity of data spooled to the individual sheet. So in the case of the forming machine, a plain or detailed double curvature panel could be produced every 20 minutes, no matter how complex or different each panel may be.
As the flat piece of metal goes through the machine, heat isn't used to bend it into shape, nor is it cut, hammered, welded or rolled to form a doubly curved panel.
"It's a completely non-destructive method," says Gould. "You could take a pre-polished piece of stainless steel and double curvature it without affecting its shine."
It is an extraordinary achievement. When Gould had his initial spark back in 2004, his first thoughts were: how would he physically do it and was his proposal applicable to the need? Since then, he has been quietly developing his idea from his studio in Camden, north London.
Gould brought together some of the best minds in software technology and press tool manufacturing to make the idea happen and formed the company Formtexx a year ago.
An installation using panels created by Formtexx was unveiled to an invited audience of architects, engineers and facade specialists at the Building Centre last week.
Software expert Gareth Edwards developed the S-Form software that has made it possible for double curvature panels to be produced. Edwards is technical director of Stargate Resources, a computer graphics imaging software company which specialises in real-time technical visualisation and high-end gaming software.
Another key player is Jason Allen, director of manufacturing at Birmingham-based Whiston Industries, the UK's leading press tool manufacturer. Whiston carries out the tooling for car companies such as Aston Martin, Audi, Bentley and Jaguar, and provided the automotive tooling expertise to make the machine.
Gould's role has been to get the brief right and to ensure that what is produced is useful. He also had to raise the capital privately and has convinced his British backers to part with £2.5 million to develop the technology.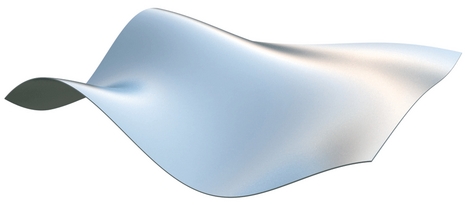 But Gould is used to challenging situations and has for the past 10 years been developing technologies that work seamlessly with computer-aided design. He developed his own unique 3D software modelling tool that used a CNC machine to cut the granite for the Princess Diana Memorial Fountain, as well as the elliptical stepped water feature in the courtyard of the Victoria & Albert Museum.
His latest Formtexx venture is quite different, but the common thread is that here again, he has created an innovative manufacturing technique that complements architects' cad modelling tools.
However, there is still a lot of secrecy surrounding the process. When Gould is asked to describe the machine that creates the double curvature panels, he is circumspect, saying only that it's a completely modular machine that they call the "alpha model", is based at Whiston Industries' factory and produces panels that are 1.2 x 1.2m. By March a larger beta model should be in operation, which will produce double curvature panels 1.5m wide x 3m long.
Gould is confident they will be ready to begin full manufacture of the double curvature panels from next January, although he adds that it would be possible to make small, easy to manage double curvature panels now. By collaborating with facade engineers, Gould says they plan to bring to the market generic multi-skinned facade cassettes of double curvature with insulation embedded that meet 2020 codes.
Gould estimates that in about 18 months' time the S-Form software will be available for architects use. Architects will then, says Gould, be able to build their model in any 3D cad platform that they are familiar with, and then export it into S-Form, enabling them to analyse and tile the model with a menu of user-defined parameters.
The technology will also reduce the amount of waste produced.
"When it comes to architecture, everything is brand new. To achieve a freeform building using current handcrafted methods, an awful lot of moulds are made just once and then thrown away," says Gould. "There is a huge amount of waste and this method can also lead to error."
Gould is confident that his team is the first in the world to produce this ground-breaking technology. He does mention a US company that made English artist Anish Kapoor's The Bean, the 110tonne sculpture of highly polished stainless steel plates which sits in Chicago's Millennium Park. This beautifully sculpted piece was handcrafted and Gould believes it cost $10,000 (£6,000) per sq m to make. "I believe," he says, "we could do something remarkably similar for a fraction of that cost."
Formtexx's double curvature panels will cost about a tenth of the equivalent.
What architects and Engineers think of the technology
Graham Dodd
Arup Materials Consulting
Engineers are always curious about the process used in order to understand how the material will change. But if they keep this process entirely to themselves it may be difficult to get it adopted on some buildings — it limits applicability.
When Pilkington introduced its classic float glass process, it realised it wouldn't be able to fund float glass itself, so cannily licensed the process but held on to its rights and intellectual property. This was a very smart move.
It's difficult trying to keep a new technology to oneself in the construction world. They need to be a bit more canny to make it grow. But I think it's an excellent achievement and the time is right for it.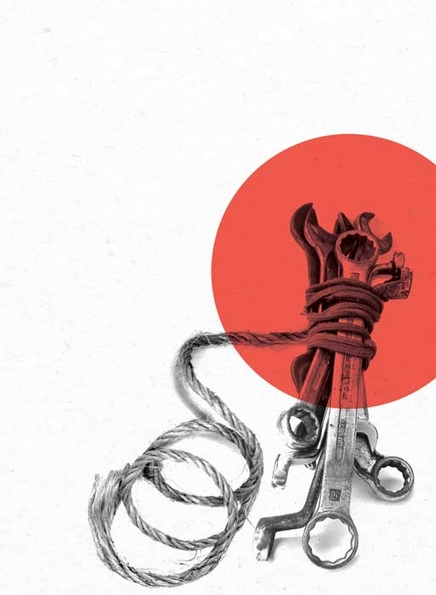 Salmaan Craig
Buro Happold
It's very exciting because it represents the opportunity to redesign the envelope and boil it down. With the right minds and facade engineers they could do a lot with this new level of precision and freedom.
It's very brave to introduce this into the construction industry. It's very complex and adversarial. As engineers, we usually wait for suppliers to innovate.
When you get curvy buildings they are always very heavy-handed and not precise. This new technology could be significant in that it might take cladding of buildings up to the level of other industries, like automotive precision.
Christof Trenner
Foreign Office Architects
It's definitely very interesting and has the potential to change the appearance of buildings. At the moment, we are limited in the way we can build them by using tiles, shingles and meshes to create a double curvature form, but the surface is more textured. With this technology, there's now the possibility to create a smooth almost seamless facade, which you can do now, but not economically.
It's difficult for me to comment on its significance as they haven't built a building yet using the technology. We don't necessarily design double curvature buildings but, if at the right point, we do a building of that type, then this technology would be good.

Tim Macfarlane
Dewhurst Macfarlane & Partners
John [Gould] has finally hit it. You need people like him who have a curious interest in odd things and who bring together disparate people using instinct and skill, and who question things at a primary level.
The most important aspect of the technology is that, as engineers, we no longer need to scratch our heads to work out how to turn an architect's fantasy into reality.
It's what the car industry does well and what the building industry needs — a transfer of technology. Jan [Kaplicky] would have loved it! On a scale of one to 10, it's an eight and a half.

Josef Glas
Zaha Hadid Architects
This is a key technology to be able to produce a double curvature form. The biggest advantage is that Gould is bringing down the weight of the construction and it's very thin. We are now using boatbuilding technology where the material is 1cm or more in thickness. He's aiming for 0.7mm and this will have a huge impact on the weight of the substructure.
The concerns I have are that he only wants to deliver the surface, the exterior shell, now. It will be up to the facade contractor to do installation and waterproofing. I would like to see a larger panel produced and a surface of higher complexity, a more "saddle" surface, but it looks very promising and the technology will develop.
How the technology could be used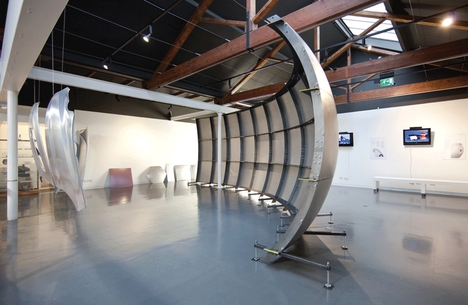 Formtexx's own design for a freeform building called the Skipper Library has been used as a test piece in order to capture the problems it would come across when creating double curved panels for a freeform building. The design is for a building 40m tall and 1,700sq m in size.
Double curvature metal panels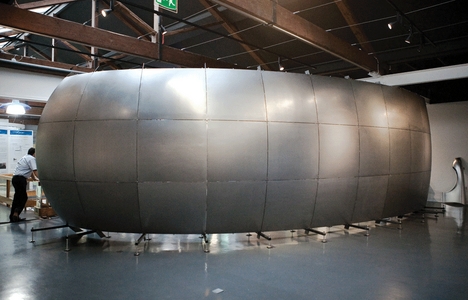 The wall is composed of 30 double curvature, pre-galvanised automotive steel panels. Each 1sq m panel is a slightly different shape and all panels were made in 15 hours using the Formtexx technology.
Building on the automotive industry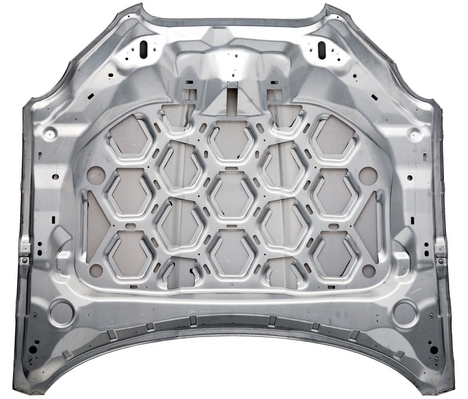 Formtexx turned to the automotive industry for inspiration because of its expertise in designing structures to be lightweight and for the precision that can be achieved using traditional automotive press tooling.
The aluminium bonnets for cars such as the Jaguar XF and the Aston Martin Vantage V12 demonstrate the technology of using very light-gauge metal and stiffening it by incorporating a honeycomb structure on the inside.
It was made by Whiston Industries in Birmingham using its traditional press tooling methods.
If Formtexx can manufacture double curvature panels that are only 0.7mm thick, the material will need to be stiffened using technologies like this.
Postscript:
Formtexx installation
The double curvature panels are on show at the Building Centre, 26 Store Street, London, WC1, until November 27. www.formtexx.com