Surface Design Show products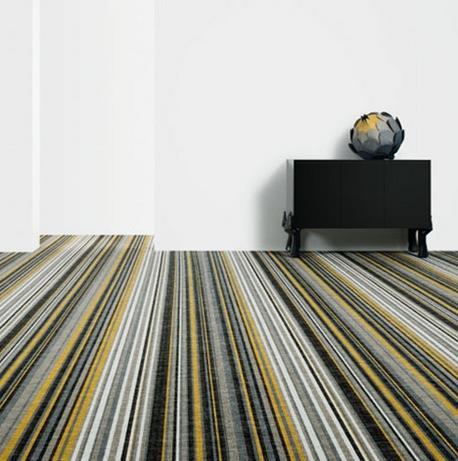 A preview of some of the products that will be exhibited at this month's Surface Design Show
Bolon
Product Bolon Botanic flooring
Show stand 48
Website www.bolon.com
UK supplier www.flooring-concepts.co.uk
Swedish design and flooring company Bolon will be exhibiting its new Botanic collection.
This PVC flooring (pictured above) uses a 100% renewable raw material, which is added to soften the material and make it pliable. The appearance of the woven vinyl is inspired by flowers, herbs and plants.
The colour range features muted, rich earth tones, combined with bright accents in yellow and green. The collection is available in standard rolls or tiles, and for unique pattern combinations.
Tactility Factory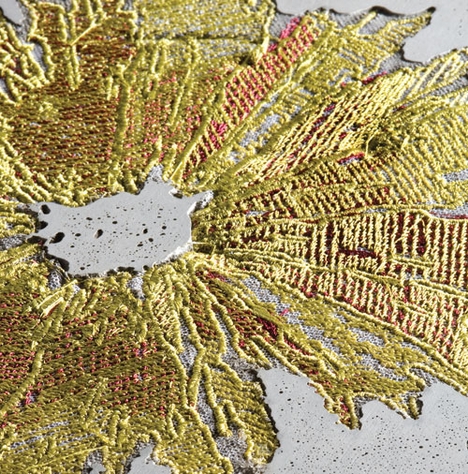 Product Concrete wall panels
Show stand IC3
Website www.tactilityfactory.com
Architect Ruth Morrow and textile designer Trish Belford have collaborated to create a high-end concrete wall panel (pictured above).
The duo set up their Belfast-based company, Tactility Factory, last October, and will launch both their company and product at the Surface Design Show.
Their 10mm-thick wall panels combine the hard properties of concrete with the softness of Irish linen textiles to create a very textured surface. Panels are available in 300mm x 300mm and 450mm x 450mm sizes, and in a broad selection of pattern combinations, backgrounds and colours.
Muraspec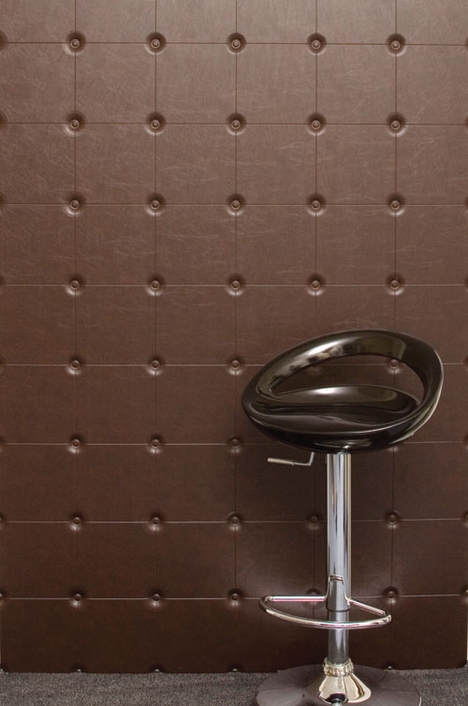 Product Impressions MDF panel
Show stand 68
Website www.muraspec.com
Muraspec will launch its latest interior decorative surface, Impressions (pictured above), at the Surface Design Show.
It is made of 1.2m wide x 2.4m long MDF panels, which have been routed to create an unusual sculptured appearance. The panels can be glued, screwed or fixed by Z-clips to a wall, and can also be back-joined to create one long wall.
A total of 25 different designs will be available by April, each in around 50 different laminate finishes. A selection of these new designs will be on display at the show. The panels are priced from £45 per sq m and are available with a two to three week lead time.
Stora Enso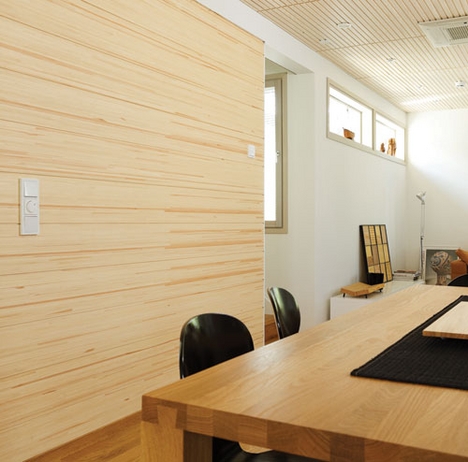 Product Effex wood panelling
Show stand 95
Website www.storaenso.com/effex
Swedish-Finnish company Stora Enso is exhibiting its new wall and ceiling product, Effex, for the first time at the Surface Design Show.
Unlike other wood-laminated panelling, Effex is knot-free, with a linear grain structure, creating a very different appearance. It is made from sustainably sourced pine and available in thicknesses of 10mm and 14mm, standard widths of 100mm or 200mm, and lengths of between 2m and 6m.
Battening of around 15mm to 20mm thick is needed to allow the Effex panels to be nailed or glued on to a wall surface.
The panels (pictured above) are available in two white colours, two dark colours and a natural finish, and are recommended for residential and commercial interiors. The Effex panels are priced from £35 per sq m.