Roll out the Concrete Cloth
Two former industrial design engineering classmates have developed a Concrete Cloth that redefines the material's uses
Concrete is generally perceived to be a static, structural material that covers vast areas. However, one company from Wales has transformed it into a thin cloth that can be rolled out like a carpet, providing a hard floor or wall surface.
Concrete Cloth was developed by William Crawford and Peter Brewin, co-directors of Concrete Canvas, who met while they were studying industrial design engineering on a course jointly run by the Royal College of Art and Imperial College London.
As students, the pair entered and won a competition organised by the British Cement Association, which asked for ideas to demonstrate different uses of cement.
Crawford says they were inspired by Modroc — a plaster-impregnated bandage used to set bone. In their case they impregnated fabric with a blend of dry concrete to create a shell-like concrete shelter.
Their prototype attracted a flurry of interest, spurring them on to establish their own company, Concrete Canvas, in 2005.
The 25sq m inflated shelters they now manufacture are robust but lightweight. They can be rapidly constructed by two people anywhere, providing there is access to water, which makes them suitable for a wide range of commercial, military and humanitarian applications.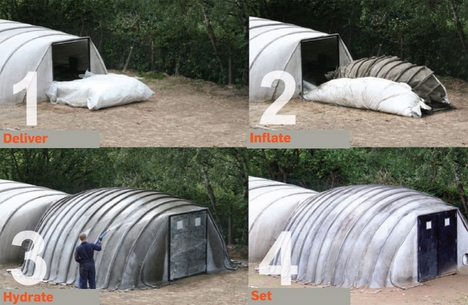 Following the success of the shelters, Crawford and Brewin realised there was potential for marketing the Concrete Cloth as a flooring material. The cloth consists of a 3D fibre matrix containing a dry concrete mix. A PVC backing on one surface of the cloth ensures the material is completely waterproof, while hydrophilic fibres on the opposite surface aid hydration by drawing water into the cement.
"Key to its success are the fibres which form a reinforcing matrix within the cloth," says Crawford. "These provide a stable failure mode, absorb energy and help maintain the structural integrity of the concrete when impacted."
Concrete Cloth is available in thicknesses of 4mm, 8mm and 13mm, and is 1.1m wide. It can be cut and laid on any surface, to which its plastic backing is attached using an adhesive.
Once laid, the material is saturated with water — as a guide, 1sq m of 8mm-thick Concrete Cloth requires six litres of water — which triggers a chemical reaction with the dry cement. The saturated floor is then left to harden, taking about 24 hours to reach 80% of its full strength.
The internal volume of the cloth is fixed so it can't be overwatered. The woven, chunky cloth is extremely durable and the fibre reinforcement acts to prevent cracking as it absorbs energy from impacts.
Its official launch as a flooring product has been delayed while it awaits fire certification, but its applications are wide-ranging and, given its good drape characteristics, it could be formed into the shape of double curvature surfaces, even furniture.
Both the shelters and Concrete Cloth have been showered with awards, the most recent being a Material ConneXion award for Material of the Year 2009.
Concrete Cloth is priced from £15 per sq m.