the story behind the story
Reach for the sky
Richard Murphy Architects is masterplanning Edinburgh's Haymarket and has designed a 17-storey hotel on the site which last week provoked Unesco to call for a halt to construction. Here director Richard Murphy defends the project
BD: The hotel has already generated a lot of interest.
Richard Murphy: It's no big deal to me. Virtually every building I've done in Edinburgh has been subject to campaigns to stop it happening. I've now got an incredibly thick skin about it and I just laugh.
Do you think that's part of being an architect in Edinburgh?
If you want to do something interesting, yes. The easiest thing to do is to knuckle down and do what you're told. Edinburgh New Town was conceived as a city and it generally has some unity about it. Unfortunately, that New Town mentality has spread to the whole of Edinburgh. There's no place for individual buildings, everything has to blend in with the building next door.
How did you address the hotel's height and scale?
Building heights are a very sensitive issue in Edinburgh. The city has brought out a skyline policy, which hasn't been adopted yet, and that's good because the client process is otherwise very hit and miss. You do a big building and once it gets built, people realise it's going to have an impact three miles away from a totally unexpected direction because Edinburgh is so topographical.
Where I part company, though, is with the tacit assumption that you can't contribute to this skyline. There are certain building types which ought to be able to contribute. For example, Haymarket Station is a horrible station at the moment, but there are potentially great plans for it. The Haymarket is a part of the city which has been terribly down at heel, and potentially it could become very interesting. It's almost like La Défense in Paris.
Do you mean as a location for a cluster of tall buildings?
No, it's like a sort of satellite. The Haymarket is not in the centre of Edinburgh, it's not even in the world heritage site, it's right on the western edge of the city.
Our hotel will breach the skyline, and a jolly good thing too. It will probably become the third most important hotel in Edinburgh. We also think something important should happen at the top of the building — so that it's not just a plant room but a beacon with a lot of the public activities located at the top. If you happen to drive into town from the west, it will be positioned at the moment the city really gets going, that's quite deliberate.
You say your hotel will break the skyline in a positive way, but won't it be fairly bulky?
That's entirely a matter of opinion. I was very keen that there should a distinctive roof, which is quite unusual with tall buildings. Most of the buildings I like in New York have good roofs, the sort of Gotham City era of buildings rather than the Mies van der Rohe era.
Was the option of a lower tower considered?
No. The project isn't really about the hotel or even about tall buildings, it's about masterplanning the whole site. Haymarket is basically a traffic interchange, there's hardly any pedestrian space at all. What we wanted to do was to redefine what constitutes the Haymarket and make it bigger, with large amounts of pedestrian space.
I was astonished how little Reiach & Hall had considered the rail tunnels in its scheme for the site. We tried to turn the problem to our advantage, so we are not building over the tunnels at all. Instead, we are dedicating all that space to public space.
It left a sliver of space between the tunnels and the roads, so it was an instant thing of "what can you do?" That's where the idea of an object building came out.
Did you investigate another way of building over the tunnels?
No. When we got the job, we had a seminar from the then tunnel engineer who put the fear of god into us. It's not just about building over the tunnels, it's also about removing about 4m of fill which sits on the site at the moment. At present, there's a huge 4m cliff that cuts this site off from the rest of the city, so having to grade the whole thing uphill means the tunnel engineering is quite critical.
Are you comfortable moving to a different scale of project?
In Edinburgh, I always end up building down back lanes or in people's back gardens. Suddenly we've gone from one extreme to the other: we're now doing a major gateway building that you can see from miles around. It's a bit scary.
Apart from building my own house, my ambition in Edinburgh is to build one big public building before I die.
Architecture & Design Scotland's report said your project was progressing at the expense of a more considered strategic view.
Anybody can say that. They always say you should be looking at the wider context. Trevor Davies, who then chaired Edinburgh City Council's planning committee, said we want joined-up thinking between me and the people doing the Haymarket study. But you can't have joined-up thinking with somebody who is two years behind.
Haymarket is not the problem, the problem is that you don't have any proactive leadership from the council. The council should have said 10 years ago, "We need to commission a masterplan for this site," and then the developers will have something they can fit into. A&DS says it because it has to say it, but in practical terms you can't just put a development on hold for five years while the city wakes up to the idea of having a masterplan — it's crazy.
Along with A&DS, Unesco has also entered the fray. These two voices seem to be saying Edinburgh's developing too fast and too high, and we should wait.
A&DS has its own opinion, and fair enough. As far as Unesco is concerned, I'm rather suspicious of it. What is Unesco? Who is Unesco? My experience of Unesco is some brand, a conservation mafia. I've quickly come to the conclusion that conservation architects have an exceptionally limited view of the world and architecture within it.
I suspect that this whole Unesco relationship is a cosy little club. Some Japanese guy [Koïchiro Matsuura, the director-general of Unesco] who has never been to Edinburgh before turns up, and the first thing he says is that he's worried about Caltongate because it breaks the skyline. That's the one thing that Caltongate doesn't do.
I think he's been told by a bunch of people that this is what he ought to complain about. There's this idea that a world heritage site can't be developed. Edinburgh is a very dynamic city. What the argument should be is not a question of whether people are building too high or too fast, that's completely irrelevant. It's about quality.
How will you feel about the hotel's effect on the skyline when its complete?
If it comes out the way I want it to come out, I'll be very happy. It's a very complicated building, and designing it as a free-standing tower makes it more complicated.
First, most hotels have a big extension with a ballroom and various function suites, and on top of it is a slab of rooms. But the stuff on the bottom is always bigger in plan form than the rooms. We don't have that here, we have to plan everything up into one tower, and that's quite unusual.
Second, it's all front. Most hotels have a front facade and a cheap back facade. We have to do an expensive front facade all the way round, so it's not a hugely profitable building. It's probably a break-even project for the developer.
From EDI to Murphy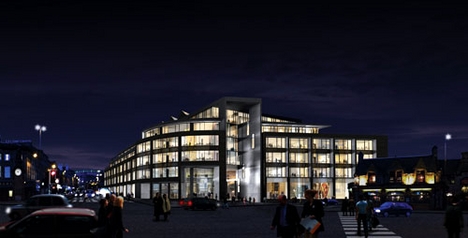 Goods yard history
The Haymarket site in the west of Edinburgh, previously pasture land, is developed in 1855 as what comes to be known as the Morrison Street Goods Yard. Haymarket Station is built in 1840, with two tunnels later added going into the city centre.
Scrapheap challenge
In the 1960s, rail tracks in the goods yard are removed. The 4ha site falls derelict and is partly used as a car park.
In 1989, Percy Thomas Partnership designs a scheme for a section of the site involving a new road, the Morrison Link, as well as housing and a hotel.
Council steps in
In the mid-1990s, the remaining 1.7ha site is purchased by EDI, the City of Edinburgh Council's development company. Reiach & Hall masterplans a mixed-use development. The first phase includes a six-storey office and a galleria. Page & Park and Allan Murray Architects are appointed for further phases.
Reiach & hall prevails
In 2002, Reiach & Hall submits a planning application but withdraws it following fierce criticism from the council. A revised scheme is approved in 2004, but is called in by the Scottish Executive which orders a public inquiry. Despite protests from Historic Scotland, the Cockburn Association and Edinburgh World Heritage Trust, the application is finally approved in December 2005.

What price equality?
In September 2006, the council scraps Reiach & Hall's proposal after it is forced to sell the site to fund a £33 million equal pay deal. Irish firm Tiger Developments pays over £40 million for it, and appoints Richard Murphy Architects to masterplan the entire site, design three office blocks with Comprehensive Design Architects, and a 17-storey, 192-bed, five-star hotel. Sutherland Hussey Architects is to design a three-star Travelodge hotel.
A&DS disappointment
In August 2007, Richard Murphy Architects submits its £200 million scheme to the council. In December, the Scottish design watchdog Architecture & Design Scotland criticises the scale of the proposed 17-storey hotel, saying it does not think it "will deliver the scale and quality of space required to establish the Haymarket as a successful urban space".
Council says yes
Tiger Developments carries out a consultation with local residents, heritage groups and other stakeholders. In spite of concerns about the hotel's scale, the scheme is submitted for planning in April 2008, and wins full council approval on August 26.
UNESCO calls for halt
In August, Unesco director-general Koïchiro Matsuura calls for all Edinburgh's major developments — including Haymarket — to be halted until a Unesco investigation into the city's world heritage status is completed. He says there is mounting concern about the impact the proposals will have on the city's skyline.
All set to go
The project still needs approval from the Scottish government, but enabling works are due to begin in November. The hotels are set to be built first, then the offices. The development is set to be complete by 2012.
The story behind the story
This is one in a regular series of Q&As examining projects that have made the headlines. Read previous interviews at www.bdonline.co.uk/pickingupthepieces.