New solutions for doors and windows
Our monthly round-up of the latest products
GLASS SCREENS
CRITTALL WINDOWS
Using Crittall windows as an interior glazed screen marks a break from its typical specification as a standard steel-framed window. But in the case of Sony BMG's new headquarters in the 1930s former Derry & Toms building located off London's Kensington High Street, 3.5m-tall Crittall screens, some measuring 8m wide, were used throughout the two floors.
Given the dark, impenetrable centre to each of the 4,180sq m floorplates, interior designer MoreySmith was faced with the challenge of drawing daylight into these vast floor plates. The practice achieved this by carving out large sections of the slab between the third and fourth floors, as well as introducing bridge links and walkways, and more significantly, a double-height atrium. Bespoke Crittall glazing is used to form the meeting room fronts with doors inserted.
MoreySmith director Jennifer Wood says the firm chose Crittall glazing because it didn't want a corporate look. "It had to be something different that would work with the existing 1930s metal-framed windows to the outside of the building," she said. "We also kept the raw, galvanised steel finish to the glazing that Crittall specialises in as this gave the interior an industrial look."
Using small panes and standard profile sections for the glazed screens and doors, the Crittall elements added up to approximately £300,000.
ENERGIKARE PLUS WINDOW
PILKINGTON
This month, Pilkington will launch three new types of window that exceed current and expected Part L regulations. The first of these is the EnergiKare Plus, an upgrade from the original EnergiKare product, which can achieve a window energy rating (WER) of A or B depending on the framing system used.
The window uses a combination of argon gas fill, a warm edge spacer, and two special types of glass — low-emissivity glass and an extra-clear glass — that stop heat escaping and allow more solar heat in through the windows to make it more energy-efficient.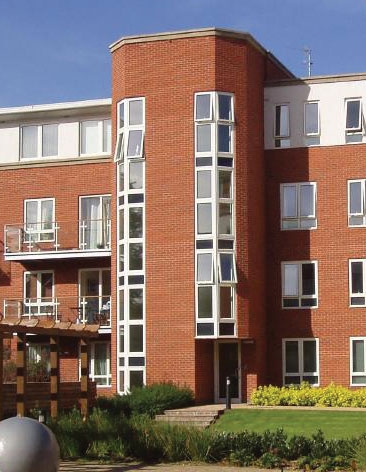 ADhe second window in the range is the EnergiKare Triple, a triple-glazed unit that consists of two panes of Pilkington's K Glass and one of Pilkington's Optiwhite with an argon gas fill. The new window can meet requirements for the Code for Sustainable Homes without the need for soft coat options. It also achieves a WER rating of A and exceeds Passivhaus requirements.
The third new window, the Legacy, uses Spacia glazing technology — the world's first commercially available vacuum glazing. This allows the manufacture of extremely thin glazing that has been incorporated into old frames, maintaining the original appearance of historic buildings. It offers the thermal performance of conventional double glazing in the same thickness as single glass, and four times better thermal insulation than single glazing. The Legacy window is suitable as a replacement for single glazing in old frames and is also suitable for other applications where the use of thinner, low-weight glazing is desirable.
ENERSIGN DOORS AND WINDOWS
GREEN BUILDING STORE
Launched at last week's Ecobuild, Enersign's new range offers one of the world's lowest window U-values, at 0.65 W/m2K. Certified by the Passivhaus Institute, the new range, now available in the UK from the Green Building Store, offers a sound option for specifiers of Passivhaus, AECB gold standard and buildings wanting to achieve levels 5 or 6 of the Code for Sustainable Homes.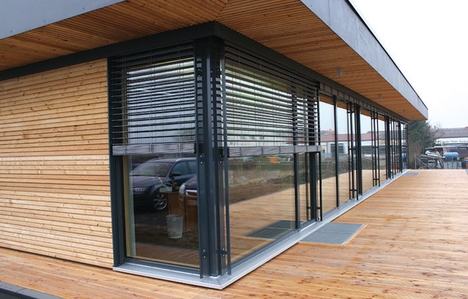 The range of bespoke doors and windows achieves its excellent thermal efficiency through advanced detailing, which includes triple glazing with warm edge spacers, Neopor foam frame insulant, and a rigid frame for maximum tightness.
The Enersign window features a unique composite design that combines the advantages of fibreglass and timber, while minimising the glass area. Viewed externally, it features a narrow fibreglass frame, while internally it offers the aesthetic appeal of an engineered timber frame. The windows' slim sightlines, elegant concealed sash design and advanced technical performance should have a strong appeal for architects.
CASEMENT WINDOW
MUMFORD & WOOD
With plans for Part L to change in 2010, the revision process is now under way. As was the case with the 2006 Part L, all aspects of windows will be taken into account when the total energy/carbon performance of a building is evaluated.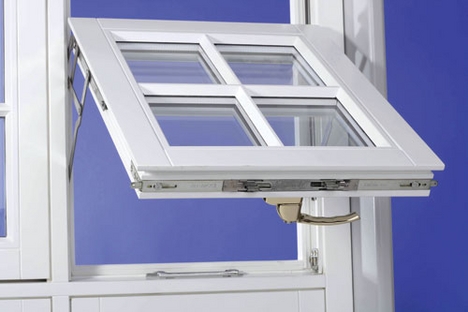 In response to this, timber doors and windows manufacturer Mumford & Wood has brought out its new conservation casement window, which features an A-C window energy rating and has a Secured by Design certification. The new casement is BFRC A-C energy rated, which exceeds the requirement of revised building regulations for 2010.
Mumford & Wood managing director Chris Wood says: "This is a product that excels at every level – security, energy ratings, BRE Green Guide A+ rated, air permeability Class 4, water tightness and wind resistance and without any compromise in traditional design aesthetics."
The windows are manufactured from sustainable laminated and engineered premium-quality larch, and are delivered to site with three coats of water-based microporous paint or stain.
PHOTOGRAPHIC CEILING TILES
THE SKY FACTORY
A passion for photography culminated in entrepreneur Bill Weatherspoon developing Sky Factory, a company which makes tiles with photographic images bonded onto them. The Iowa-based company has been making ceiling and window photographic tiles for 10 years, but has only recently launched the product in the UK.
Designed for spaces that have little natural light such as hospitals and meeting rooms, the ceiling tiles incorporate images of nature which can promote healing and increase comfort and productivity in stressful work environments.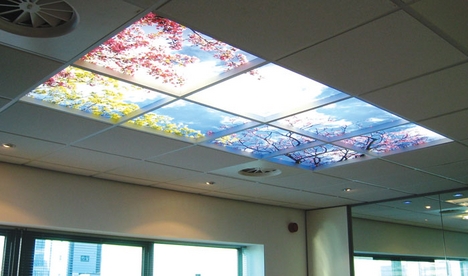 More than 700 images are available in a range that includes "ambient ceilings", where images are bonded onto a solid aluminium tile and installed in a room that relies on artificial light to wash across the image, and "luminous ceilings," where photographs are digitally printed onto polycarbonate tiles and backlit. The company also makes windows from 750mm tall x 350mm wide and up to 1.8m tall x 1.4m wide.
Each of the ceiling tiles measures 600mm x 600mm, but to create the right effect, the company recommends using more than three. The maximum size for the ceiling effect is 16.7sq m. The ambient ceiling (using about four tiles) starts at £600 per sq m and when backlit can cost about £1,100 per sq m.