With the latest revisions to the building regulations going 'live' on October 1 Mark Taylor, technical director at Allies and Morrison and Ant Wilson, director of building engineering at AECOM, uncover the mystery of how much transparency is allowable on non-dwelling facades.
Most architects will be familiar with the Part L requirement to model the building being designed in two forms to predict carbon emissions: firstly a notional building, based on Part L 2002 standards, and secondly, the actual building being considered.
Under new Part L, the comparison with an equivalent 2002 notional building goes. Instead, a new 2010 notional building has been introduced, which is embedded into the carbon emissions software modelling tools. Either side-lit, roof-lit or unlit spaces are considered. Side lit window area is reduced to the lesser of either: 40% of facade area or a 1.5m high band for the full facade width per storey. Glass units are assumed to have total solar transmission (g value) of 0.4 and U-value of 1.8 W/m2K.
Perhaps more critical for some highly glazed side-lit building types which are sensitive to internal and external heat gains, is limiting solar gain in occupied spaces. The benchmark is an east facing space with full width glazing only 1m high; windows of frame factor 10%; and glass with g value of 0.68.  This sounds like a rather mean area of glass for an office building, but the good news is that lower solar gains on some other elevations mean more glass could be used there. Also, the g value of the assumed glass in the notional building is comparatively poor by modern standards produced by most glass manufacturers, so there is scope for more glass.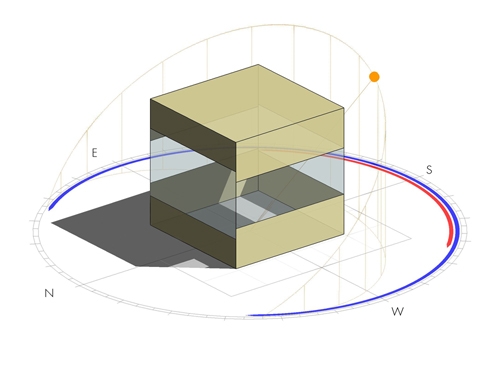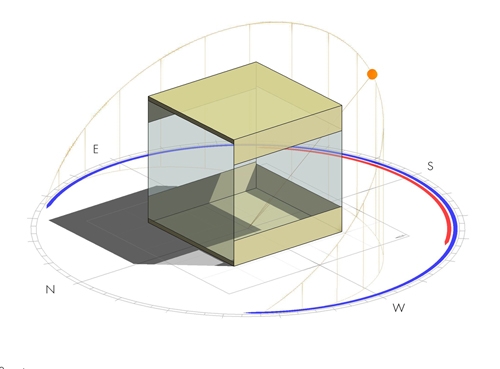 The diagrams illustrate potential glass area for a north, south, east or west elevation to a notional space in London, such as an office, taken from data extrapolated from a weather Test Reference Year by AECOM. Diagram I includes glass with a basic g value, diagram 2 assumes glass with g value more commonly specified for offices.