Mayfair art gallery by Haworth Tompkins
Restoring a Victorian staircase is one of the highlights of a New Bond Street renovation.
Architect Haworth Tompkins
Structural engineer Price & Myers
Location 103 New Bond Street, London W1
Completion date July 2010
This New Bond Street townhouse may be a fairly well conserved five-storey Georgian building, but its grade II listing is primarily down to it being the one-time home of Horatio Nelson.
Also listed is a Victorian former piano warehouse situated behind the townhouse on the other side of an internal courtyard. The three-storey top-lit building, later converted in the 1920s to be one of the earliest car showrooms, has street access off the Haunch of Venison Yard which lies to the north of Brook Street. The first floor features a generous 9m-tall space, extending from floor to top of roof lantern, its scale reminiscent of some of the grand galleries found at the National Gallery.
In a £2.3 million refurbishment, architect Haworth Tompkins has reconfigured these two spaces for use as an art gallery and offices.
Numerous 20th century additions and alterations in the courtyard were removed to allow for a clear uninterrupted space and a seamless connection between the townhouse and the warehouse.
The courtyard has been enclosed with a glazed rooflight creating a double-height atrium. Within this a new stair zig-zags its way up through one side of the atrium to link the varying levels between the two buildings. It also serves as a protected means of escape for the whole building.
The original Victorian staircase's lower flight of stairs, from ground to lower ground, was dismantled to allow for the excavation and creation of a new basement. Parts of it were reused to create a new stair, while the upper flight of stairs was retained and restored.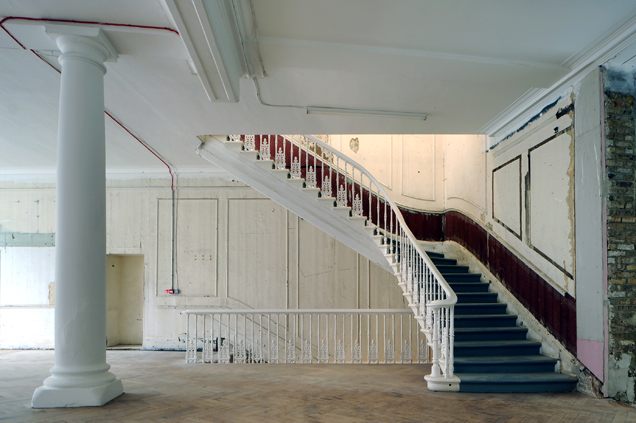 Source: Philip Vile
Victorian staircase
The formal staircase in the former warehouse was considered to be of such architectural merit that it should be retained. Originally it was built as a traditional cantilevered stone staircase, but at some stage, a steel beam was installed underneath to provide additional support.
The top flight, which sweeps down from first to ground floor, was restored, while the lower flight from ground to lower ground level, had to be temporarily dismantled so a new basement could be excavated. The removal of the stairs allowed for a piling rig to be brought in to make the basement walls.
The lower portion of the staircase was in poor repair and the treads had been coated with terrazzo, to make good the wear of over 100 years' use.
Price & Myers' solution was to replace this part of the staircase with an exact copy. This entailed salvaging the original baluster and moulded timber handrail and repairing, painting and reinstating them in the replacement staircase.
The original treads could not be reused and instead, a high strength Portuguese limestone was selected so that there was no need for the supporting beam.
The restored staircase behaves as a traditional cantilevered stone staircase.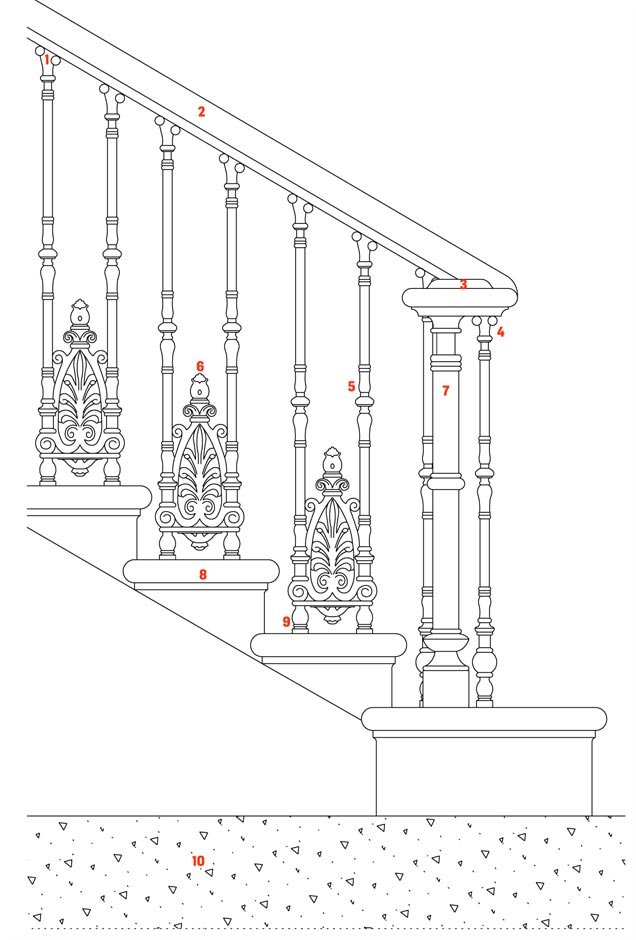 1 Damaged and stunted baluster capitals replaced to match original proportions
2 Existing moulded timber handrail salvaged, reinstated and repaired
3 Turned timber moulded handrail termination over newel post
4 Baluster capitals replaced where necessary
5 All original balusters salvaged, repaired, reinstated and repainted
6 Reproduction cast iron balusters to replace later square section banisters
7 Existing cast iron newel post salvaged, repaired, reinstated and painted
8 New stone treads profile to match existing stone stair
9 Baluster feet reinstated where stunted or damaged
10 New reinforced concrete floor slab over new basement
1 New basement
2 Victorian stair
3 Galleries
4 Glazed rooflight
5 Offices
6 Haunch of Venison Yard
7 New Bond Stree
Central courtyard glazed rooflight
The new 9.5m-long fixed glazed rooflight over the central courtyard had to respect the existing urban context. Therefore the structure takes a traditional pitched form that springs from the same level and follows the same ridge line height as the Georgian townhouse's roof.
But although the edge and ridge condition is consistent and all cross ribs are parallel to each other, each pane of glass is a different shape – a consequence of the different gable widths at either end.
The double-glazed panels are a consistent 650mm wide but vary in length from 3.5m to 6m. The structure is formed from slender steel T sections, instead of an aluminium system, which would have been too chunky.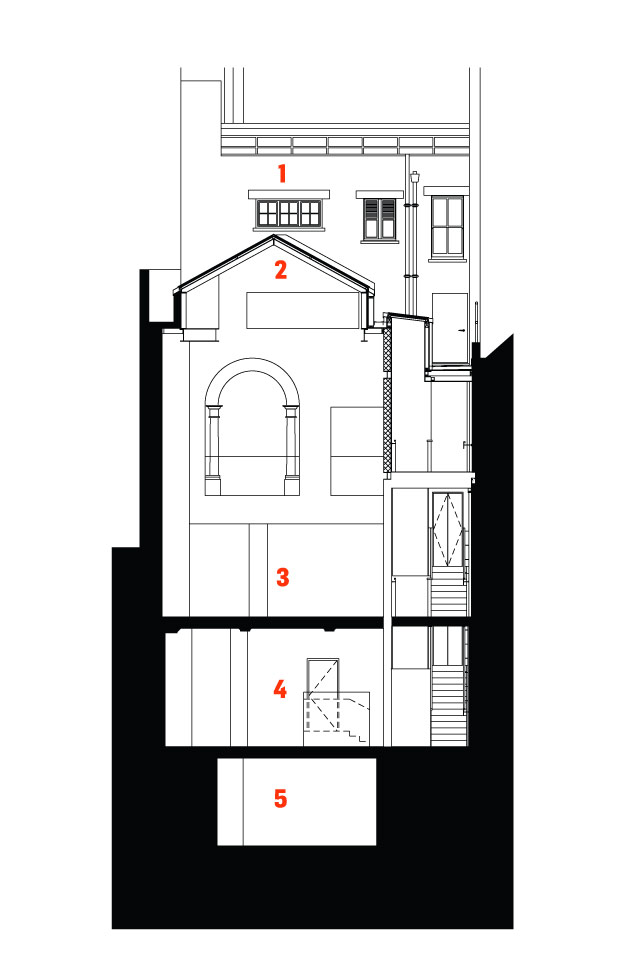 1 Townhouse rear elevation
2 Glazed rooflight
3 New gallery space
4 Lower ground floor
5 New basement
The engineer's view: Cantilevered stairs
Twenty-five years ago we were building a staircase out of plywood and railway sleepers and discovered how stone cantilevered stairs work, writes Sam Price.
Since then we have worked with increasing frequency on cantilevered stairs, so that we have now checked, repaired and built well over 120 staircases, all built on the same principle.
The range has been considerable; we have advised on some of the most beautiful old staircases in England and Ireland, and we have built new stairs in stone, steel, precast concrete and wood.
The principle is simple: load is transferred down the flight by torsion in the treads, and there is little if any cantilever action. However, the variations can be complexand we often have to use advanced computing to calculate stresses and stiffness. Assessing the strength of an existing staircase can be difficult. How is the tread to-tread detail made? What happens at winders? How do the landings work? Does this connection work? What torsion does this take?
About half of the projects have been new stairs, some copies of traditional designs, but others have been in contemporary idioms.
The principle is independent of style. This is just a simple and elegant way of making staircases and should be used more often.
For more on cantilevered stairs
Read Price's article, first published in Architectural Research Quarterly, at http://journals.cambridge.org/action/displayAbstract?aid=1712064
Postscript:
Sam Price is founding partner of Price & Myers.