Glass staircases in Apple's Covent Garden store
The two glass stairs in Bohlin Cywinski Jackson's Covent Garden store for Apple are as amazing as the i-gadgets on sale
Architect
Bohlin Cywinski Jackson USA
Location
No. 1 The Piazza, London WC2
Structural engineer
Eckersley O'Callaghan Structural Design
Completed
August 2010
For the crowds who manage to get inside Apple's newly opened Covent Garden store, it won't just be the glass faces of the iPads, iPhones and iPods that will dazzle. Also jostling for attention are two new glass stairs – a single-storey spiral located to the front of the store and a two-storey straight stair neatly slotted into a lightwell at the rear.
Bold, technically ambitious structures made from glass are key features of all Apple Stores and, together with stone, timber and stainless steel, form the main palette of materials repeatedly used by the computer technology giant.
To engineer all these glass structures, Apple employs Eckersley O'Callaghan, a London-based structural engineering firm with a staff of 14. The practice, which received a Queen's Award for innovation in April, was structural engineer for the glass stairs, courtyard skylight and refurbishment of the Covent Garden store.
The grade II-listed buildings were built in 1877-79 by William Cubitt to designs by Henry Clutton, and are located on the corner of the Piazza and James Street.
When Apple identified these buildings as the site for its 300th and largest store, the buildings were largely unaltered externally. In stark contrast, says Julian Harrap, historic building consultant for the project, the interiors were "derelict, abandoned, torn and distraught".
The meticulous repair of the existing brickwork involved Harrap's preparing 14 different pointing samples for Apple to consider.
The exposed brickwork, generous uninterrupted spaces, a restrained palette of materials and the jewel-like glass stairs, used for 1,400sq m of retail over three floors, has created an understated store with a warehouse quality that still conveys the original Henry Clutton character.
Glass spiral stair
At Apple stores, the glass spiral stairs will be heavily used, which has implications for structural engineer Eckersley O'Callaghan.
"Since the stairs are made entirely out of glass, people have a heightened sense of awareness when walking on them and they need to feel comfortable," says director James O'Callaghan.
He says a great deal of analysis and experience is brought to bear to ensure that every aspect of the design and fabrication is focused on creating a structure that is visually crisp and safe to use. The attention to the quality of the glass and its finish are what sets them apart from other glass structures.
"In developing the glass tread design, a special laminate was identified that has specific characteristics which significantly increase the overall stiffness and provide total structural redundancy in the event of chips and cracks," O'Callaghan explains.
Unlike some of the spiral stairs in other Apple stores, the Covent Garden spiral is only one storey. It comprises a 5m-tall, 1.7m-diameter curved glass drum made from eight sections of toughened laminated glass connected by a series of bolted holes and stainless steel fittings.
The drum provides lateral stability and vertical support to two 4m-long laminated glass beams, which cantilever through the glass drum and pick up the outside curved glass balustrade or stringer, which is 5m in diameter and 1.6m deep. The stringer panels are joined every quarter circle and coincide with the beam supports.
A stainless-steel handrail follows the winding path of the stringer. This structurally helps to restrain the stringer panels and provides stiffness to the outside stringer.
Twenty-six treads, each 50mm thick, have been connected to the drum and outside stringer by bolted connections. Four layers of annealed glass have been used for each tread. This process allows the glass to be post polished once it is laminated creating a very crisp edge.
A stainless-steel ring wraps around the drum creating a seat for the upper curved section of the drum to bear onto the lower section.
A glass landing some 4m sq is then supported by glass beams on to the drum and the adjacent steel and masonry structure.
Glass Straight Stair
The store's second stair has glass treads spanning from the existing brick wall to the glass stringer that move up two flights, creating an elegant and transparent infill to the yellow London stock brick lightwell, with minimal exposed connections to the masonry.
The main run is supported at either end on two short inner glass "flag" beams spanning 3m across the slot. These are 1.6m deep, stepping sharply down to 465mm at the midpoint where the straight flights come through, a challenging junction to detail.
The primary and secondary elements are all glass, apart from the connectors.
"Stripping away a layer of connections is an innovation and development from the early stairs we worked on where we helped develop a patented metal insert connection for Apple," says O'Callaghan.
Other glass structures at Apple stores around the world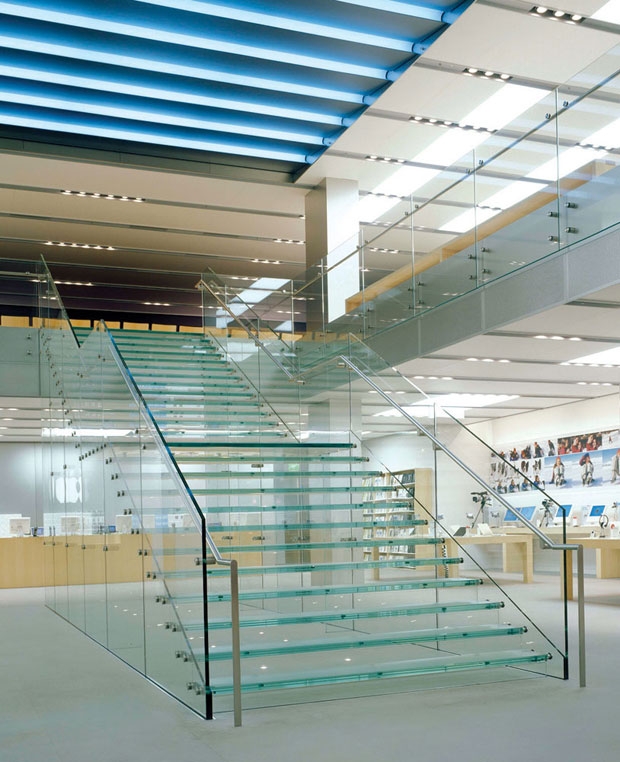 Regent Street, London
The Regent Street Apple Store opened in 2004 and features a glass stair and bridge modelled on the original stair in SoHo, New York, but with a greater tread span of 2.7m and a glass bridge of 6m x 3m. The glass stair is formed with a series of vertical toughened laminated panels supporting glass treads with a bolted connec-tion, designed and patented by Apple.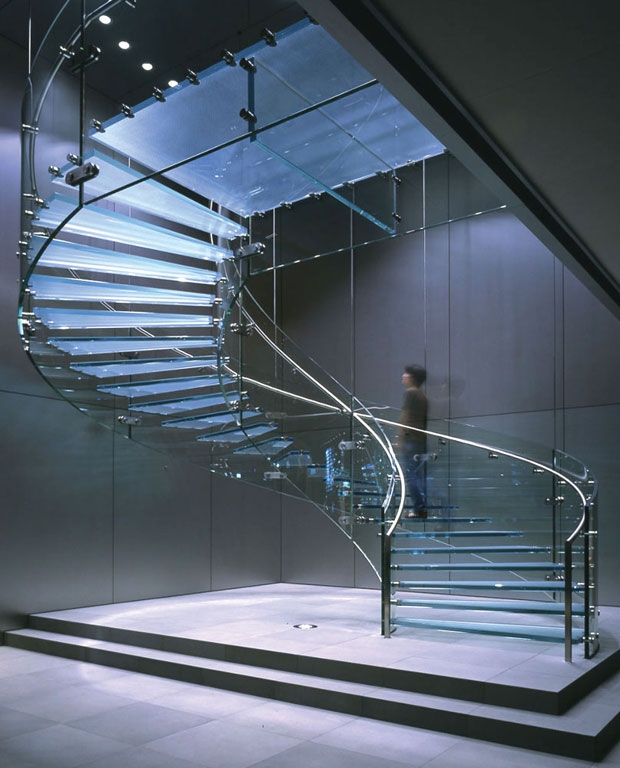 Osaka, Japan
First of a generation of circular glass stairs, this spiral in Osaka's store, which also opened in 2004, is supported on stainless-steel rod hangers.
The laminated curved glass stringers are tied together with fittings and a stainless-steel handrail to generate the stiffness required to resist the region's potentially high seismic loads.


Fifth Avenue, New York
The entrance to the Fifth Avenue store in NY is a structural glass cube designed to resist all nature's forces. The columns are formed as 10m-long monolithic laminated glass elements, and they support a two-way spanning grillage of glass beams, which takes its structural inspiration from a lamellar concept. A circular glass stair, encom-passing a glass lift, takes customers down to the shop.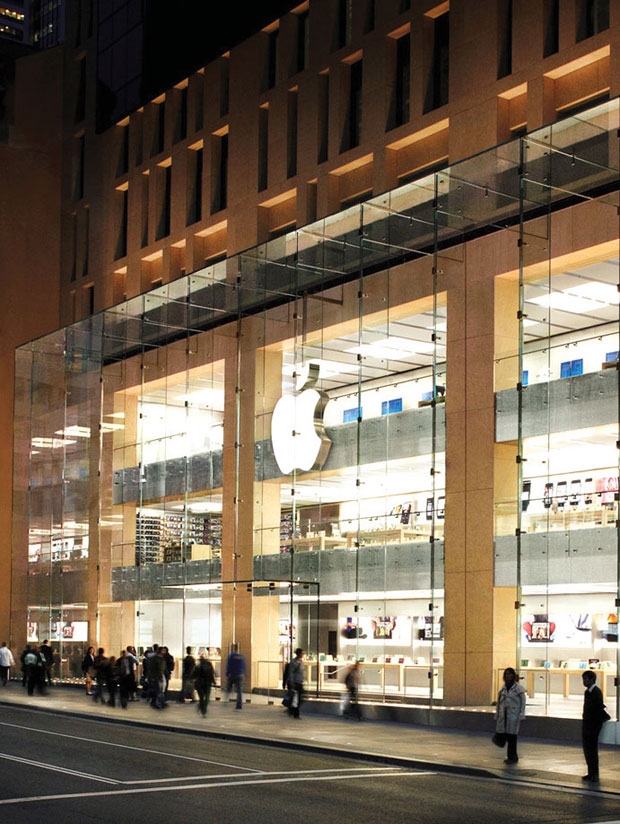 Sydney, Australia
In creating the Sydney storefront in 2008, the concept of mega glass panels was extended. Techniques were developed to enable 14m-tall x 3m-wide monolithic, laminated panels to be created, forming the facade. These large, laminated and toughened panels result in the omission of all horizontal silicone joints and therefore maximise the purity of the glass structure.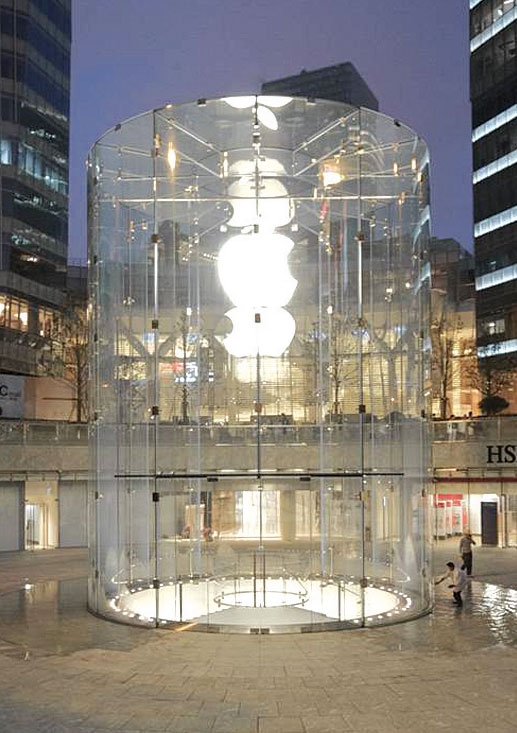 Pudong, Shanghai, China
Drawing comparisons to Fifth Avenue, this store, which opened last month, involves a circular glass structure, 10m in diameter, that forms an impressive entrance to the subterranean store. The all-glass structure consists of 13m-tall laminated glass fins supporting cantilevered glass beams.
The skeleton is encapsulated in a skin of laminated toughened and curved panels.
Project Team
Client Apple Inc, Architect Bohlin Cywinski Jackson USA, Executive architect Mark Pinney Associates, Historic building consultant Julian Harrap Architects, Structural engineer Eckersley O'Callaghan Structural Design, Main contractor Faith Dean, Services engineer Buro Happold, Glass contractor Seele GmbH, Metal fittings Tripyramid Structures USA
Original print headline - Project Apple Store, Covent Garden