Stratford's Olympic legacy is already taking shape, but it is a bleak vision that is unlikely to benefit locals.
All eyes were on east London last week, as Westfield Stratford City finally opened to teeming crowds of shoppers, eagerly lined up to charge across the 1,600-tonne Corten-steel bridge and breach the glittering golden wrapping of the largest urban mall in Europe.
They were here to experience the first tangible part of London's Olympic "legacy": a sprawling complex of 300 shops, 70 restaurants and a 17-screen multiplex cinema, as well as the city's biggest casino. Many thousands more will be doing the same next summer. For 70% of visitors, this will be the official gateway to the 2012 Olympics. It is also one of the reasons the games could happen here in the first place. It is no small coincidence that Westfield was recently announced as an official sponsor: without its £1.45 billion of private investment in this unpromising location, the Olympic dream might well have remained just that.
Yet just a few hundred metres down Stratford High Street — the misleading name for what is in fact the roaring six-lane dual carriageway of the A11 — several other gateways to the games have been emerging, largely unnoticed. While the world waits with baited breath to see what the official Olympic legacy will look like — a gleaming new city quarter of 8,000 new homes on the verdant doorstep of the Queen Elizabeth Park — few realise that it is already well under way in Stratford, and has been for some time. In fact, more than 3,000 units are already climbing out of the ground.
"We've been working here for the past 15 years," says Julian Stock, founding director of Stock Woolstencroft Architects, as we stand at the top of his 16-storey Taylor Place building at the Bow Roundabout, looking north-east up the A11 across a startling vision of cranes, scaffolding and glassy blocks that is beginning to resemble the outskirts of Shenzhen.
"At most junctions along the road you'll find one of our towers."
This is no understatement. Walking up the high street from the roundabout, we pass block after block from the Stock Woolstencroft stable. Athena, Aurora, Icona, Velocity, each alluring brand name matched by a tower reaching ever higher, from 17 to 22 to 28 to what will soon be the dizzying 43 storeys of the Spirit of Stratford, one of the tallest residential buildings in the UK.
Each also has its own distinctive identity, or rather number of identities. For this is the kind of architecture, like Westfield up the road, that dissembles and disaggregates its bulk by pretending to be made up of many different parts. One Stratford, a £45 million scheme of 300 units for Telford Homes, completed in 2008, comprises a nine-storey block of brick and bright orange cladding, turning the corner to give way to an elevation of rendered panels in three shades of green, which connects to a 22-storey tower of powder-coated blue metal and back-painted glazing in three further vivid shades of turquoise — all framed by two cream-rendered blocks, with bright yellow, red and blue infill panels. It is a fruity concoction indeed, not calmed by the imaginative range of balcony types — from glass, to timber and tensile wire — liberally scatter-bombed across the facades.
The report from the Greater London Authority's Planning Decisions Unit showered praise on its "palette of innovative modern materials", with a colour scheme inspired by the adjacent river. It described approvingly how "the pattern represents a linear transmogrification of water and fenestration".
The case officer diligently points out that the densities far exceed those set out in the London Plan, but says this can be pardoned by the design quality and the introduction of a new "public" riverside walkway, which has remained gated off ever since. Along the street edge, meanwhile, the 750sq m of commercial space — the much-vaunted "double-height active frontage" — remains vacant.
The same story is repeated further up the street, only on a progressively more bloated scale. It reaches its apogee at the junction of the high street with Warton Road. This former backwater was protected as industrial land in the mayor's Opportunity Area Planning Framework, but is now a key route into Stratford City. Unfortunately, this fact did not pass the land owners by.
The western corner of the junction, allegedly acquired by a local speculator for £27 million in 2006, was then sold on to the Genesis Housing Group for £47 million — a vast overspend for the housing association, after which the only option was to ask Stock Woolstencroft to design the biggest possible development it could get away with. The result will be a 43-storey tower surrounded by a slew of 10-storey perimeter blocks, a £300 million scheme totalling more than 650 units — although it has not been without a struggle. In 2009 the Homes & Communities Agency was forced to pump in at least £48 million of public money to save the scheme after the developer went bust. On the bright side, it also called in AHMM to redesign the lower blocks, which are now emerging with a promising brick treatment, a sober foil to the nearby riot of coloured glass and flimsy metal panels. "It was the one that got away," sighs Stock.
Cabe twice reported "fundamental concerns" over the quantity of development and slammed the design of the tower as "disappointingly generic". Yet it was still passed by the GLA and London Thames Gateway Development Corporation (LTGDC) — within whose boundary this valuable gauntlet of real estate lies, and for whose housing targets such steroidal schemes are a boon.
Over the road, the 28-storey curving glassy sheath of Athena tower forms the other half of this monumental gateway. A £40 million development for the McFeely Group, it is another symphony in green back-painted glass rising from clunky shoulder blocks of blue and grey powder-coated metal.
Again, every architectural element has been expressed with a new find, from the depths of the sample library, double-order white banding framing recessed prefab blue cassettes, with the uppermost storeys clad in dark grey — in the hope that you won't notice them. The tower pretends to be thinner by being split in two, the glass element strapped to a vast grey slab, whose northern elevation reads as a stacked cliff of Portakabins — now looming over the local primary school playground. The GLA detects such moves as a sign "of the highest design quality", for which breach of density and urban vandalism is again forgiven.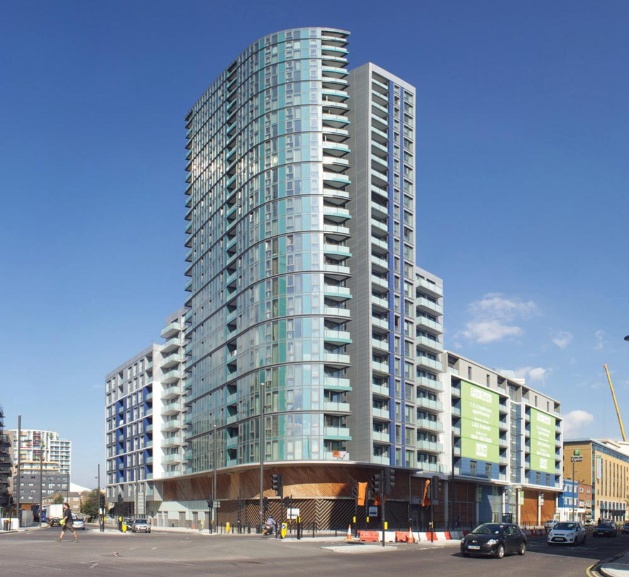 Source: Miguel Santa Clara
Smothered in a panellised garb of lilac and minty hues, the £24 million, 13-storey Aurora tower stands across the way. Stock admits it now looks strangely "dwarfed" by its neighbours. "It is more the family of Icona," he says, pointing out the 18-storey block right on the edge of the Olympic site: an oval extrusion covered with a tutti-frutti spray of neon balconies, completed in 2008 for Telford Homes.
He talks about these projects like wayward children, all products of their times, their heights corresponding to market confidence like a bar chart made real.
"Architecture has become a bit less shouty since the turn of the century," he admits ruefully as we pass the most recently spawned offspring: the zinc-clad Velocity tower, also for One Housing, is marked in its relative restraint — no doubt due to the chastened
£16 million budget.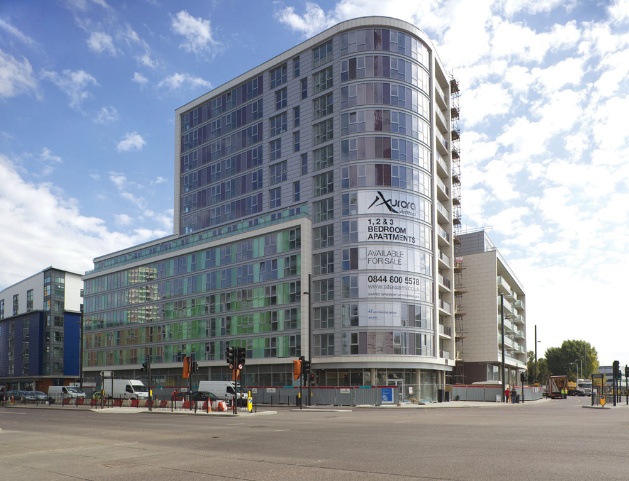 Source: Miguel Santa Clara
But the fundamental problem with Stratford High Street is not one of aesthetics. The vernacular of shouting louder than your neighbour will no doubt continue as more investors flock to build their Olympian icons — even if it is a little surprising that these lurid totems have all come from the same architectural hand. The real issue is that these are singularly mean-minded, inward-looking buildings, gated enclaves of mostly one- and two-bed flats airlifted into one of the poorest parts of London, with no overall vision for the consequences.
"We had very few objections to these schemes," says John Woolstencroft, by way of defence, back in the practice's Aldgate studio. "There is not much of a community there to complain."
Try telling that to the residents of Carpenters Estate, an ailing 1960s council development of terraced houses and three towers, sandwiched between the high street and the railway tracks, now bordered by the service entrances and bin stores of the new schemes. After successive abortive masterplans, many of the residents have now been decanted — although their future remains a mystery.
"It's been going on for 10 years," says Lorraine Cavanagh, manager of Carpenters & Docklands community centre. "Local residents have been ground down and they've just had enough. I don't believe it's fair that a whole community is being broken up because of a development that's probably not going to be filled."
One Housing Group's estate agent Site Sales is more optimistic, enthusiastically telling me quite how quickly Velocity sold out and how more than 50% of Aurora has gone in less than four weeks, adding that 40% of the buyers are based in China — no doubt attracted by the familiarity of the cheap curtain-wall systems, which originate from that country.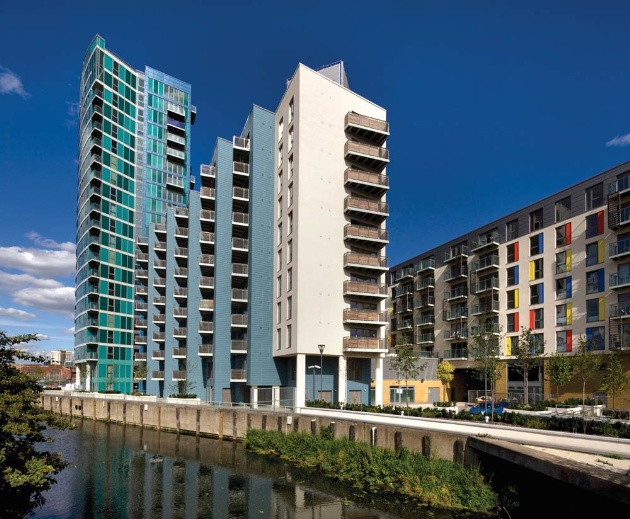 Source: Stock Woolstencraft
"Overseas buy-to-let is a real concern, but as a planning authority we can't dictate how the sales go," says Peter Minoletti, planning development manager at the LTGDC, who has presided over bountiful housing quotas, but gives little assurance that these are making good communities. Each development came with the promise of an active frontage — the corner shops and nail salons that places need to work — and yet, without fail, all ground floor units remain boarded up.
And the Section 106 money? It has been spent on removing guard rails, planting some shrubs and laying paving slabs. Up the road, meanwhile, £3 million of Westfield's 106 has been spent erecting the "Shoal" sculpture — designed by Studio Egret West to hide the downmarket Stratford shopping centre from Olympic visitors.
"The Olympic legacy is supposed to be about regenerating local communities, helping to sow the seeds for thriving neighbourhoods," says Eleanor Fawcett, head of design at the Olympic Park Legacy Company, and formerly lead for the Olympic fringe at Design for London. "That's the big failure here — these developments haven't given anything back to the area. What's it really going to be like as a place to live in 10 years' time?"
Design for London started getting involved in trying to steer the high street schemes in 2007, by which time many of them had already won planning, creating something of an uphill struggle. "Once the doors had opened, you could never go back," Fawcett recalls. "The precedent had already been set, so it would have been very difficult to defend refusal if it went to appeal." Minoletti agrees: "There was an element of closing the stable door once the horse had bolted."
But how was the horse ever allowed to bolt so far down the A11, reaching with such unbound Pegasusian ambition towards the skies.
"You have to think of these schemes in the context of 10 years ago," says John East, director of planning and development services at Newham since 2010.
"Very little was being built in Stratford and getting development to happen here was an achievement in itself."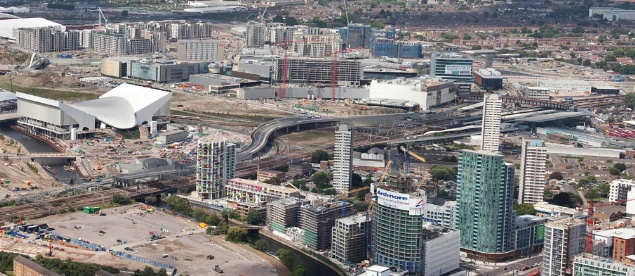 Source: Anthony Charlton
Many have told me this tale, of the wide-eyed, pre-Olympic Newham, so flattered that anyone would want to build in their borough that they welcomed developers with open arms, spellbound by visions of soaring glass shards, and egged on by the GLA's boom-time tower fetish.
"It is fair to say that Newham's aspirations have risen in recent years," says East, diplomatically. "Design quality is now at the top of our agenda." At the recent launch of the Olympic Legacy SPG, his message to developers was nothing if not cautionary. "We welcome you, but if you think we're just another part of the East End and you can do what you've done before, you're better off going somewhere else." Let's just hope they haven't been down the A11 recently.
How far such fighting talk will be demonstrated in actions remains to be seen. The high street has been covered by four masterplans — albeit lacking any teeth — and was under the gaze of seven sources of design critique, including Newham's own independent design review panel since 2007, yet still these schemes made it through - as have many others, still to come.
"People should be more prepared to stand up and refuse applications on design grounds," says Fawcett. "At the moment, planners simply don't have the tools at their disposal to insist on really good places."
One worrying recent development, which hints little has changed, is the demolition of virtually all of the buildings in the Sugar House Lane conservation area, south of the high street, to make way for Ikea's 1,500-home Landprop development by Tunbridge Wells architect, ARC-ML — with little evidence of what will come in their place. The only part of the design yet revealed is a hulking 40m timber tower, modelled on the Olympic torch and topped with a "halo", soon to glow above this flat-pack Scandian version of a suburban Tesco town.
The announcement of the Mayoral Development Corporation, which, like the Docklands model, will have development and planning powers over the whole of the Olympic fringe area, brings some hope of joined-up thinking. If run properly, it might once and for all clarify the quagmire of conflicting design advice and procedural confusion that has led to such a compromised situation along the high street, and finally raise the bar on quality and ambition for the area.
But it will only work if the current planning practice of ad-hoc interpretation from manuals of vague platitudes — alongside the flagrant flouting of statutory designations — is exchanged for open and accountable enforcement of a truly democratic plan.