St Pancras Renaissance London Hotel by RHWL and Richard Griffiths
The painstaking restoration of St Pancras station's neo-Gothic Midland Grand Hotel by architects RHWL and Richard Griffiths honours George Gilbert Scott's original vision, despite some disappointing fit-out choices.
'Architecture is the art which so disposes and adorns the edifices raised by man … that the sight of them may contribute to his mental health, power and pleasure." So wrote John Ruskin in 1849, in the opening sentence to the Seven Lamps of Architecture, his extended essay that attempted to define the guiding principles of the Gothic Revival. To this sentence, 30 years later, he added a barbed footnote: "This separates architecture from a wasp's nest, rat hole and a railway station."
In between these years, from 1867-77, one of the most extraordinary neo-Gothic buildings in the country was built. It was a Ruskinian dream of soaring spires and pointed arches, a polychromatic mountain of brick and stone, encrusted with carvings of birds and beasts and entwined with the tendrils of abundant foliage. It was the Midland Grand Hotel at St Pancras – a palatial frontage for a railway station.
Its architect, George Gilbert Scott, was much influenced by Ruskin's aesthetic polemic, but less bound by his rigid moralism. For Ruskin, the railways represented brutal "vandalism" of the traditional way of life. He damned speed and material progress as false idols, anathema to his cosy medieval vision. "A fool always wants to shorten space and time," he wrote. "A wise man wants to lengthen both." Scott was more pragmatic. As Simon Bradley observes in his brilliant history of St Pancras Station, he "sought only to reform architecture, not to overturn the foundations of the society it served. If the Midland Railway raised capital to carry itself to London and sought to build the grandest hotel in the realm to proclaim this fact, it was none of his business to question the hows or the whys."
Moreover, the compression of space and time was in his interest. One of the first brand-name architects — the Foster of his day — Scott developed an expedient business model. He employed 27 staff (a number then unheard of) who worked to a meticulous house style, while he darted back and forth across the railway network, delivering a whirlwind of buildings up and down the country — a prolific output estimated at between 800 and 1,000 projects by the time of his death in 1878.
Source: St Pancras Renaissance Hotel
The Midland Grand was thus his last major building, capping a vast body of work that spanned from workhouses to churches, universities to the Albert Memorial. To him, it was his masterpiece. "It is often spoken of to me as the finest building in London," he wrote immodestly in his autobiography. "My own belief is that it is possibly too good for its purpose."
Scott was an intensely religious man; do we see here the creeping tones of Ruskinian doubt, a discomfort that the high architecture of cathedrals should be debased in service to Mammon? Whatever his concerns, it is a profoundly intriguing building as a result; one in which you can read the architect's aesthetic and ideological battles as he struggles to define a language that is at once rooted in the fantasy of history, while celebrating the excitement of the machine age. And, little did he know, the fact that it was "too good" would prove to be its saving grace.
Thoroughly in keeping with romantic pre-Raphaelite sensibilities – the Keatsian ideal, tragically too close to perfection to be sustained in the real world – the Midland Grand had a suitably precarious ride through much of the 20th century. It closed as a hotel in 1935, proving desperately costly to run and hopelessly outdated – an army of staff was needed to stoke its 300 coal fireplaces alone. Converted into offices for the railway company, later British Rail, its lavishly painted interiors were carved up with partition walls and suspended ceilings. Not long after the second world war, John Betjeman prophesied the building's destruction, declaring it was "too beautiful and too romantic to survive". With Victorian Gothic deeply unfashionable, and the building further threatened by plans to create a new joint King's Cross St Pancras station, Betjeman took up the cause. He finally saw the hotel grade I listed in 1967 – 10 days before the wrecking ball was due to swing.
When the offices were finally evacuated in the late 1980s, on the grounds of fire risk, it seemed inevitable that, from then on, the magnificent hotel would be consigned to the same fate as the work of Scott's grandson, Giles Gilbert Scott, whose Battersea Power Station is a monolithic urban cadaver, romantically preserved in eternal ruin. It would live on only in the Gothic imagination, its atmospheric interiors used as a creepy backdrop for numerous films, from Richard III to Batman Begins – as well as providing a rather more bathetic setting as a swag-draped pile in the Spice Girls' first video, Wannabe.
Today, walking through the plush, deep-carpeted Club Lounge of the new Marriott St Pancras Renaissance London Hotel, which officially reopened this week, it seems as if the Spice Girls' vision of the place might have proved the chief inspiration. A bright red, acrylic chandelier now dangles above a brown velvet banquette. Cream leather armchairs cluster around dainty, black mirror-polished tables, supporting vases of purple flowers. The stage is set for Mel B to jump out from behind a curtain and back-flip down the stairs — perhaps accompanied by Laurence Llewelyn-Bowen. It is an image of generic 5-star decor replicated across the world. But peel back the flimsy trappings of the chain hotel, and you can see one of the most fastidious restoration projects ever undertaken on a commercial building. The result of £160 million and 13 years, the hotel is now receiving guests once again, 76 years after it closed its doors.
Source: Pablo Rimoldi
The driving force behind this monumental undertaking has been Harry Handelsman and his property company, the Manhattan Loft Corporation (MLC), working with London Continental Railways and Marriott Hotels, with many millions stumped up by the godfather of the hedge fund, Stanley Fink.
For the project to make any commercial sense at all, the hotel needed at least 240 rooms. When it first opened, it contained almost this many – Scott's bombastic winning design was double the size of that asked for in the brief – but the upper floors were pokey attic affairs. MLC has since knocked these through to create expansive multi-level apartments, which were completed in 2009. The project therefore necessitated the construction of an additional wing along the site's western flank on Midland Road, opposite the British Library.
RHWL, which has led the project since its inception, initially conceived this as a stacked, glazed box. But this was ruled out by English Heritage, which decreed that the new building must be in the "Scott manner". It was a controversial move – given the accepted approach of expressing new additions – but, here, it was right.
William Henry Barlow's St Pancras train shed and Scott's Midland Grand have always had a distinctly distant relationship. One was an engineer's logical solution to the challenge of providing the longest span, column-free roof possible, the other, a breathtaking flight of fancy. Indeed, in 1968, historian John Summerson bemoaned their "disintegration of architecture and engineering: the total separation of functional and 'artistic' criteria, in separate heads and hands". Richard Griffiths Architects – already working with RHWL on conservation aspects of the project – was brought in to develop a scheme for this highly charged situation, and has deftly reunited the head with the hand.
Raised above an existing loading bay, following the line of Barlow's shed, a 30m cross-braced steel transfer structure now supports the five floors of 189 new bedrooms, isolated from train vibrations on rubber dampers. This vast skeleton dictates the rhythm and nature of the fenestration, a clever reworking of Scott's Euston Road frontage, with pointed arches fitted in between its triangulated frame. Cranked back from the street line, it has a bold massing, its facade a more simplified tectonic version of the Gothic front, all decorative detail stripped back.
"It is perhaps how Philip Webb might have interpreted Scott," says Richard Hill, associate at Richard Griffiths Architects. In the simple curved courses of the layered reveals, there are definite echoes of the arched openings of Webb's Red House. There are also nods across the road, with panels of square red latticework between the windows mimicking the trelliswork of the British Library: "It's our homage to Sandy," grins Hill. In the steep metal roof, from which dormer windows emerge, there is the language of Barlow too. While Scott said of the Gothic public building that it should be "on so vast a scale as to rule its neighbourhood, instead of being governed by it," in this extension, Griffiths has introduced some rather more considerate manners.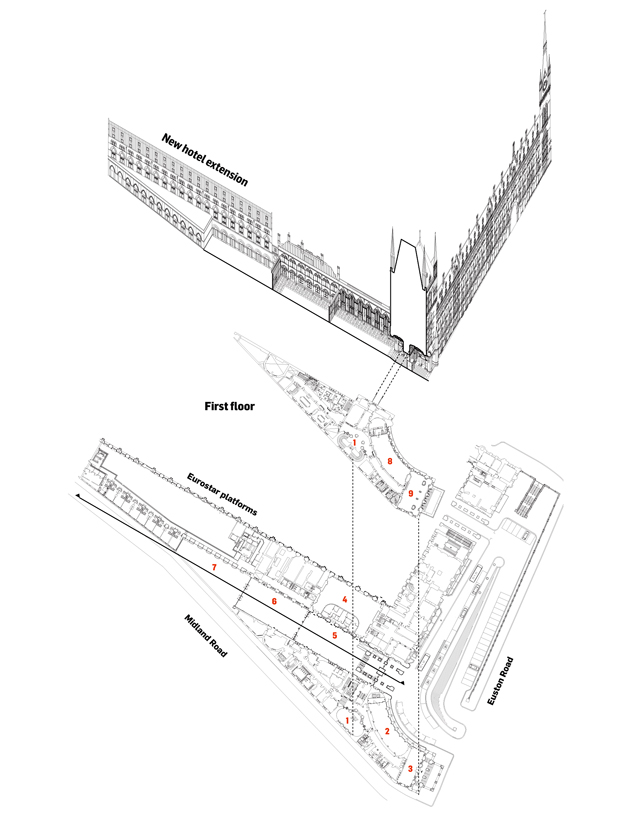 1 Grand stair
2 Restaurant
3 Bar (former hotel entrance)
4 Bar (former booking office)
5 Hotel reception
6 Function room
7 Terrace
8 Function room
9 Function room (former Ladies Smoking Room)
Within the building, the thoughtful deference continues. The principle western arch, formerly for the taxi rank, has been reconfigured as the main hotel entrance, leading to a top-glazed reception area – a fitting space, reminiscent of the palm courts that came into fashion for hotels of this kind a little later. Its floor is laid in end-on oak sets, recreating the flooring originally installed to soften the deafening clatter of the cabs.
To the right, between the lobby and the station concourse, the soaring hall of the former booking office is now a swanky bar and restaurant, its wooden ticket desk saved and reconfigured to screen activities behind the bar. Leading left off the lobby, a new doorway has been cut, framed with a concrete lintel, into a central core where a bank of three lifts has been carefully inserted.
Down some steps, you reach the grand central staircase, aligned with the Midland Road facade and so now approached intriguingly off-axis, making its revelation all the more dramatic. The original entrance to the hotel, at the end of this curving western quadrant, is now another restaurant-bar, its interior also lovingly restored. Jane Hillings, conservation architect at RHWL, explains how the carved stone tracery of the Venetian palace window into the old porter's office was replaced in Ancaster stone, based on details shown on a postcard, after it was severely damaged by a fire in 2007. The column shafts were recreated in the same polished Connemara marble as the originals, and the ceiling was meticulously repainted, in line with a redecoration of 1892. Gilded peacocks pose beside sunflowers above the doorway, while a strange cascade of metal bells hangs from the ceiling rosettes – another intriguing choice by the fit-out company.
As we progress through the long corridors and newly restored rooms, it emerges that the spaces have been reinstated to various different periods, charting the building's long history of different occupants. "It reads like a textbook of 19th century art," says Hill. Early studies by Crick Smith, a historic materials conservation consultancy, defined seven key areas for full decorative restoration. Lengthy discussions eventually led to consensus on which period would be most appropriate for each.
The ceiling of the Ladies' Smoking Room – now a general function room, looking out on to Euston Road above the old entrance portico – replicates one of the original patterns. Stone sections have been faithfully replaced, CNC-milled and detail hand-carved in situ. The main staircase, however – now restored to a rich crimson dotted with gold fleurs-de-lys, as decorated in 1901 – was originally a sandy-beige, with stencil-work below a painted dado. But English Heritage was adamant that the heraldic garb should remain. "There's no scientific way of doing it," says Hill. "You have to go for the best overall feel."
Whatever its original clothing, the stair itself is the masterpiece of the building, a dynamic play of curving arms that sweep up, past cathedral-height windows, to broad landings, framed by arched screens and delicate bands of wrought ironwork. Beneath, the stone treads are supported by a criss-crossing matrix of iron girders and brackets, exposed in a then-unprecedented way, the whole giddy contraption rising three floors to service the 38 bedrooms in the old building.
Accessed off long east-west corridors, the larger inter-connected suites occupy the southern frontage, while smaller rooms are arranged to the north, looking into the station concourse. The main chamber of the grand Sir Gilbert Scott suite – yours for £3,000 a night – had its original wallpaper restored from a small remaining fragment, its 30 colours matched and hand-blocked in the workshops of conservation specialist Allyson McDermott – at a cost of £47,000. The rest of the rooms are slightly strange affairs, with that rather uncomfortable renovated Victorian institutional feel. Lofty 5.5m ceilings with freestanding modern bathroom pods dropped in, sealed windows with recessed LED strip lighting, and the obligatory Marriott furnishings all make for a heady combination.
"One does not desire to sleep amid purple and gold," complained one American visitor in 1882. You can now add to that several shades of timber, marble, leather and suede. These are small details, perhaps, but it seems all the more tragic given the painstaking attention to detail of the restoration, and the fact that Scott's original interior was a carefully calibrated hierarchy: oak or walnut for the first floor, teak for the second, mahogany for the third and ash for the fourth.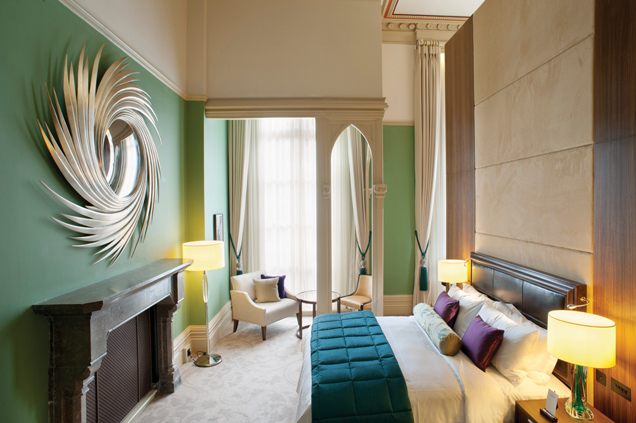 But it is important to look beyond the surface fittings, which are all thankfully reversible. "The best bits are the invisible bits," says John Simpson, director at RHWL, patting one of the slender timber-panelled columns that line the corridors – 20 new risers, replicated from one originally used for the hydraulic fire hose system. Elsewhere, every inch of existing capacity has been used. Following Ruskin's teaching that the honourable craftsman must pay as much attention to what is hidden as to what is shown, the team has worked tirelessly to fit the modern day requirements of a 245-room hotel into the carcass of a 19th century one. In a process of key-hole surgery, kilometres of cables, ducts and pipes have been nimbly inserted through the existing network of chimneys and ventilation shafts – most of which were heavily blocked with a thick cocktail of soot, rubble and mummified pigeons. With the listed fabric untouchable, each cavity was painstakingly cleared from the top down, and additions were constructed from the bottom up. The concrete parts were cast in situ and all steelwork was fitted in portable sections.
For the floors, Scott had used the patented fire-resistant Moreland slab: bowed trusses that support corrugated iron sheets, with lime mortar trodden in on top. This was all hidden by floorboards above and lath-and-plaster ceilings below. This structure has been faithfully retained, but the plaster ceilings have been covered with intumescent paint and fitted with high-pressure mist sprinklers, with air handling units cleverly hidden behind suspended ceilings in places.
Meanwhile, the bowels of the building are bursting with plant – silvery guts nicely visible through the windows along Midland Road – and the old basement kitchen has been converted into a spa. Replica tiles line its vaulted passages, bulky exposed ducts hang above the pool, and murky pavement lightwells provide a suitably Victorian gloom.
In sum, the fact that this remarkable building has returned to use after so many years as a creaky, dormant shell, is an astonishing feat. In places, it feels as if the various teams were never quite connected – the spotless restoration colliding with off-the-peg decor, and the careful composition of the new wing's facade sitting uncomfortably with its cheaper standardised interior – but this seems difficult to avoid given the nature of the beast and its chequered history. Whether it is sheer luck that this colossal cliff of a building survived the roundabout of fashion, that it has lasted to see a serendipitously renewed interest in the spooky, kooky Gothic, remains unanswered. But it hopefully sets a precedent for imaginative reappraisals of a multitude of structures, no matter what their value might currently be perceived to be.
PROJECT TEAM
Architect RHWL Architects, Conservation architect Richard Griffiths Architects, Client Manhattan Loft Corporation, Structural engineer Arup, Services engineer Aecom, QS Gleeds, Fire consultant Jeremy Gardner Associates, Contractor Galliford Try Construction
Postscript:
RHWL director, John Simpson will be talking about the refurbishment of St Pancras Chambers as part of An Afternoon with BD at KBB London on May 16.