Stephen Taylor's cowshed represents a provocative marriage of classical and vernacular themes
Stephen Taylor Architects' latest project is a work of some considerable, if unimpeachably serious, pretensions. An addition to Shatwell Farm, which forms part of a large country estate near Castle Cary in Somerset, it may just be as grand a home for cattle as was ever built.
Intrinsically humble a building type as the cowshed clearly is, it is not entirely without a place in the history of architecture. Between 1923 and 1926, Hugo Häring took that seemingly thankless brief and conjured from it, at Gut Garkau, in northern Germany, one of the defining works of the organic movement. His rugged assembly of brick, concrete and clapboard had the force of a built manifesto — a building whose determinedly irregular plan and profile was shaped around a forensic analysis of the optimum layout for the activities housed.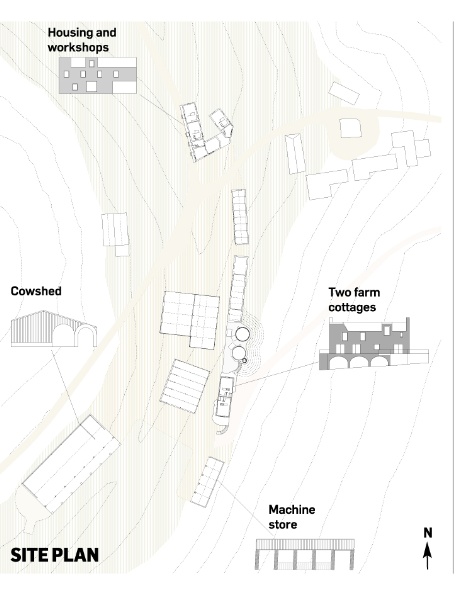 This was an architecture that sought to reconcile a quasi-scientific pragmatism with the formal expressivity that had been opened up by cubism — a sensibility at a significant remove from that of mainstream modernism. Häring was ultimately expelled from CIAM after a confrontation in which he accused Le Corbusier of being a crypto-classicist — an allegation that, on the basis of the Shatwell building, could certainly be levelled at Taylor, too.
A description of its basic format need not detain us long. An off-the-shelf, steel-framed shed of seven bays in length has been sited at the farm's edge. One of its longer elevations backs into woodland; the other frames a valley that is narrow and shallow, but which soon widens and becomes more pronounced as it progresses south, ultimately providing an expansive setting for the estate's main house, a kilometre away on the same
bank as the shed.
Three sides of the structure have been faced in open-jointed timber slats but the primary elevation has been formed by the one explicitly bespoke refinement — a colonnade formed of insitu-concrete columns. Of these, the middle six are of circular section and terminate against a concrete beam of U-shaped profile that doubles as a gutter. The peripheral ones are square and develop into the building's most gestural feature — a pair of arches that close the colonnade's ends.
The functional imperative behind all this is not weighty. Twice daily, the farmer drives a tractor down the length of the colonnade, distributing silage to the herd of 50 cows housed within. A gravel turning circle has been provided at the end facing down the valley.
This then is a building that has very little of Gut Garkau's rootedness in considerations of use. Its image is archetypal, more than a little temple-like and implies strongly that the structure's current function could readily be exchanged for others — not such an academic consideration on a three centuries-old estate that features many one-time farm buildings that now serve as houses and offices.
Among these, there are structures with colonnaded fronts built of the warm-hued stone from the local quarry and Taylor's concrete is composed of the same soft, clayey material, crushed and riddled and bound with a Portland grey cement.
The results have not just the colour but also something of the crumbly texture of flapjack — a product of the dryness of the mix and of the complete lack of any compaction beyond that caused by the material's self-weight. The central columns were cast in 10 lifts — one per consecutive day — with the material being tamped only, a studied carelessness that has produced a striking variation in density. Inquisitive fingers can easily pick off small fragments but the columns are of such monumental dimensions — they are 750mm in diameter — as to dispel any fears for their longevity.
In contrast to the assembled nature of the shed proper, these constructional choices lend the colonnade a profoundly elemental quality. A direct relationship between the material from which it has been built and the ground on which it stands is established, a sense that should be enforced as plants colonise the pock-marked concrete.
Taylor's approach may lie in polar opposition to Häring's organicism, but a persuasive precedent for it can be found in another architectural tendency that was current in northern Europe in the 1920s: the Scandinavian doricism exemplified by the early works of Gunnar Asplund and Sigurd Lewerentz. In the two great churches that these architects built at Stockholm Cemetery, Asplund's Woodland Chapel (1920) and Lewerentz's Resurrection Chapel (1923), we find buildings that approach the character of Taylor's shed from the opposite direction: barn-like temples rather than a temple-like barn.
In all three cases, seemingly incompatible allegiances to the vernacular and classical are presented in a state of fragile resolution. They are buildings that appear to enact a primitive architectural drama, as if caught at the point where the most basic forms of construction have suddenly been required to take on mythic and monumental ambitions.
The liberation of Taylor's building from a structure conceived purely in terms of shelter to one that performs an explicitly representational role is handled with impeccable logic. The grid on which the steel-framed shed is laid out directly determines the spacing of the concrete columns, while the pitch of the roof continues unabated to fix their height.
Their classicism is signalled by no base, capital or decoration: they are in every respect, save for their marked structural redundancy, a pragmatic solution. It is only with the arches at either end that the building truly shakes itself free of utilitarian considerations — significantly, they stand proud of the shed's gable ends, making clear that the only weight they carry is their own.
Taylor has also developed proposals for several other buildings at Shatwell — a machine store opposite the cowshed, answering it with a colonnade in brick and a couple of residential buildings, the larger of which would include workshops.
Along with a planned office building by Hugh Strange Architects and the recently undertaken expansion of the dairy house by Skene Catling de la Peña, these schemes constitute an effort to expand the range of activities on the farm and to give it a more concentrated, not to say urban, character.
The cowshed plays a key role in this emerging ensemble, standing as it does at the threshold between the farm and the open valley. It is a building concerned, in more than one sense, with the beginnings of architecture.
PROJECT TEAM
Architect Stephen Taylor Architects
Client Hadspen Estates
Structural engineer Engineers HRW
Main contractor Paul Rawson
Groundworks subcontractor GA Doble
Shed subcontractor Heron Construction
Precast supplier Milbury Systems
Postscript:
Pictures by David Grandorge