Roman horror day at Zaha Hadid's Maxxi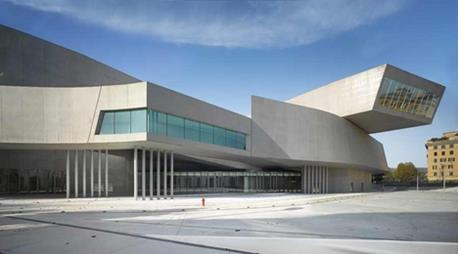 Maxxi, Rome's National Museum of 21st Century Arts, displays a cynical disregard for its purpose, that marks a conceit too far for Zaha Hadid
This is the fourth time that I have reviewed a project by Zaha Hadid Architects (ZHA) in these pages, a task that I have always approached with a sense of awe for the practice's quite extraordinary formal facility, tempered by sometimes very considerable misgivings about the plausibility of the completed work. When it has come to the crunch, I have always erred on the side of optimism but I hardly need to say that a less sympathetic observer might find much to object to in the practice's built output.
Some of the obvious complaints rest on well-rehearsed points of architectural principle. Clearly, if your heart lies with work that demonstrates a tectonic rigour, a sense of urban decorum and an awareness of the architectural culture of its locale, you will find little in the Hadid oeuvre to detain you. Others are of a more prosaic nature. How, you might ask, can a project such as the Spittelau scheme in Vienna be deemed a success when it constitutes one of the most expensive social housing projects ever built? Does the crash-landed stealth bomber that is the Maggie's Centre in Kirkaldy really offer an expression befitting the building's role as a care facility for cancer patients? Isn't the epic Zaragoza bridge-pavilion doomed to white elephant status now the expo for which it was built has ended? As I say, my impulse has always been to extend the architect the benefit of the doubt and enjoy the fantastic spatial exuberance that the buildings invariably have to offer. However, after an afternoon spent wandering around the gargantuan shell of ZHA's still vacant Museum of the 21st Century (Maxxi) in Rome last week, I realised I could no longer suspend my disbelief.
A decade in the making and costing a cool €150 million (£133 million) it is the practice's largest work to date and seemingly the one in which it has been granted the freest hand. Certainly the 1999 competition for the project presented a quite extraordinarily open-ended brief. The givens were a 29,000sq m compound, occupied by readily demolishable barrack buildings, and an ambition to build a museum of international standing that would house the art of a century that had yet to commence. In other words, a site and a brief that were both as close to a tabula rasa as one could imagine. What has been built so far is only the first of the five interconnected buildings that ZHA originally proposed but it alone provides a volume of exhibition space broadly equivalent to that of the Bilbao Guggenheim. It has been realised incredibly slowly but with care and to all intents and purposes in accordance with the competition scheme. As profound as I believe them to be, the building's failings are not the product of compromise.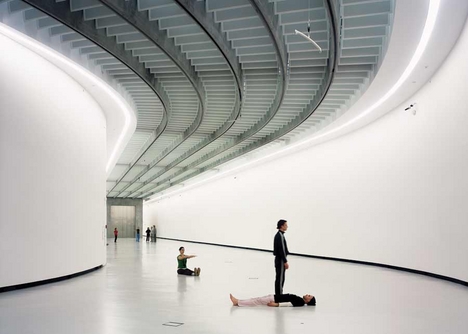 Beyond easy reach
Indeed, a fair part of what is unconvincing about Maxxi relates to its fundamental premise. The first problem is the location. As the centre of Rome doesn't readily accommodate new buildings of any great scale it was designated a site outside — well outside — the historic city walls. Flaminio lies beyond easy reach of any metro station, requiring a 20-minute bus journey from the northernmost point of the city centre.
While largely residential, it does accommodate a number of other public buildings. Walking east from Maxxi we soon find a couple of stadiums built by Nervi for the 1960 Olympic Games and, a little further on, the three auditoriums of Renzo Piano's Parca della Musica. These facilities may bring in large audiences for particular events but the day-to-day character of the place is worryingly sleepy. Imagine, for a moment, that in choosing the site of its museum of modern art, the Tate had passed on Bankside power station and opted for a plot on the Greenwich peninsula. That is the sense one has at Maxxi. Not a fatal move but one that will clearly prove a constraint on the audience that can be lured in and on the contribution the building can make to the life of the city.
Of course, what might prove a fatal move would be to build Tate Modern on Greenwich peninsula and then to find that you didn't have anything to show in it. Alarmingly, this too is the sense one has at Maxxi. Anyone who has trudged around the meagre holdings of Rome's National Gallery of Modern Art will be aware that the Italian cultural authorities haven't seen the need to invest in contemporary work for many years. Maxxi's collection is therefore being assembled from scratch — a formidable challenge given the scale of the building. To date, around 300 items have been bought but the gallery is being rather coy about what they might be. The highlights offered on its website — a smattering of minor works by some of the big names of the past century packed out by purchases from the younger generation of Italian artists — do little to instill confidence.
Given sufficient time and investment these issues can be addressed, but one is still left wondering why it was felt necessary to build such a substantial building before the collection was in place to warrant it. This was certainly not the only option. While ZHA's project has seen all but two of the barrack buildings levelled, other competitors proposed a more incremental process of redevelopment. The existing fabric largely comprised single storey top-lit sheds that were by no means unsalvageable. Hadid acknowledges that they had attractive qualities but ruled out their retention on the grounds that the introduction of adequate environmental standards would have resulted in their architecture being obscured. But how much of the museum's volume actually needs to be climate controlled? It certainly doesn't need to offer those conditions if it is showing video art, performance-based work, or many forms of contemporary sculpture. Architecture also forms part of Maxxi's programme and here too it is hard to see that there will be much that it might want to exhibit that couldn't have been presented in the existing buildings just as readily. The key issue is, of course, that Maxxi doesn't know what kind of art it is going to be required to show for the simple reason that it has yet to be made. One might imagine the appropriate response to this quandary would be bide one's time and keep all options open — certainly not to build a museum that imposes some of the most demanding curatorial constraints in the world.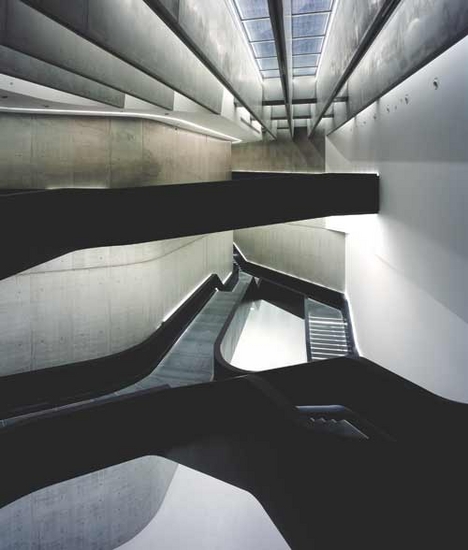 The Maxxi design was one of the last undertaken by ZHA before the adoption of parametric modelling radically transformed its formal vocabulary. Hadid's working method at the time was to develop plans on drafting paper, overlaying one upon the next. The completed building offers a startlingly direct corollary of that procedure. Sectionally, its three floors are essentially locked into place while the plans diverge very radically indeed. The basic volume from which everything is composed is a storey-high, snaking extrusion which, in some instances, extends for as far as 150m. These forms are employed repeatedly, weaving together on each floor to establish a continuous exhibition terrain and cultivating a series of dramatic voids at their interstices.
One of the surprises of the building is that despite its scale, it is all but invisible from Via Guido Reni, the street that provides its principal address. This is because it is largely hidden behind one of the two retained buildings, an administration block which has been refurbished to accommodate an auditorium and temporary exhibition space. Approaching Maxxi from the west, all we see is the end of one of the snaking galleries playing peek-a-boo over the retained facade at second floor level. Having passed the old building we are presented with a gate beyond which a large plaza extends to Via Masaccio, the street that borders the north end of the site. In time, this space will be occupied by the project's other component parts — a library, a designated block for the architecture department and a number of apartments for resident artists. This will transform the site into a densely inhabited field of structures, some of which will be raised on columns, linked by bridges above, to ensure spatial continuity at ground level.
Hadid cites, as a principal motivation, the desire to transform a site that was previously fortified into one that offers a more perforate relationship to the city. In this regard, the presence of a security fence running along both street frontages is a significant problem and doubtless a disappointment to the architect. The completed building does, however, strive to make connections to the world beyond it, notably by shifting orientation midway along its length in acknowledgement of a road that branches off at an angle from Via Masaccio. This relationship is unfortunately rather less tangible than one might hope for as one side of the road is occupied by a low-rise, solitaire school building, markedly diminishing the street's spatial definition.
Indeed, there is a strong sense that Maxxi's setting hardly represents the kind of context in which ZHA's epic sensibility can flourish. At Innsbruck, it had the Alps; in Cincinnati, a metropolitan grid plan; at Wolfsburg the infrastructural scale of the terrain vague. Flaminio's fragmented, low-density urbanism simply doesn't offer an equivalent spatial intensity. The building's completion will doubtless lead to the adjacent sites being redeveloped so a more cohesive setting can perhaps emerge. At present, its gesturalism feels ill supported, not to say bombastic in the extreme.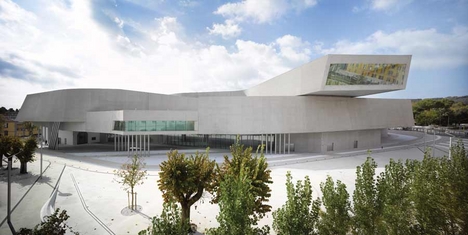 Forest of columns
The most pronounced disjunction between the different plans occurs in front of the entrance. Supported by a forest of closely bunched columns, one of the snakes pulls away from the building at first floor level, executing a wide loop before crashing back in. The spatial effect is as dramatic as the programmatic motivation obscure. When phase two is undertaken, however, this element will provide a bridge to the elevated architecture department which is set to occupy the centre of the plaza. Passing underneath we encounter a large expanse of glazing, through which the foyer is visible beyond. This space extends up the full height of the building, caught between the flanking walls of the thrashing snakes and the now internalised rear elevation of the retained building. As throughout Maxxi, the material palette is extremely reduced. Walls are in exposed concrete, or painted white, while the floor is a reflective grey epoxy. The element that dominates is a steel stair which positively flows down from the upper levels endlessly changing course en route. It is painted anthracite black, the stinging impact of which is accentuated by the application of banks of fluorescent lights to its underside.
At this point, forgive me if I ask you to work your way through the plans on your own. This is a building that, at least on an initial visit, reduces one to a permanent state of disorientation. I don't actually offer that observation as a criticism. To visit a museum is necessarily to go for a walk and it would be churlish to begrudge Maxxi its right to take you on one. If the experience manages to be something other than frustrating it is in large part because the only point at which one encounters a dead-end is on the uppermost floor, which terminates in a full-width expanse of glazing overlooking the plaza.
But what — and here's the rub — of the galleries? Well, suffice to say that there are five "gallery suites" each following a different curvaceous plan geometry but united in a common scale and treatment. As to the scale, it is consistently vast. The floor to ceiling height is a uniform 6m, reducing somewhat on the top level as a consequence of the interesting decision to set the floor at a pronounced rake. The ground floor suite is a black box environment, illuminated by artificial lights mounted across the full extent of its endless ceiling. Upstairs, daylight enters by way of a continuous glass roof, supported on deep fins — steel trusses faced in glass reinforced concrete between which adjustable louvres have been deployed. The fins represent the roof's secondary structure and are oriented parallel to the side walls, echoing their every change of direction like an array of go-faster stripes. They also provide the sole means of installing anything other than floor-based art. Mounting work on the side walls has been deemed verboten — just in case a curator gets the wrong idea, these surfaces are frequently tipped off plumb — and so a system has been developed by which partitions can be hung from the fins. It is like no treatment that I have ever seen, but it does bear comparison with the one proposed by Le Corbusier in his unrealised 1931 scheme for a Museum of Unlimited Growth. The question remains, however: what art can possibly benefit from being exhibited in such conditions?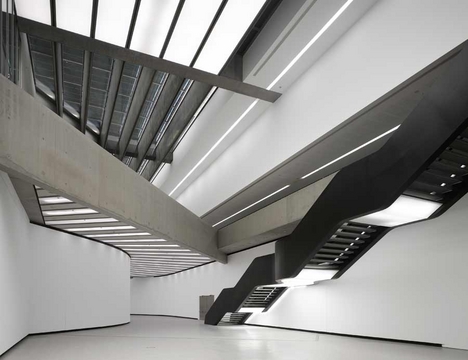 While Richard Serra's work at the Bilbao Guggenheim — the largest sculptural installation in the world — perhaps suggests a way forward, the suspicion remains that those pieces survive Gehry's fluid interior rather than thrive within it. The similarly torqued forms that he has presented in the more conventional spaces of London's Gagosian and New York's Dia: Beacon certainly suggest as much. And paintings? Won't even very large canvasses be reduced to the presence of postage stamps within these cavernous galleries? Of course, one can subdivide the suites into rooms but only at considerable expense to the building's architectural integrity. So we are left with the hanging system and the prospect of artworks choreographed like so many Busby Berkeley showgirls, decorative incidents at the service of Hadid's grand vision.
Frankly, I can't think that I have ever encountered an art gallery that addresses its nominal function with such seeming cynicism. If the measure of success is the number of text-messaging adolescenti that hang out in its Piranesian halls, I don't doubt that Maxxi will come to be seen as a hit. But as a gallery, let alone as a portrait of the cultural priorities of the 21st century, it leaves an enormous amount to be desired. I only hope that the period of which this long-awaited project is truly emblematic is one that is now behind us.
Postscript:
Take a video tour of Zaha Hadid's Maxxi museum sponsored by The Concrete Centre. Go to bdonline.co.uk/maxxi.