Revisiting Dorset new town Poundbury
The Prince Charles-led 'new town' of Poundbury which was masterplanned by Leon Krier, has taken a hammering from critics but has succeeded at something more important than architectural brilliance – its role as a community
Poundbury, set in the Dorset countryside on the edge of Dorchester, has been taking shape in brick and stone since 1994, according to the "eternal" principles of Leon Krier's masterplan.
To stoke your prejudices of the Prince Charles/ Duchy of Cornwall-led project, here are some extracts from the Poundbury Building Code:"Historical door patterns are only allowed as true imitations in form, construction and proportion", and "columns should be Doric or Tuscan orders with proportions and entablatures according to William Chambers' Treatise on Civil Architecture" (yes, that was published in 1759).
And some tidbits from the Poundbury Design Guide: "stretcher bond is not permitted"; "soldier arches are not allowed"; "shiplap boarding is not permitted"; "parking of caravans, boats or trailers is not allowed"; "there shall be no flat roofs"; "permission will not be given to demolish chimneys"; "windows with asymmetric subdivision will not be permitted"; "windows and doors shall be built entirely of timber"; "bathroom windows should not be obscured or patterned glass"; and "woven panels of wooden fencing are not allowed". Enough to annoy any of us sophisticates, especially as we have a guilty conscience: the housing mistakes of the sixties and seventies were made by us and the state trying to do good. Here we have a prince as the developer, doing work on land owned by Royalty for 700 years, without our sanction, and getting a lot of popular support.
If you haven't visited, you really must. What the prince created needs to be seen to be discussed. The coding is very particular: you feel you have strayed on to a BBC production of Middlemarch after the actors have gone home. This is the effect of implementing "timeless principles" of design, where the importance of context and the local vernacular have been distilled into a building code: local materials, traditional craftsmanship and no Sky dishes.
The scoffing is easy, and a visit needs to be followed, as I recently did, by a revisit. Beneath the skirts of the contrived architectural dressing there is a nobler and broader ambition: a sincere attempt to produce 2,200 good new homes. It is only a third finished, and where else is it being done better? This ambition is fed by principles most of us (excluding housebuilders) would support.
Right-minded architects believe in making a neighbourhood, not a dormitory. The split between homes and commercial space is two to one. This is a mixed community with its share of affordable homes. Every effort is made to make it permeable and walkable, with the car corralled as much as possible off the streets in parking courts. There are no cul-de-sacs or front gardens. It takes pride in its slowness, and the cost of building it. In the prince's eye, it is a place for healing.
A revisit also means a first visit to what has been built since your last visit, and the difference between phase one and the new stuff is dramatic. Enraging every modernist, phase one was low density at 16 units per acre, and distinctly villagey with its preposterously contextual village hall. But subsequent phases are more than doubling that density, and will include five-storey blocks of flats, even if the weird 18th century dress still applies.
This makes it even more difficult to pin down what sort of place this is supposed to be. Some residents call it a village, others a "modern" or even a "perfect" village. The official line is quite different: an "urban extension" of neighbouring Dorchester, or an "urban quarter". What word do we need to describe the sort of volume housing we are going to build? It seems to be about levels of density and the aspirations of home buyers.
Intriguingly, Simon Conibear, the chief executive of Poundbury, describes the place rather charmingly as "exemplar new suburbanism".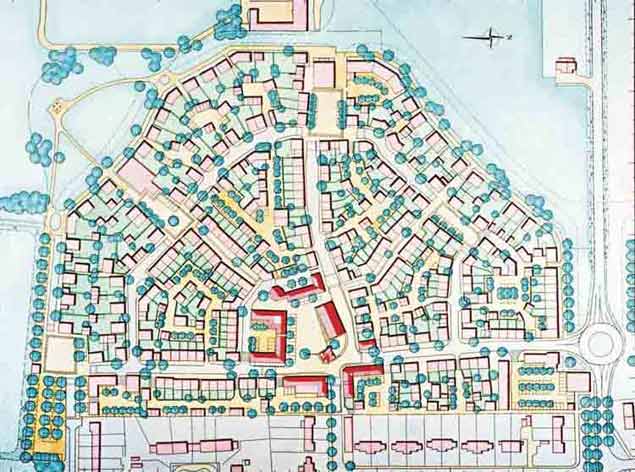 I much prefer the sound of new suburbanism to new urbanism, though new anything is a bit Labour. Poundbury in its later phases is dense. It means the titchy "Poundbury postage stamp" garden, a first floor sitting room, a lot of windows with views of walls, and flats. You will also be discouraged from driving. All this on what was fields, and is still surrounded by a windswept and apparently abundant supply of more fields.
Is this the way forward for us all? A hill town designed by a man from Luxembourg. It suits many. But not everyone: what about "motorway man" who might want the freedom to commute to work, to be flexible where he works, and who would like to hop in the car for the school run, and at weekends hop back in it for bargains at the out-of-town retail offer, and pop in on friends carefully chosen over the years, rather than being stuck with the neighbours?
I'm torn myself. It's easy to condemn Poundbury for its bizarre garb, but not so easily for its planning. This is the future, not the past, at least in terms of current orthodoxy and government policy on density and car use. What's more, a huge effort is made in Poundbury to make the place work as a community. I have trudged around a good many places which were built in one gasp in the past, and the best all have structures which encourage production of social glue.
Poundbury is delightfully earnest in this. There will be as many pot luck suppers in the village hall as it takes. The quarterly Poundbury Residents' Association Newsletter oozes with what binds the pioneers on Poundbury together: from organised walks to petanque.
It does work. One resident told me she had finally found the place to replicate her 1970s childhood in Putney for her own children.
There are a lot of happy customers. A very long-term view has guided this, with the Belgrave estate of the Grosvenors supplying a model to control quality. The Duchy releases a parcel of land for sale: housebuilders tender for it, but have to provide detailed plans with their bid. The successful purchaser gets a building lease, and can only complete freehold sales to the punters when all has been completed in accordance with the approved plans.
Helpful hints from the code show this is not Barratt knocking out the planners' local vernacular: "a slight lean outwards of two degrees of the dormer gable (a form of entasis) will help prevent a dormer looking as though it is leaning back into the roof".
High marks then for glue and ongoing management. After the density problem, my main beef has to be the issue of delight in design and those eternal principles. The finger points at architects for not rustling up some alternatives to the Poundbury approach.
How can these Poundbury homes be the product of eternal principles? Where are your recipes and pattern books for architectural delight for home buyers and why are your links to the housebuilders so slight? Who says that the cottage, the coach house and the manor house must look like Jane Austen's?
Design guides are apparently the future, and Poundbury is being trumpeted as a triumph largely based on its guide and code: "judicious mixing (of chimney pots) will give a feeling of the collective roofscapes having evolved", murmurs the guide.
We need some robust alternatives, or we will be lumbered with contextualism and the neo-vernacular, ossified in coding.
If Poundbury's 1759 date stamp is not to our taste, do we have better pattern books of our own to promote to the punters, and can we satisfy some suburban urges rather than the density of Poundbury?
The resident's view
We came to live in Poundbury six years ago because I liked the idea of living in a small market town with lots of things in walking distance. And the architecture is pretty. We knew Prince Charles was involved but didn't know too much about that when we arrived.
It has a real village feel. We have a detached five-bed house that is conducive to meeting neighbours because of the courtyard arrangement - there's a whole community out the back. I also meet people passing my house at the front. When I walk through into the centre of the town a mile away there are lots of pedestrian routes where you can bump into people and chat. The planning is superb. I've heard people say you can't transplant an entirely new community, but I think you can.
It feels contemporary. Although the architecture is gorgeously familiar and the houses are so easy on the eye, there are lots of modern materials. We're delighted by the fuel bills - the houses have double-glazing and lots of insulation. We've got broadband and TV and phone points in every room. There's nothing staid or old fashioned about it.
There are a lot of retired people but there's social housing and also quite a lot of children.
Some don't think the integration of the factories is so successful in residential areas but the factory managers are sympathetic to operating in a residential environment. Some people say they'd like larger gardens but they also say they've never known anywhere where there's such a sense of community.
Fran Leaper is secretary of the Poundbury Residents' Association