Having built a reputation for adventurous one-off homes, Alison Brooks Architects has brought its talents to bear on volume housing in the form of 85 units at Newhall in Essex.
You can usually navigate an unknown town by following the age or style of buildings and roads in order to guide yourself towards or away from its centre. Above all, density is your signpost.
Yet head to Newhall on the eastern outskirts of Harlow and the architectural compass is confounded, the needle sent spinning as you leave the main station for acres of soggy turf sown, apparently haphazardly, with stubby lengths of 1950s terraces, big-box wholesalers and mini-roundabouts.
In planning Harlow New Town, Frederick Gibberd employed a finger plan, leaving green wedges between the built-up digits that form its neighbourhoods. It is a city parti used with great success in the contemporaneous Copenhagen Plan; but sprawling, low-density Harlow is, sadly, not Copenhagen. This despite Gibberd occasionally aiming high with the UK's first residential tower block — The Lawn of 1951. Suburban development has expanded the town since the 1970s.
Newhall is an attempt by local landowners, brothers Jon and William Moen, to address this sprawl. Since the early 1990s they have been slowly developing their farming land on the edge of Harlow to create a new 6,000-strong neighbourhood that would have a more dense, urban character and a higher design quality than your average row of noddy boxes. They commissioned a masterplan by Roger Evans (Studio Real) and a design code that owes a debt to the pioneering Essex Design Guide of 1973. Crucially, bids were invited from architect/developer teams to raise the quality bar for volume housebuilding. One quadrant, South Chase, is almost finished.
Alison Brooks Architects, working with developer Galliford Try, has now joined practices including Proctor & Matthews and Richard Murphy in completing a phase of Newhall. It takes two buses or a short cab ride from the station to the inevitable roundabout that marks the entrance to the estate. It is then that something odd happens. Instead of being presented with Brookside Close writ large (or worse, the back garden fences of such houses), there, rising from the fields, is an avenue lined with townhouses and apartments. The scale is that typically found where a Victorian residential inner city gives way to lower-rise 20th century suburbs. It is as if the branch of an older place has been ripped from its trunk and transplanted into a rural setting.
Brooks says she took her cue from the black weatherboard barns of Essex
ABA's contribution (christened "Be" in one of those annoying marketing imperatives) is readily apparent to the south of this avenue in a series of blackened Easter Island monoliths that reveal themselves as villas, apartment blocks and rows of patio houses. Canadian-born, and a connoisseur of agricultural buildings in the landscape, Brooks says she took her cue from the black weatherboard barns of Essex: "Barns are quite sculptural — it's all about the strong form and the articulation of the roof. It takes you outside the conventional frame of reference of what a house should look like and allows a solemnity you don't often find in suburban developments."
It is an arresting solution, architectonic and highly dense. The patio (or courtyard) houses in particular mark a step change in the quality and character of mass housing; a terrace plot is typically 5m wide by 20m deep while ABA's patio houses are an almost square 9m x 10m plot.
By building these houses partially back-to-back and at three storeys with dual-aspect kitchens that link to the neighbouring home, an average density of 52 dwellings per ha has been achieved across the 1.63ha site. This is nine units more than the brief required and was also achieved by simplifying the grid of streets, and reducing Essex Design Guide-style meanders. Space for 138 parking spaces was found and 26% of the 85-unit phase is affordable housing.
Brooks says she doesn't look to other architects for inspiration but does make mention of Mies's unbuilt (and single-storey) house with three patios. Her houses are organised around generous central halls instead of corridors — a recurring ABA device — with storage for coats and a large en-suite. Other ground-floor rooms spiral off this hall, with the glass walls of the kitchen and sitting rooms at right angles to each other, facing the patio.
When opened up, space flows — although the claustrophobic may still balk at the only view from the sitting room being a small court. ABA was also committed to providing studies at ground floor facing the street, to ensure that those working from home are not stuck in a back bedroom and so help to animate the streets of what could otherwise be a dormitory suburb. A second patio occupies the kitchen roof.
The use of timber-framed cassettes as the volumetric construction system allows a variety of upper-floor spaces to be formed — either now or as later alterations — with cathedral ceilings to main suites and extra bedrooms provided or possible in the loft space. The cassette system is also a low-carbon solution with dry, precise construction. And it is quick, taking only two days to frame each house.
"We are trying to achieve something with the sense of an urban street but at a lower scale," Brooks explains. "It is to show how suburban development can have that intensity and make a more sustainable use of land."
The streets are certainly very urban, and in a just-completed state feel very raw. But where climbing plants are creeping higher, splashes of green anticipate a welcome softening. The ABA phase also abuts open fields that provide the necessary breathing space.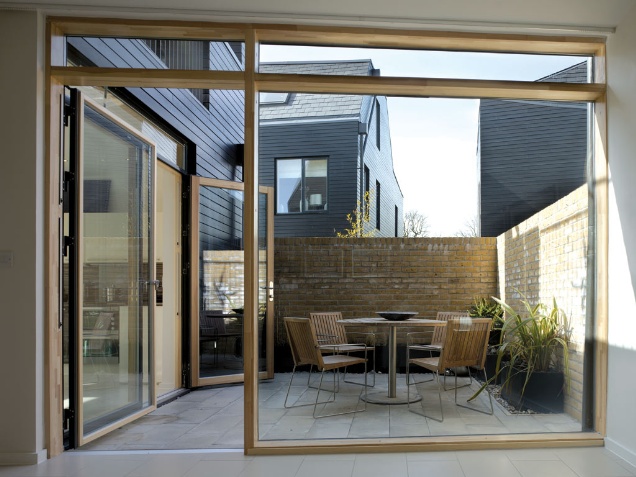 Less successful are the apartment blocks. Internally they have welcome non-standard features such as loft-style high ceilings to upper floors but the relationship of the ground-floor units to the street is often entirely lacking in privacy. In one instance parking access and disability ramps are hard up against the windows of a flat. The mall enclaves where apartment parking sites beside blank gable walls of houses are particularly severe.
The builders also abandoned ABA's hidden box gutter detailing, used on the houses at the north end of the site — relying instead on a cheaper flashing at the junction where the roofs fold down to form walls. Watching rain pour down over this detail makes you wonder if that was a wise saving.
'We are trying to achieve something with the sense of an urban street but at a lower scale'

Alison Brooks
These issues aside, ABA is rightly proud of its "fundamental reformatting of the housing plot". However, says Brooks, the innovations won't be happening again elsewhere any time soon: "There is a mind-set that any departure from a standard range of housing type means that the developer will lose something of the bottom line," she says. The added value that comes from a well-conceived design can't be recouped in early phases of an innovative scheme when mortgage surveyors use standard valuation yardsticks.
Even getting a developer to agree to a sloping ceiling, never mind a double-height space, is tricky, says Brooks. For now, it is back to blockwork and trussed rafters. "You need places like Newhall," she argues. "It takes a while to get the benefits and there is no doubt that it takes more effort but it can also reduce time on site by a third."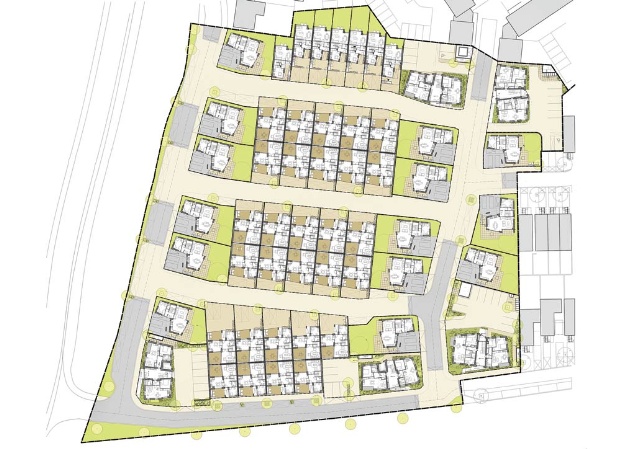 David Birkbeck, chief executive of Design for Homes, agrees: "Housebuilding is more accountancy than architecture, driven by mortgage lenders' surveyors [who are] told to value only
location and gross internal area. So whatever you see from the outside, you have to make pay with saleable floor space inside. ABA slashed the amount of exterior wall — which was also detailed cheaply," he observes. "Single-aspect rooms on greenfield sites are a compromise that delivers a cut-price architecture and more affordable pricing."
ABA's development sold rapidly. One resident, Jackie, who opened the door to BD, was gutted to have missed out on a purchase initially, but managed to buy a patio house in the end.
A retired East Ender, she shows off her dream house — "I love it," she says, "it's so spacious" — while reeling off a list of old friends living nearby and her new neighbours. It was for these former East Enders that Harlow was originally built, and there is clearly still housing demand in the area. A school and shops are coming to Newhall but you just wish this demand had been met by densifying the post-war new town rather than building on a car-dependent greenfield site.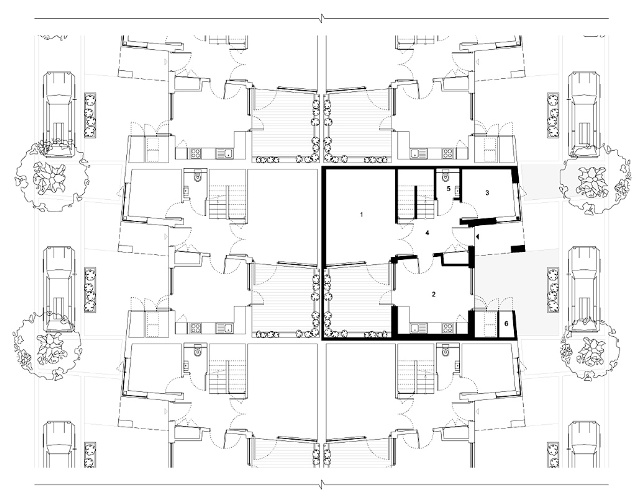 Pricing has, though, been an issue elsewhere on the Newhall testbed. Proctor & Matthews' excellent first phase didn't come cheap and couldn't have made much profit for its developers, but it is looking better than ever as plants colonise its gabions. However, the practice's second phase (called Slo) has apparently had its building costs slashed as the practice's development partner got into difficulties. It shows. A number of Richard Murphy-designed units, both houses and apartments, remain unsold years after completion — his houses have some very expensive walls enclosing some rather small rooms. Richard Rogers similarly struggled to be pre-fabulous at Oxley Park, and teething troubles blamed on cut-price building
at Glenn Howells' Swindon Triangle scheme only add to the unfair perception that it is still fatal to get an architect involved in mass housing.
Developers like to say that there is a mismatch between what the markets want and architectural ambition. However, if we have learned anything over the past four years it is that the market gets it horribly wrong. Architects like Alison Brooks are, meanwhile, getting their role in the volume housebuilding game ever more right.
PROJECT TEAM
Architect Alison Brooks Architects
Masterplanner Roger Evans Associates
Structural engineer and CDM Thomasons
Main contractor and M&E Galliford Try Partnership
Developer Linden Homes
Planning authority Harlow Council