Milan Furniture Fair 2009: Soft options for hard times
As the full force of the recession hits, there was talk in Milan of sustainable fabrics and multi-purpose designs, but plenty of bling still lingers in the furniture showrooms
What do you do in a time of crisis? If Milan's 2009 furniture fair, which took place from April 22 to 27, is anything to go by there are a range of responses to economic precariousness but they all involve producing more furniture. Designing ourselves out of a recession, perhaps.
Certain Italian furniture and lighting companies simply turned up the volume to 11 (yes, you Signore Massimo Morozzi at Edra, with your acres of plexiglass storage seemingly inspired by the reflective walls of nightclub toilets), while the northern Europeans went for soft surfaces in a hard world (Terence Woodgate and John Barnard's leather-lined, carbon fibre chair at Established & Sons, for example). There was a lot of talk of the sustainable (coconut fibre and recycled cotton and wool at SCP) and timelessness.
"I'm trying to extract any trace of fashionability," said Tom Dixon of his recent work. Vitra's hard times strategy was to show its only production piece of the year — the Bouroullecs' visually and technically complex polycarbonate Vegetal chair, developed over four years — and leave the flashy prototypes at home. They intend to pull them out the bag more fully developed in two years' time when it is hoped that the market will be a bit more buoyant. And the real fashionistas, oh they just got on with showing overblown chic at full-on prices in limited editions.
Glamorous wood and metal desks and glossy lacquered bar and boudoir pieces came in batches of 100 at Armani Casa, signed by Mr A himself, while Byblos allowed Alessandro Mendini full reign to create a £40,000 sofa upholstered in column-printed silk and framed in rococo exuberance.
"Everyone in lighting is doing low energy," said Nigel Coates, whose chandeliers for Italian company Slamp in the reflective Opalflex and Crystalflex materials were presented on a circular rotating mirrored stand. "But we're interested in high energy too!" In Coates' view, "people want innovation and flourish, not utility, right now". And, regardless of style, there is something in the self-assembly and upbeat nature of Coates' product that feels right for the moment: a glittery update of a historic typology on a reasonable budget.
Over at Tom Dixon, however, the talk was only of Utility — it was the name of the new collection — "but not the post-war cheap materials kind," said Dixon. "These products are utilitarian, in that they are durable, thicker, dumber." There were side tables on slight steel poles with vitreous enamel tops made in Shenzhen; heavy marble tables; and enamelled lamps shown just as casing with no bulbs and wiring (causing great distress to the more literal Swiss and German visitors passing through). Dixon, far from feeling the pinch, has employed two new staff this year, and is globe-hopping in search of new customers.
"We've opened in Budapest and we're looking at Latvia and Lithuania. We go where we're wanted," he said of his nimble retail operation.
Established & Sons, occupying its usual standalone site in via Palermo, responded to lean times by launching 16 new products, including a quilted sofa and armchair by the Bouroullec Brothers inspired by turning a football inside out. "We're not shying away," said MD Alasdhair Willis, moving from room to room inside an exhibition installation formed from an explosion of wooden sticks.
"This is the time we need to develop. As businesses drop away — and they will — we can gain a bigger market share."
Willis clearly doesn't believe in compromise. The Bouroullecs' sofa with hand-filled pouches and upholstery in a stretch techno fabric that's just emerged from Kvadrat's laboratories, comes in at a costly £5,000 or so, setting it above B&B Italia prices. There was a general consensus that this year Established had really come up with the goods; a series of touch-sensitive, polished steel lights by artist Jason Bruges, which looked like shower heads; a perforated console finished in suede-touch Nextel by Alexander Taylor; and a super streamlined table-cum-bench-cum-chair by Sam Hecht were all beautifully resolved.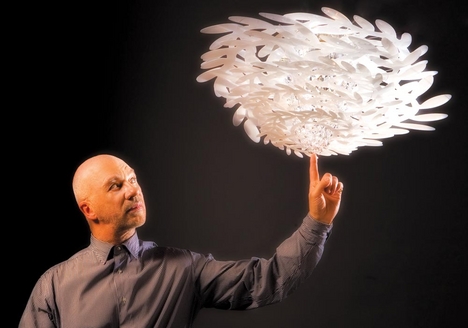 Of course, the new is the obsession every year at Milan – though it was a joy to see Jean Nouvel's Grand Ècart extendible sheet metal table for a second year running at Pallucco. Probably the very best of its type, tiny drop-down wheels ensure that the table top glides in and out of position. The new piece here was the non-extendible version following the same aesthetic but devoid of the thrill of movement.
But for those who wanted the ultimate in newness, it was a Parisian outfit called Moustache that was offering it. This was the first show for the freshly launched company whose owners Stephane Arriuberge and Massimiliano Iorio had rounded up their friends to produce pieces "that will pass from generation to generation. It's not fashion led".
Neither, it would seem, is there a prevailing aesthetic chez Moustache. François Azambourg had made a luscious but light (10kg) table in foam clamped between sheets of super shiny exotic wood veneer; Inga Sempé a wooden cupboard with a delicate pleated paper door.
The working-with-friends principle is often usually short-lived. It remains to be seen if Moustache — "we wanted a name we didn't have to write" — will turn the tables on that, and manage to keep up this quality of work.
Because, when it comes down to it, everyone is aiming for the standard both created and maintained by the Italian heavy hitters. Moroso and Driade faced each other in the Fuksas-designed Fiera's pavilion 8, the joyous decorativeness of the first confronting the exquisite engineering of the second. Moroso's round-the-world journey with upholstery included gimmicky sofas by Swedish foursome Front in trompe l'oeil fabrics – the sort of pieces that probably end up in the foyer of a trendforecasting agency — and an excellent modular system by Tord Boontje of walnut boxes topped with thin embroidered cushions that was functional more than comfortable. On the opposite stand at Driade, Toyo Ito's Suki metal mesh armchair paid noticeable homage to Shiro Kuramata's metal furniture and Naoto Fukasawa's seamless outsized pebble of a coffee table, Taku, was design at its most sculptural and distilled.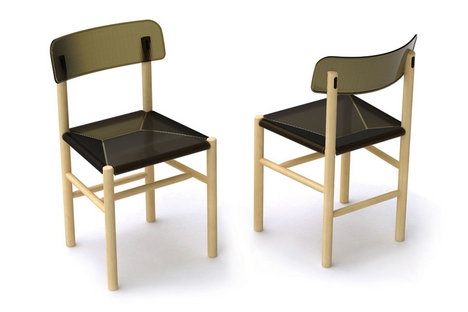 But no one quite measured up to the magic of Magis, one of Italy's most innovative and hard-working manufacturers. Its owner and director, Eugenio Perazza puts its success down to size.
"We are medium," he says. "It is impossible to develop design in a big company. Ours is not a style exercise, and if you look around this fair, mostly it is style and not design. We only want to discover good, new, fresh ideas."
Perazza's favourite designer is Jasper Morrison, who first designed a still-celebrated stackable wine rack for the company in 1994. This year he came up with two types of chair: the Pipe, with a tubular frame and shades of Thonet in the seat and back; and the Trattoria which showed just what can be done at low cost with wood and plastic. The wooden legs — little more than dowel rods — were, says Morrison, designed for cheapness; the ribbed translucent plastic seat and back rest that mimicked the classic woven restaurant chair added colour and texture. It was developed in just nine months, and in nine months from now, you'll start seeing them everywhere.
Also at Magis was another classic in the making. Munich–based designer Konstantin Grcic had come up with the 360 degree work stool in soft rubber, loosely based on one that Goethe had created for his own use.
"You put a good designer with a good company and one plus one equals three," said Grcic, sort of modestly. Other excellent Grcic products scattered throughout the fair, at Plank (a wooden chair), BD (a series of tables) and SCP (a re-release of the Tom Tom and Tam Tam side tables), showed that the designer comes up with the goods wherever he goes.
Of course, what really matters here is whether design translates into sales. Last year's Italian furniture sales figures were catastrophic, finishing the year with a 5.6% downturn. How sad it would be if some of this stellar work simply disappeared in the doldrums.