Takero Shimazaki's inspiration: Hexenhaus, Germany
Takero Shimazaki explains how the Smithsons' collaboration with a German furniture manufacturer gave him a new approach to design.
Inspiration
Hexenhaus
Architect
Alison and Peter Smithson
Completed
1986-2002
Location
Bad Karlshafen, Germany

Being Japanese, a refined approach to design came naturally to me – Zumthor and Ando were, and still are, my inspirations. But I find it difficult to just keep turning to beautiful and restrained work. The Smithsons gave me another way of approaching my own architecture. I'm not a big expert on them. I didn't research them as a student. Instead, my introduction to their work was more direct, meeting them as a family and then going to Germany to visit Axel Bruchhäuser's Hexenhaus home and their work at his Tecta furniture factory.
Axel and the Smithsons were a collaboration made in heaven. When they met, Axel said it was life-changing for them all – such a relationship between client and architect is extraordinarily rare. I feel so lucky that I knew them at this later stage rather than during their earlier brutalism phase, although I enjoyed that too. There is such sympathy at the heart of the architect-client relationship on the Hexenhaus. It's a gift. You can't learn it.
I got to know their work not by reading about it but through experience – my then practice partner Yuli Toh who knew Simon Smithson introduced them to me. After about eight years in practice in 2001, Yuli asked if I'd like a few months off to work with Peter when he was working with Lorenzo Wong. It was so nice after co-running a practice and working mainly on a computer to go there to help the master and be in an office where you'd spend the whole week drawing axonometrics with a pencil, and every detail and specification was written by hand. In their office, even something like having tea was a big ritual and Peter would collect tickets and ephemera and make them into collages. Details were celebrated. Everything was turned into a joy. I was given the task of drawing the bridge and lantern at Hexenhaus, which I found very challenging.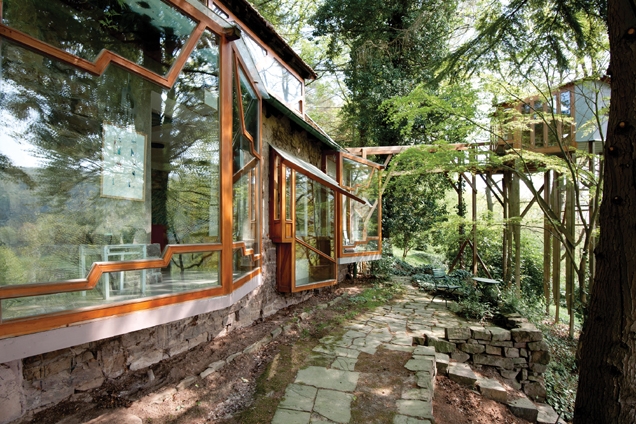 Source: Ed Tyler
Everything was so carefully worked out, right down to the angle of a balustrade, for the sake of the joy of life. There was an appreciation of how the perception of different details could change your relationship to the outside world. Lorenzo and I would discuss this and ask Peter why a detail was like it was – sometimes there was no answer. It just was. I thought it was so wonderful. The drawings were given so much weight – he didn't need to explain everything. It made me realise that time spent well is really crucial. You don't need hundreds of projects but you just need to do a few things really well.
I was only at Peter Smithson's studio for two months but I got so much from it, in particular this awareness of there being no boundaries between life, landscape, architecture and art. To the Smithsons, everything was an artfully constructed backdrop to life; a container for activities for a richer life. Later, the Toh Shimazaki office came out to visit Hexenhaus as an office in 2007 and this again completely changed how I look at architecture. Axel was there and he talked about how the Smithsons had tried to help the soul of this one person so that he could improve the lives of many through his company Tecta. It's not that precious as a building but it is precious about life. If you can find just one client-architect relationship like the one the Smithsons had with Axel in your career, that would be amazing. Developing the projects through the narrative of their respective cats was quite therapeutic for them – they saw the cats as themselves, but adding another voice to the discussions.
Photographs of the Hexenhaus might put off some architects who think it looks folksy perhaps, or hippy. But when you visit, you realise it's not about a style but is instead about an approach to how spaces and places can be. The original house, with its large Brothers Grimm roof and chimney in the wood, has been thoroughly decomposed through the various additions and extensions.
One of the things that interests me with the Hexenhaus is the application of the theory of "conglomerate ordering": the idea of additions over time. The order isn't obvious, or linear, but it is multi-dimensional, based around the way Axel uses the house, specific views, and perceptions of the site over time. Coming to visit the Hexenhaus, these perceptions seem quite intuitive and quite random at times. But there is a consistency of materiality and rhythm.
This house is one of the most successful in terms of looseness. Lots of architects struggle to create this looseness because architectural education is so formal. I also appreciate how they accommodate maximum context and maximum vernacular so that the architecture is the backdrop, even though there is a very strong sense of the architecture. But the Smithsons had the confidence to see the life of Axel and Karlchen the cat as much more important and were confident enough to be flexible. There's a window seat for the two of them to sit together, and a glass floor for Karlchen to look out for mice. Sometimes, the design is very specific, but sometimes it is without explanation, although there's definitely a system and an ordering, based on experience and intuition and drawings things again and again. There's an incredible layering of views through the house and the forest. Is the landscape framing the architecture, or is the architecture framing the views?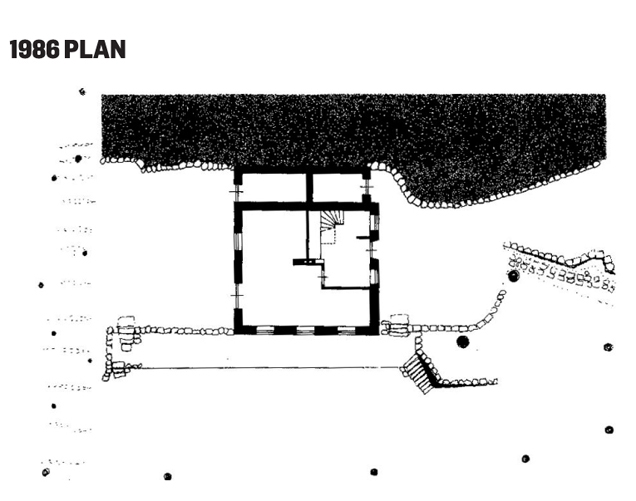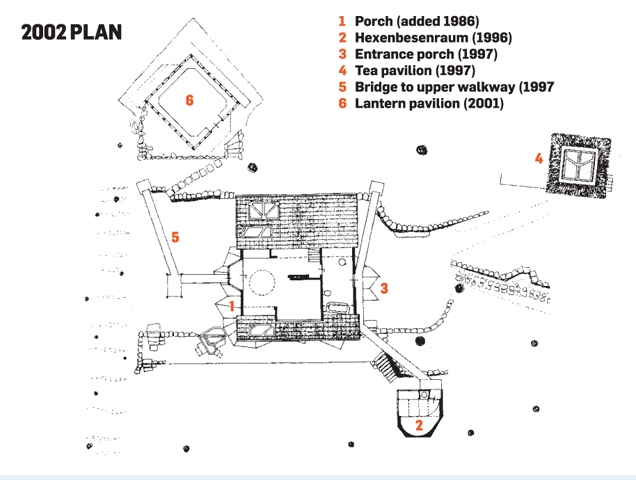 After my time at their office, we [Toh Shimazaki Architecture] did OSh House in Surrey, which was so inspired by the Smithsons' way of working. We did collages, we stayed there before we got planning permission and mapped out on the site where the walls would be, really breathing in the site and understanding the light at six in the morning. Since then, collaboration became really energised in that way. We tried to absorb Surrey English life – pubs, walking, the weather – just as the Smithsons absorbed the Hexenhaus context. Now we don't say no to small projects like a little extension if there is a potential for this quality. It's not about career, it's about enriching our environment.
When I visited Hexenhaus in 2007, I tended to view architecture more preciously, but now the boundaries are blurring between architecture and art and inhabitation. A year ago I started teaching a unit at the AA with Ana Araujo and what we teach is exactly what I've learnt from Hexenhaus: that architecture is a well crafted, yet incredibly unique backdrop to what inhabitation can be. We're pushing these issues and I find it highly challenging. I've also started the Toh Shimazaki Architecture Forum, teaching 20 students a year and bringing in architects, artists, contractors and clients to talk to them.
Coming back again to Hexenhaus and seeing it in springtime, I can appreciate it afresh. It's a small jewel for me. It is truly a paradise on earth.
The collaboration of a lifetime
Hexenhaus (Witch House) was the site of a lengthy collaboration between Alison and Peter Smithson and Axel Bruchhäuser, owner of the Tecta furniture company. The Smithsons had already completed several projects at the nearby Tecta factory. The starting point for the Hexenhaus was a modest cottage in a wood, which the architects gradually evolved and extended through lengthy and intense discussions with their client. Project communication was always by letter through a dialogue between the Smithsons' cat Snuff and Axel's cat Karlchen, who signed their letters with a paw stamp.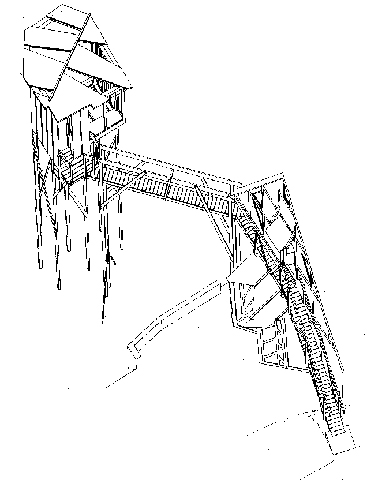 The cottage occupies a sloping site with views of surrounding woodland and a river. The Smithsons began with small interventions such as a new porch here, an opening there, gradually reworking and expanding the house to make the most of the woodland environment. Bruchhäuser says that the Smithsons took inspiration from their fifties plan for Berlin and a grid of high-level walkways/streets, adapting this approach to the micro scale of a single house with walkways leading off to additional buildings. Their aim was always to create a harmonious environment of man, cat and trees through light, air, space and water.
Bruchhäuser's personal needs were uppermost – discovering that he liked to sit down to watch television once a day, they created nine different views out for him from his favourite TV chair. Elsewhere, a window seat was designed to suit him and Karlchen.
A tiny but beautifully appointed glass-floored retreat (Witch Broom Room) was built in 1997, reached from a high-level walkway off the bathroom and inspired by the hunters' hides that pepper the surrounding countryside. This was followed by the Tea Pavilion and Peter Smithson's final project, the Lantern Pavilion, a space without a designated use, situated a little up the hillside from the house.
Hexenhaus is filled with 20th century design classics, suspended on the ceiling and walls as well as in daily use. Pieces include several items made by the Smithsons with Tecta, such as Alison Smithson's Struwwelpeterfosh wall cabinet and Peter Smithson's Lattice furniture.
The original Karlchen is long gone but Bruchhäuser still lives at Hexenhaus with another Karlchen – his third. Alison and Peter Smithson died in 1993 and 2003 respectively, but Bruchhäuser says he still thinks about them every day, honoured that they devoted so much time to his well-being.
"They knew all of me. My heart, soul and spirit. Their function was to protect me, to make me more quiet and help me make better work."
Postscript:
Interview by Pamela Buxton. Pictures by Edward Tyler