Lutyens' castle in Devon is grand on the outside, but domestic inside
CASTLE DROGO
Location Drewsteignton, Devon
Architect Edwin Lutyens
Built 1911-1930
Castle Drogo is an intriguing mix of metaphor and folly that its architect Edward Lutyens balanced incredibly well.
Lutyens made his name with fantastic country houses. These had a certain robustness,within a given set of rules — but I think he produced his best work when he started abstracting more, as he did at Drogo. Here the issues he dealt with were so much more complex — this wasn't just a large house surrounded by garden walls deep in the home counties. Instead, it has a much broader influence in the landscape and is very prominent as you approach from the surrounding area. The symbolic issues it dealt with are much bigger too, as Lutyens tried to condense history for his client who had this great romantic idea of a castle.
In some ways, Drogo is a baronial castle that embodies the idea of landed gentry having a country seat, and it fits so perfectly the idea of an Englishman's home is his castle. It was the last castle to be built in England and was commissioned by Julius Drewe, a very successful grocer who retired when he was 33. With time on his hands, he was looking to establish a built ancestry. The family had a connection to the village of Drewsteignton in Devon — named after Drogo de Teigne who reputedly came over with William the Conqueror — and Drewe bought 180ha of land formerly owned by Drogo with the intention of building his own family heritage.
The idea that Drewe could buy that heritage with the help of Lutyens' designs proved an interesting starting point. Drewe had a romantic view of castles that Lutyens domesticated at Castle Drogo. There are many castle symbols within the building but they tend not to be literal and there is, to some extent, the idea that here was someone with money trying to create their own history by building a folly. At the time there were far more contemporary architectural ideas developing in Europe and so Drogo was in a sense going against the modern movement.
Drogo was in a sense going against the modern movement
What's intriguing, however, is how Lutyens avoids making Drogo a folly through his clever use and interpretation of the symbols traditionally associated with "castleness". The house is most castle-like at the entrance, with the heraldic lion over the door, the working portcullis and the castellated tower — and generally there's a lot of Tudor in Drogo, especially the proportions of the windows.
Later on as the project progressed, I think Lutyens became less interested in the folly aspect and more interested in interpretations of "castleness".
He started abstracting details — playing down the whole issue of castellation by making the crenellations flatter and the whole composition a lot plainer in terms of lining things up.
Lutyens changed classic medieval castle features such as the arrow slot so that they read as contemporary slots in the masonry instead. The notion of carving is very strong. Walls start as a large block of stone at their base then become more and more refined and articulated as they elevate, becoming more sculptural at the ends, especially so in the sharp fins at the top of the south elevation. Every now and then he carves into these blocks to signify an entrance, a niche or a support for a bay window.
Inside, Lutyens had the difficulty of responding to a client who was repeatedly changing his mind. But despite the building being a third of its intended size, he still managed to produce a sequence of very beautiful rooms. His skill is in the distortion of scale, often choosing quite traditional features, such a stone arches, cornices and bay windows, but then changing their scale to produce a more delicate and intimate atmosphere.
Drewe had a romantic view of castles that Lutyens domesticated
The grand staircase down to the dining room, lined with granite and projecting bay windows, has all the hallmarks of a castle, but once you are inside feels quite domestic and extremely well judged. Even in the kitchen he could not resist yet more ambiguity — creating a "chapel for food" with domed ceiling and lantern that illuminates the circular "prep" table flanked by a choir of wooden plate racks.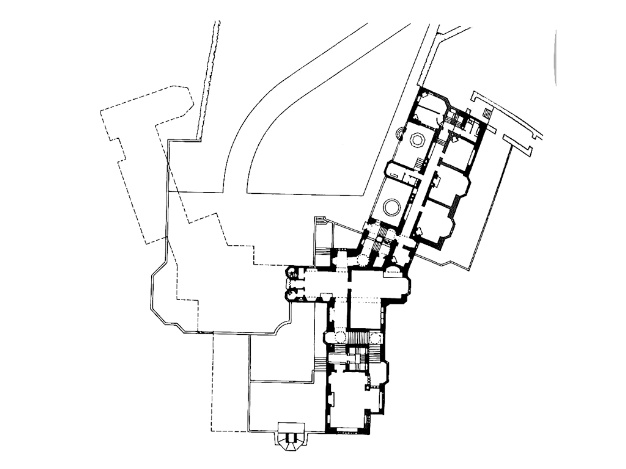 Source: Gareth Gardner
I've visited Drogo four times over 25 years. I found it particularly relevant in 2002 when Panter Hudspith was embarking on early design work for the Museum of Lincoln and I thought it would be a good building to consider in connection with that project. We'd just spent five years working in York, another medieval city, and I was very interested in the challenge of how to position contemporary buildings into historic settings. We spent a lot of time looking at medieval cities — York, Lincoln, Exeter, Cambridge — and I really appreciated how in a medieval city you could find a whole range of buildings which had an understanding and respect for each other even though there weren't any planners policing them. The Museum of Lincoln is an archaeological museum halfway up the hill in Lincoln which forms a link between the historic area at the top and the industrialised area at the bottom. I was looking for buildings that tried to embody and deal with a whole set of historical issues.
I felt it was very important that it should have a sense of history even though it was a new building, and so found the issues Lutyens explored at Drogo very useful as a reference — the idea of abstracting and reinterpreting historic iconography seemed very relevant to the expression of a contemporary museum.
Another inspiration was the materiality of Drogo. Our museum was conceived as a series of large stone blocks that were somehow reinhabited over time. As parts the of the building become more refined, the stone becomes more crafted. You could then read the inhabited parts of the building through the refinement and crafting of the stone, which is something that also comes through at Drogo.
Drogo took 20 years to construct, which is a long time for a modern building but nothing for a castle
Castle Drogo works as an experience. It's a great place to go and visit and I think it would have been a great place to live. But, in a way, one of the most intriguing aspects of it is that it wasn't finished but, unlike medieval towns, has had no incremental development. The whole process of castle building means that they are never completely finished, but evolve over hundreds of years with different people adding different parts over time. Drogo took 20 years to construct, which is a long time to build a contemporary building but is nothing for a castle. Today our culture has frozen its heritage by listing buildings and not letting them evolve as they would have done in the past.
Castle Drogo was really the last gasp for these types of buildings. By the time it was finished in the 1930s, our culture had moved on forever.
Changing with the times
Drogo was famously the last castle to be built in England, designed by Edwin Lutyens for Julius Drewe, founder of the Home & Colonial Stores.
The grade I listed castle, set above the Teign Gorge, took 20 years to build and was originally intended to be much larger.
Despite its external historic references, the castle internally reflected Drewe's interest in innovation, with electricity and lifts incorporated from the start. Power was supplied by turbines on the nearby river.
Plans for a great hall were abandoned and the base was turned into a chapel and gun room. Lutyens also designed the garden, with planting by Gertrude Jekyll.
Drewe died just one year after the castle's completion. Drogo was given to the National Trust in 1974 — the first 20th century property it took on — although his family still live in part of the castle today
The granite castle suffered leaks through its flat roof from the onset, which have caused considerable water damage throughout the property. Later this year the National Trust will begin an £11 million restoration overseen by Inskip & Jenkins to tackle the long-standing water ingress problem.
The extensive flat roof will be upgraded with a new membrane roof system and granite slabs, the masonry will be repointed, and all 913 windows will be reinstalled and resealed. The repairs are expected to take five years and will involve the removal and reinstallation of 650-750 tonnes of granite.
A similar technique has already been successfully tested on the chapel roof.
The castle attracts 130,000 visitors a year.