Sergison Bates' inspiration: Hardwick Hall in Derbyshire
Stephen Bates and Jonathan Sergison explain how studying Hardwick Hall has helped them broaden their architectural education.
Hardwick Hall
Architect
Attributed to Robert Smythson
Completed
1597
Location
Chesterfield, Derbyshire
Stephen Bates
The first reference to Hardwick Hall I came across was in a text by Peter Smithson, but I didn't visit it until 2006. It is a house of monumental symmetry standing on the flat top of a hill, with these great gridiron windows that distinguish it from all other Elizabethan houses.
I remember seeing it in sunlight with its strange reptile-like skin glimmering in the light. Inside was this labyrinth of tapestry-lined spaces, with rush matting floors – from room to room a variety of spatial adventures and atmospheres. It was a memorable experience for all of us.
Hardwick Hall was finished in 1597, 16 years before Inigo Jones began the Queen's House in Greenwich, which is generally held to be England's first classical building. In comparison, Hardwick has this wonderful energy and oddness.
'I remember seeing its strange reptile-like skin glimmering
in the light'
A lot of things were changing in the Elizabethan period and this led to a moment that allowed Hardwick to be as it was. It was a time of English provincialism but also the beginning of outside influence from Europe. Palladio's Four Books of Architecture was available in England in the 1560s as was Serlio's Treatise on Architecture, and they were both radically influential works. Suddenly there was this access to European culture – not just from Italy. In the house one can also see the influence from Flanders, with the use of strapwork and vertical window arrangements.
There are ideas at Hardwick that inform and inspire us in our work. We were educated within a rather narrow modernist doctrine and have spent much of our time since then expanding our sources of historical reference. How many students really consider architectural history? Most people's architectural education starts from the 1930s. We find ourselves more and more looking further back and encouraging our students in Munich and Mendrisio in Switzerland to do the same.
How the formal facade relates to the interior is one of the fundamental and most interesting aspects of the house. The mismatch between the two requires the facade to act as a formal mask to the variety of spaces behind. Some of the windows are completely false and have chimneys behind them, others straddle between floors or stretch across rooms.
On the outside, you can see this amazing symmetry created by the repeated rhythm of windows and stepped forms. The horizontal entablatures that run all around the house between each storey reveal this kind of "upside-down" classical order as each storey progressively increases in height. On the inside, however, you can see in the plan how ideas had evolved around social hierarchy and influence to give a rich variety of volumes and the external entablatures represent this progression towards the higher and more ceremonial rooms.
The alignment of the central hall was completely new, as the earlier medieval hall had been positioned lengthways through the house. This is indicative of how the central room of large houses was changing from being the principal gathering space to a more ceremonial one. At this point, the Elizabethans were no longer building houses for defence but for the conduct of civilised life.
Rather than following the convention of the time, when the principal staircase was an object, made from wood like a piece of furniture, at Hardwick we encounter a wide stone stairway. I particularly like this stairway, which is experienced as a beautiful sequence of spaces, rising through compressed tall spaces with straight tapered flights that change direction and re-orientate the visitor until they arrive at a vestibule on the second floor, small in plan but extraordinarily high. This opens on to the High Great Chamber – the equivalent in volume to a modern day five-bedroom house.
Hardwick predates the enfilade, the sequence of connecting rooms with aligned doorways, and has a more discontinuous and elaborate arrangement, with doors sometimes positioned diagonally across space. A plan of interconnected rooms, without corridors, is a constant reference for us in our work. Here there is a sense of intrigue and a degree of surprise and drama to the experience of moving through the house, no more so than when you come across the magnificent Long Gallery via a small door in the corner, partially covered by a looped tapestry!
I find it inspiring that the plan clearly supports a particular way of life and is not generalised or ordered in an abstract way. Bess's private rooms were on the first floor, but the most important state rooms were on the second floor. She received her visitors in the Great Chamber and would lead favoured guests into an adjacent room through a side door. Select friends would eat sweetmeats or meet intimately in dining rooms in each of the towers, accessed by walking across the roof.
'Hardwick wasn't refined. There's a roughness in the plasterwork, and in the junction
of elements'
It's highly evocative to imagine that the house would have been occupied by up to 60 people at any one time, providing for both Bess's household and that of her daughter's. The atmosphere must have been one of great conviviality and hustle and bustle. There wasn't this hierarchical Upstairs-Downstairs separation of masters and servants – servants would sleep on straw mattresses pulled out from underneath the mistress's bed or on the landings of the stairway. Rooms like the dining room would have been used by both high servants and the family at different times of the day.
The elaborate plaster ceilings and friezes were designed for candlelight. The strapwork and pendants would have been alive with constantly moving shadows. Ceilings were designed to interrupt and diversify the varying light, to "use" not to eliminate shadows, as so many modern ceilings do.
Hardwick wasn't refined. There's a roughness and directness in the plasterwork, and in the junction of elements, between beam and column or balustrade and stairway, for example. It is a sensibility that I feel is important to work with as an architect. I am interested in a "carefully careless" attitude. The design is still highly considered, but there is a controlled looseness.
I look forward to coming back to Hardwick again. I will be here in the spring with my students from the TU in Munich, as we will be making a tour of English country houses – mainly early classical-influenced ones – including Hardwick.
Jonathan Sergison
I have been aware of Hardwick Hall as a project for a long time, as it appears in Summerson's history of British Architecture, was referred to by the Smithsons and, more recently, by Mark Girouard in his Life in the English Country House. But my interest really found focus through Stephen's enthusiasm.
There are a number of strands that we find relevant. The proportions employed in the organisation of the facade are very particular, they subvert the language of the classical order by placing the most significant rooms on the top floor, rather than on the first, the piano nobile. This leads to an upside down feeling which is disquieting and wonderful.
'It's an example of what an English architecture might be'
The project was known to me for the way it uses glass, an expression of enormous luxury for its time. You can imagine the difficulty transporting this material presented in 1590. The attention Walter Gropius's Fagus factory of 1911 received gives us an idea of how unprecedented this was. And you can imagine what it might have been like to be travelling through England at the end of the 16th century and encounter this building.
Nothing ever compensates for really seeing a project as a physical entity. What is not communicated in the plans, sections and photographs of this building is the manner in which this house sits in the landscape, the way it commands its immediate environment. It is in no way demure, but is brash and imposing, a character clearly attributable to the woman it was built for.
We can only speculate on the way it was developed as a project. Clearly, it has ideas that can be connected to Robert Smythson's earlier body of built work, but there is much that must be due, one suspects, to a somewhat charged relationship between client and master mason.
Above all, Hardwick Hall offers an example of what an English architecture might be. It is a little irreverent, certainly in relation to the canon of classicism, and proportion is used in a personal rather than correct manner. There is a level of slackness in the way things are put together: parts of the building have junctions that are wonderfully relaxed, like the way a volume meets a beam on the staircase, or where beams run into window heads.
We enjoy the looseness between the expression of the facade and the way the section is really arranged. This is far from being pure. And the organisation of the sequence of spaces in the house is rich and elaborate. It is unpredictable and leads to a complex matrix of social possibilities.
These are ideas that we hold in high regard, and it is interesting that they are embodied in a work that is more than 400 years old.

A 16th century statement of wealth
Bess of Hardwick, the Countess of Shrewsbury, was the richest woman in England in the 16th century after Queen Elizabeth I herself. She was the client for Hardwick Hall, built as a statement of her wealth and power, writes Pamela Buxton.
It is thought to have been designed by Robert Smythson, who had already worked on grand houses at Longleat and Wollaton Hall. Glass was a luxury in the 16th century yet Hardwick's main feature is its six great towers and its exceptionally large and numerous windows. This led to the saying "Hardwick Hall, more glass than wall".
Ahead of its time Hardwick, situated between Chesterfield and Mansfield, was one of the first English grand houses to interpret Renaissance architecture, with Smythson perhaps influenced by Palladio and Serlio in his incorporation of colonnades between the tower at the back and front of the house.
It was also the first time that the great hall was built on an axis through the centre of the house rather than at right angles to the entrance. The state rooms are on the second floor, including one of the largest long galleries in any English country home, and a great chamber with a frieze of hunting scenes that incorporates real timber for the trees. The gallery is covered in tapestries bought second hand by Bess and overworked with her own coat of arms.
Malfoy Manor
The house became the secondary residence of the Dukes of Devonshire, who lived nearby at Chatsworth and as a result has been little altered, with many of the current contents traceable to an inventory of 1601.
It has been a National Trust property since 1959, and has undergone lengthy repairs. Architects Rodney Melville & Partners are working on a renovation and extension of the nearby stableyard buildings to provide a new shop and restaurant. Hardwick Hall recently featured as Malfoy Manor in the latest Harry Potter film.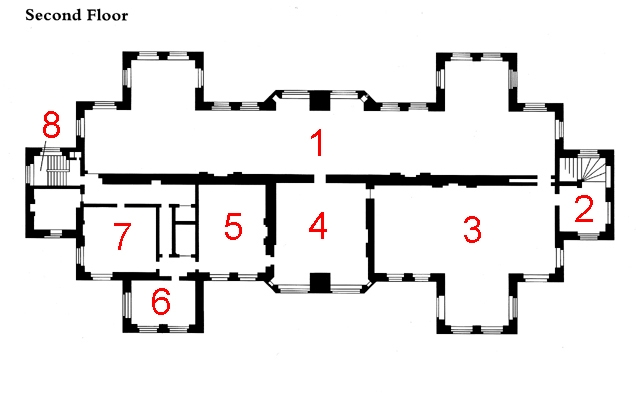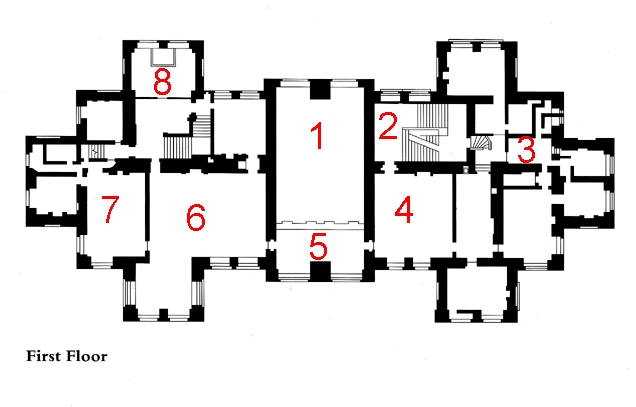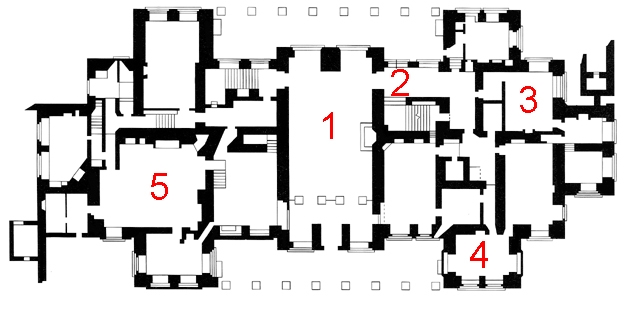 Postscript:
Stephen Bates and Jonathan Sergison were speaking to Pamela Buxton.