Rab and Denise Bennetts' inspiration: St Catherine's College
Inspiration
St Catherine's College, Oxford
Architect
Arne Jacobsen
Completed
1962-68

Rab and Denise Bennetts explain how a visit to Oxford's St Catherine's College as students led them to set up their own achitecture course
Rab Bennetts
We first came here in 1975 when we were studying at the Edinburgh College of Art. We had a year out working in London and decided to spend our last weekend before heading back to Edinburgh sprinting around Oxford and Cambridge looking at new buildings such as St Catherine's College and ABK's Keble College.
St Catherine's turned out to have a lasting influence on our career. It's all done with restraint, the minimum number of elements and materials, with everything beautifully executed. It's extraordinarily refined. Jacobsen showed you don't need to show off to get recognition.
We went back to Edinburgh and, influenced by what Jacobsen had done at St Catherine's, set about persuading the college to let us and two fellow students formulate our own course manifesto about designing a building right the way down to the last detail. Our professor, Ralph Cowan, agreed and we called the course Design Detail – Deyan Sudjic wrote about it in the pages of BD at the time.
With our tutor Laurie Nisbet, the four of us piled into a car and drove down to Oxford to visit it again for a study tour during that year. It turned out to be our best year at college – we carried out studies of materials such as concrete and timber, then the elements of buildings over the centuries such as staircases and entrances, before designing a building with real depth of detail. Normally, you'd never get the chance to do that at college. Ever since, we've always tried to hang on to that idea of totality, even if it means orchestrating others rather than doing it ourselves.
It is timeless architecture where the structure defines the space and the services are invisible
The course we set up seemed to strike a chord and was repeated for several years after we left. I think succeeding years of architecture students were just as reluctant as us to specialise in their final year – urban design, interior, landscape, conservation etc – and preferred to keep working at the core design discipline.
At St Catherine's, none of the buildings are shouting for attention. They work as an ensemble with the exterior spaces, unlike a lot of modern architecture that tends to be designed as free-standing objects rather than as a backdrop. Here, the spatial composition relies on symmetry – apart from the bell tower and the off-centre cedar tree in the central green. This contrasts with Mies's Illinois Institute of Technology (IIT), which Jacobsen was very impressed by, but in comparison is just arranged on a grid.
The buildings follow a strict module and have a clarity of repetition. There's the danger that this might be boring but it certainly isn't. The facade of each building is closed off in a different way – one is clad all the way down, one is open with a brise-soleil, another closed with brick. It's very Miesian but with a Scandinavian sensibility. Unlike at IIT, where Mies often applied facade components to achieve a visual order, St Catherine's has a gothic integrity that runs through the building.
It is timeless architecture where the structure defines the space and the services are invisible, and that is where we are coming from too at Bennetts Associates. There is a real craftsmanship in Jacobsen's architecture, which we revel in and aspire to, a finesse in details that takes ages to work out well. Nowadays, there seems to be a polarisation between fine art and craft in architecture, but the craft element – really understanding how you make a building – should be considered far more. I often refer to the architect as a masterbuilder; the antithesis of a stylist.
Jacobsen was a regionalist, clearly aware of the Oxford tradition of quad colleges
With a bit of experience as an architect, you realise that each job probably has one killer detail that defines the quality of the whole, and in this case it's the relationship of column, beam, glazing and roof to each other. Here, an architect at the peak of his powers has had the foresight to work out and really craft these details. Each component has complete clarity, which gives each major room or assembly an integrity that is sadly lacking in so much current skin-deep architecture. He wouldn't be able to do it the same way nowadays. Jacobsen takes his beams right out through the building, causing cold bridging that the current Building Regs wouldn't allow.
Jacobsen was a regionalist. He was clearly aware of Oxford traditional quad colleges and was very keen to absorb that in his design – he asked for plans of all the colleges to be sent over to Copenhagen when he was designing it. He wanted a contextual link for his reinterpretation of the quad. What's particularly inventive is how the rigid formality begins to break down as you move out at the ends. The main quad space turns into a sequence of gardens enclosed by freestanding masonry walls infilled with hedges of yew trees, implying a cloister. This is my favourite part of the whole college. The door to the senior common rooms is a panel of wood with glass panes on either side that match the size of the canopy that cantilevers from the walls. The design isn't purely functional. Jacobsen kept the canopy away from the edges of the walkway. Everything is so light. It's sublime. It's an architectural landscape completely supportive of the building.
Coming back to see it again, I realise I had completely forgotten about the water, which is obviously quite a major element. It is hard to find any wrong move in what he's done but if I'm disappointed by anything, it's the central lawn. Perhaps it is simply too plain.
The integrity of the architecture runs throughout all the buildings. Everything is so complete, right down to the tapestry and the furniture, ceramics and cutlery in the dining room, which he designed as well. It is patronage of the highest order, not only commissioning it, but looking after the architecture so well for 50 years.
Denise Bennetts
St Catherine's was the first new- build college in Oxford for centuries. Even now, it's the only college campus that isn't closed off at night. It isn't a contained quad. The whole Jacobsen grid loosens and fragments towards the margins. He gets around a lot of the problems of traditional quads – such as how you go around the corner – by having these separate elements of building and landscape. This integration of landscape is quite three-dimensional, with external rooms formed with yew hedges.
It's fascinating to see photographs from the sixties of the canopy with the tiny yew trees before they've grown. He had the vision for what it would be like in years to come whereas nowadays, mature trees would be brought in. There is something satisfying about a building maturing and growing rather than springing up fully formed. A lot of contemporary architecture is at its best on completion and then progressively loses its sheen over time, while buildings like this mature.
There's something satisfying about a building maturing, rather than springing up fully formed
Jacobsen shows that geometric repetition is no enemy to creating a sensitive building. Instead, it can be a mechanism for orchestrating things in a poetic way. There is a real clarity of construction, with a simple articulation of frame and infill, with every element acknowledging the presence of its partners. The language of his architecture has a sense of build-ability about it, which we like. He quoted the phrase that "when a thing is practical and functional it is beautiful as well" but a key lesson here is that the former does not necessarily result in the latter – a lot of hard work refining the concept and detail is required to produce something apparently effortless.
Jacobsen taught us how to look at the details, which are here infused with the character of the materials. The brickwork is wonderful. He wanted to use a lighter coloured brick that would reflect the light more but there was uncertainty over whether the order could be met, so in the end he used a British brick but with reduced height to mimic the proportions of continental bricks. Everything was designed to the brick module so there are no odd cut bricks anywhere.
There is a legibility of circulation routes and internally the hierarchy of uses is defined by the relationship to the rigorous structure, with only the smaller rooms allowed to cross the grid. However, these walls meet the soffit courtesy of glazing so that the primacy of the structural order is still manifest.
Another architect whose academic buildings we studied at the time was Denys Lasdun, and it is instructive to compare hisresidences for Christ's College Cambridge with St Catherine's.
Lasdun's approach to the organisation of the accommodation at New Court clearly expresses the social hierarchy within the college, with the larger Fellows' rooms standing proud of those of the undergraduates, whereas Jacobsen adopted the collegiate tradition of the unifying facade not overtly signalling the internal uses.
Jacobsen took everything down to the last detail, playing with the same few materials to create different effects in each space, whether in the exceptional volume of the dining hall or the smaller common rooms. In the senior common room for example, everything is more intimate with elements of asymmetry in particular spaces to define where principal activities are to take place. These subliminal messages are still being heeded and are preferable to the story that Jacobsen wanted some carpets woven with dots to show where to position chairs.
Despite the size of the building, it has a wonderful domestic scale both inside and out. I think one of the best ways to appreciate the rationale of St Catherine's is to study the ground plan with the buildings and the landscape determined by the same 3m grid. It results in an intensity of internal and external spaces but always with the respite of the open aspect to the south and north.
Outside choice that paid off
Founded in 1962, St Catherine's is Oxford's youngest and largest college. It caused a stir when it appointed the Dane Arne Jacobsen – rather than a British architect – following an international design competition. But the decision was a success. Nikolaus Pevsner referred to it as "the perfect piece of architecture" while Reyner Banham, in a favourable comparison with Churchill College at Cambridge in the Architectural Review, approvingly called it "the best motel in Oxford".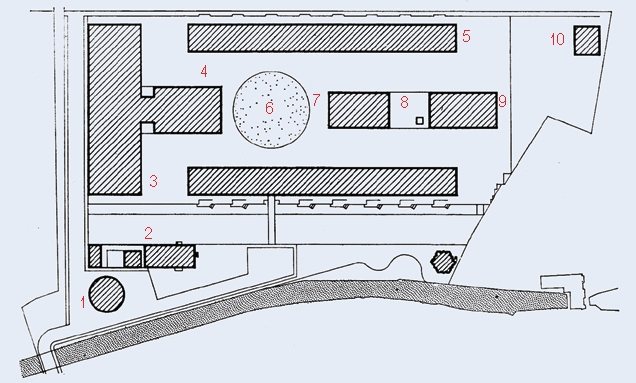 Built on a marshy site on the outskirts of the city centre, the college consists of two parallel, three-storey residential blocks with covered arcades plus four separate blocks containing common rooms, dining hall, library and lecture rooms running north to south between them. There is also a master's house on the other side of a river that runs alongside the residential block, and a separate music room.
In 1993, the college was one of the first five post-war buildings to be given grade I listed status. Additional residential accommodation designed by Stephen Hodder was completed in 1994 and 2005. Recently, double-glazed windows with integral blinds were installed with the help of a $1.6 million grant from the Jacobsen Foundation. As well as being more energy efficient, the new windows were more in keeping with Jacobsen's original design, which had included sun-shields that were not incorporated due to lack of funds. This led to the use of net curtains, which he hated.
The college celebrates its 50th anniversary next year.
Postscript:
Rab and Denise Bennetts were speaking to Pamela Buxton.