Peter St John's inspiration: Housing at the Gallaratese Quarter by Aldo Rossi
Aldo Rossi's Gallaratese housing in Milan showed Peter St John that modern architecture could incorporate classical themes
I love the modern architecture of Milan and could show you many elegant buildings there that are more beautiful than Aldo Rossi's project at the Gallaratese. But if I was to choose one that has affected me most it would be this one. As an architect your feelings about architecture are formed when you are young. You find themes and ideals then, and if you are persistent and fortunate you will realise them later in life.
I visited this building when I was 20, which is an impressionable age, and it was the moment I first felt what was interesting in classicism, and how it was possible to do a piece of modern architecture with classical themes. I was at the end of my degree at the Bartlett in 1980 and about to enter the AA for my diploma. I had been given a travel scholarship to visit some buildings by Terragni, which had been written about at that time by Peter Eisenman, with a formal analysis that now seems fetishistic. On my trip I had visited the first Architecture Biennale in Venice, which was curated by Paolo Portughesi and titled The Presence of the Past. There I had seen Aldo Rossi's floating theatre, the Teatro del Mondo. The theatre was a beautiful building, its singularity wonderfully judged in its situation and for the event. It had an amazing presence for its small scale, moored just near the huge dome of the basilica Santa Maria della Salute.
After visiting the Biennale, I went to Milan to see the Gallaratese project. The building is way out of the centre of the city in a modern suburb that, at that time at least, was a working class area. I was on my own and it wasn't easy to find. The building is about 200m long and is raised up on tall legs. Underneath is an arcade which starts at the street and extends into the centre of the estate, leading to other buildings.
Rossi had the idea that buildings should show the passage of time
It was a hot, dry, summer's day and the wide piers along the arcade cast a sharp shadow off into the distance. At the mid-point, there was a sort of interruption of shapes in the light, a massive rise of steps and some big, round columns. Everything was painted an ivory colour. I can remember that a few people shuffled across this monumental empty space while I was looking — a woman with some shopping, a few children — appearing and disappearing. There was an echo of steps. The atmosphere was heightened like on a stage and it was dramatic, but not in a rhetorical way as it was somehow also tender to the figures. It felt as if all Italy was there: its grandeur and its poverty, its monuments and its ruins. It was moving that such concrete simplicity could hold such allusions.

The whole building is relentlessly basic and singular in its concept. The flats are arranged between parallel walls above the arcade on two and three floors with deck access. The facade of the flats facing a modest park is a row of big square holes in the white wall, with the further subdivisions of the frames in green and with recessed balconies, so that although there is a lot of repetition, there is also a lot of depth and shadow, as if the structure is an empty shell. At the centre of the length, at a change in level in the ground, there is a break and the round columns, as if older fragments from another bigger building have been embedded in the facade.
Rossi had the idea that buildings should show the passage of time and these columns remind me of the famous picture of him standing between the columns of the Parthenon on the Acropolis. He was interested in the form of the city and how its monuments gave it identity. His forms were always very basic, coming from recognisable roots or typologies, but overlaid with the imagination of the architect. He argued that buildings should be general in their form and non-specific about their function, because if they last their use will change over time.
I don't know the history of who has lived here and how they have found it, and there is certainly none of the complexity that is expected to give social housing a domestic scale. But there is generosity and a public scale to the whole piece which brings a grandness to the everyday, a sort of palace occupied by the people. The architect imagined that some shops might open between the piers but that hasn't happened. You also think of aqueducts and amphitheatres, how their horizontality and scale gives definition to a topography, and what it might be like to live on a bridge with its open views; or the Adam brothers' development at the Adelphi and how it bound the housing to the river in a public way.
I'd seen these things in Rossi's manifesto, The Architecture of the City, and understood better what he meant when I felt the monumental presence of this building. It's a poor man's version of Le Corbusier's Unite d'Habitation for the Po valley. But in Rossi's case the building didn't leave the city's spirit behind. At that time, the idea of looking at the history of architecture for models was new, and also completely different from the open-ended empiricism of my architectural education. Of course this was to continue.
But seeing this quiet and powerful building at that time feels like it had a lasting effect. His Scientific Biography remains for me the most beautiful and convincing writing by an architect. Through Rossi I discovered the beauty of Adolf Loos and the projects of Alvaro Siza. I think it perhaps led to appreciating different and particular architectures that were around at the time we started our practice: the Half Moon Theatre by Florian Beigel (through whose office I met my partner Adam Caruso); the work of Tony Fretton, with its sensitivity to place and experience; and the early projects of Jacques Herzog and Pierre de Meuron (who were taught by Rossi) that were innovatively built but at the same time rather ancient in character.
Coming back again last month, the place feels more charming than before
There are influences in our work, more in ideas and mood than in appearance. There is often an interest in the monumental scale, but also in the background of the city and its ordinary buildings, which Rossi writes about, and which were an anathema to modernist architects, who wanted everything to be new and different. If you look at our work too, there's always something familiar about it. Our gallery in Walsall for example, with its tower of clay tiles and windows, makes a monumental form as a point of focus for the future extension of the town, but also acts as a mirror, a way of looking out and seeing the melancholy industrial landscape around the site as something magnificent. Often now we are working with existing buildings, fragments or historic interiors requiring change, in which we are looking for some continuity in the design that can ease the distinction between old and new.
You often hear architects say that they only get to build 10% of their ideas. I feel differently. It was Rossi who said that his basic principle was to persistently hold to only one theme. I think it is true that deep down you're always doing the same project, just with improving skill and in different circumstances. The years of effort and the journey to realise a building consistently in all its details are easily as difficult as the few months it takes to make the initial design. Years later people will walk past it, and if it is done well they will appreciate its lasting quality, even if they are using it quite differently from how you intended.
Coming back to visit the Gallaratese last month, the place feels more charming than before. The landscape has matured, people have occupied the walkways with their plants in a way that feels settled, and there is an ugly suspended ceiling in the arcade. But it still has this melancholic, monumental quality that made such an impression on me 30 years ago.
Rossi's suburban creation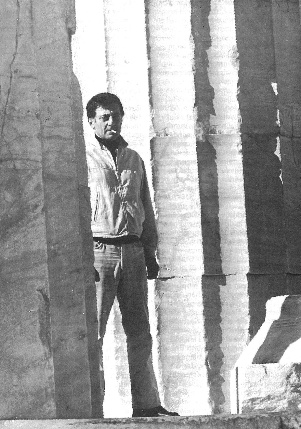 Completed in 1973, the Gallaratese housing block helped make the reputation of Aldo Rossi (1931-1997), and has proved a popular destination for architectural tourists ever since.
The building is situated in a newly established suburb in the north west of Milan, and is the fifth element within a larger 440-unit complex designed by Carlo Aymonino, who taught with Rossi at the Instituto Universitario de Architetturai in Venice.
Reached via a piazza within one of Aymonino's buildings, Rossi's housing is a 200m-long, rectangular block of gallery-accessed flats arranged above a ground-floor arcade. Each dual-aspect apartment has a covered balcony and overlooks either the communal garden or a piazza.
According to Rossi, the form was a reference to the galleried ballatoio housing of Milan of the 1920s. The original hope was for some parts of the arcade to contain shops, but they remain empty.
The buildings were temporarily squatted before being fully occupied in 1974. Originally open to the surrounding townscape, the complex has in recent years been fenced in, and concierges now strictly control access. As a consequence perhaps, it appears remarkably well-kept and free of grafitti and litter.
Postscript:
Interview by Pamela Buxton