Nicholas Grimshaw is fascinated by the engineering genius and iconic simplicity of Brunel's masterpiece
Project: Clifton Suspension Bridge
Location: Bristol
Engineer: Isambard Kingdom Brunel
Built: 1836-64
My choice of Clifton Suspension Bridge was straightforward given that Isambard Kingdom Brunel has always been a great hero of mine - he was extraordinarily inventive as an engineer, ship designer and creator of amazing innovations. I am also fascinated by bridges - we are an engineering-led practice and I feel engineering is in my genes. Both of my great-grandfathers were engineers.One built dams along the Nile Delta, the other worked in Dublin where he became the first public health officer in the city, building sewers to contain the streams that carried water-borne diseases.
I got my great love of bridges from the Forth Road Bridge, which was a great inspiration to me when I studied in Edinburgh. I must have seen Brunel's Clifton Suspension Bridge as a child, but although I knew it as an icon I didn't really get to know it well until Farrell/Grimshaw Partnership was working for Herman Miller near Bath in the early 1970s.
The scale of the Clifton bridge is amazing: 75m (246ft) above the water. It's a wonderful piece of clarity — you can immediately understand the suspension structure just by looking at it. Brunel thought it wasn't satisfactory to hide anything. Even the tapering in of the masonry towers is an expression of structure, as this acknowledges their lateral stiffness. The towers take the pure compressive load while the catenaries are supported by anchors that go right down into the rock.

The design of the bridge is very safety conscious. The single hangers attach to each of the three chains in turn so that the deck is supported equally by all three.
Brunel didn't train as an engineer - people didn't in those days. There weren't the same distinctions between builders, engineers and architects as there are now. Then, those guys really fought to get their ideas built, and stood or fell on whether they could make their designs financially viable. As someone who has never worked for anyone else, I respect that — after I left the Architectural Association, I started in practice straightaway.
The original design for Clifton had two sphinxes on top of each of the towers and Brunel also had a version where the suspension cables went into the rock near the top of the cliffs and the bridge was suspended lower down with tunnels either side of the approach. The way he constantly changed his designs for the bridge reminds me of the Eden Project, where we were redoing drawings for two years to take into account the contours of the mining that was still proceeding.
It's a wonderful piece of clarity — you immediately understand the suspension structure just by looking at it
Clifton also arose out of a huge amount of discussion and argument, which is the way I like to see buildings emerge. We like to talk to clients and argue endlessly between ourselves before we put pen to paper. We put huge store in understanding the site. The key thing about the building should be that it is seen to be totally appropriate for its setting and although it is pretty extreme, the Clifton Suspension Bridge fits so nicely because it arose out of a response to the site that everyone understood and agreed to.
I am particularly interested in considering the idea of bridges as buildings. Are they buildings, or are they the distillation of buildings because they are structure only and so are pure, often without the stylistic involvement of an architect?
What makes them iconic, as the Clifton Suspension Bridge so successfully is?
Back in Brunel's day, the people of Bristol were hugely interested in what the bridge actually looked like as a symbol long before people were articulating the idea of having an icon to help brand a city. Although Thomas Telford's Menai Strait suspension bridge was earlier (1819-1826), I think in many ways Clifton (1836-1864) is the UK's first bridge icon.
I find it fascinating that the competition for the Clifton Suspension Bridge back then was just as arduous as these things are now, with all the trauma of interfering judges, local opposition and financial problems. After the organisers ran out of money, they raised more and tried again. They were determined to have something of superb quality for their money. It's such a contrast with those proposals back in the 1990s for the East London River Crossing where a design and build option was chosen because it was only fractionally cheaper.
I can't understand the merit of knowingly choosing something ugly, even though it would affect millions of people every day, simply because it's cheaper. This tiny margin of cash could have made the difference between an icon for London on the one hand and a dreary commercial structure on the other.
I am hoping that in this century, buildings will exemplify the clarity found in the Clifton bridge and become more real. I am a Stirling Prize judge this year and, in our discussion of the shortlist, there are indications of more architecture emerging that is what it is, in that you can see exactly how it works just by looking at it.
I hope we'll get more of this. We've come through a phase in building where architects thought they could do anything — they could throw any shape at a builder and say "build that". This is architecture as scenery. This can of course have its uses — Bilbao, for example, is amazing yet there is no relation between its outside appearance, its inside appearance and its
structure.
Clifton arose out of a huge amount of discussion and argument, which is the way I like to see buildings emerge
Frank Gehry was the one who really launched the idea of architecture as sculpture and this has been carried on by Zaha Hadid to a great degree — some of her freestanding buildings are incredible as objects. But I'd like to revert to architecture which, like Clifton, expresses what it is doing. I like to feel my architecture expresses this even when pushed into pretty difficult city spaces, like our Sainsbury's building in Camden Town.
Perhaps the final point to make about the Clifton Suspension Bridge is that it helps us define the meaning of the word "icon". Here was a beautifully designed piece of functional "architecture", which was created to perform a specific purpose. It did not set out to be an icon, but it became an icon by public acclaim.
I think it is important for all artists, architects, engineers and designers to remember this. You can, if you wish to, set out to design an icon, but it is not you who decides in the end.
The bridge's long journey to completion
Although it wasn't completed until 1864, the idea for the Clifton Suspension Bridge dated back to 1753 when Bristol wine merchant William Vick left a £1,000 bequest to build a stone bridge over the Avon Gorge.
By 1829, this had grown to £8,000. Designs were invited and Brunel, then only aged 23, submitted four designs in various styles. But this first competition failed after one of the judges, the pioneering engineer Thomas Telford, declared all the entries inadequate and instead put forward his own three-span design featuring gigantic gothic towers, which was then rejected.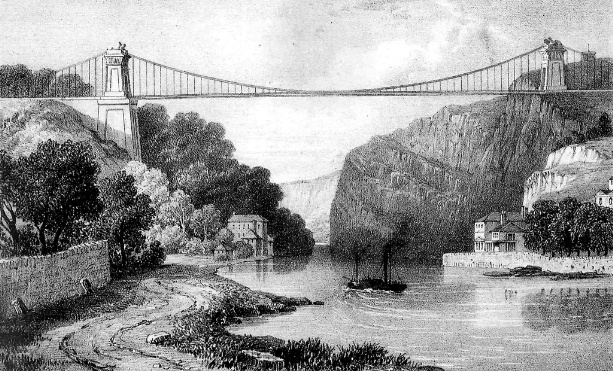 In another competition in 1831, one of Brunel's designs was placed second but he persuaded the bridge committee to go ahead with his design anyway for an Egyptian-influenced bridge some 74m above the river. With a span of 214m, it exceeded the 600ft (183m) maximum span that Telford believed was possible.
The 26m-high piers were raised by 1843 but the project was abandoned after funds ran out. The ironwork was reused at Brunel's Royal Albert Bridge at Saltash.
After Brunel died in 1859, the scheme was resurrected by members of the Institute of Civil Engineers in his memory and was completed using chains from Brunel's Hungerford Bridge, which was being demolished at the time. It was completed using a 9.4m wide wrought iron deck frame instead of Brunel's planned timber and iron deck.
Postscript:
Nicholas Grimshaw is president of the Brunel Museum. Interview by Pamela Buxton