Jonathan Woolf's inspiration: Mies van der Rohe's Krefeld villas, Germany
For architect Jonathan Woolf, Mies van der Rohe's Krefeld villas offered a masterclass in how to approach the design of his own Brick Leaf House
Inspiration Haus Esters and Haus Lange
Architect Ludwig Mies van der Rohe
Completed 1927-30
Location Krefeld, Germany
In 1998 I got a commission to design a house on the edge of Hampstead Heath that later became known as Brick Leaf House. The client had originally wanted a modernist white pavilion but our approach was that, given its position, we should use brick. I'd never built in brick, so began researching brick buildings and, as well as looking at buildings by Lutyens and Lewerentz, I travelled to Krefeld to see the two neighbouring Mies houses Haus Esters and Haus Lange.
When I visited, they were in the middle of being restored and the structure was stripped back and exposed. To me, peering through the wire fence, this was incredibly revealing — they were built like battleships, with something like 50,000kg of meticulously bolted steel beams and columns to hold up all that brick as well as the floors. These are complex hybrids and that set me off using a similar construction at my Brick Leaf House.
What's revealing is how Mies tried to hide these houses from his oeuvre. He saw them as a compromise and not of the same purity as the Barcelona Pavilion, which he designed around the same time and is really a piece of art in itself. Instead, these two houses are more subservient and background, yet to me are as interesting in their interpretation of tradition.
Mies felt that these houses weren't part of his myth of a whole new world where the relationship to tradition was more distant. He wanted to be understood as the new classicist and what didn't conform to that story was edited out. As a result, when I studied Mies as a student at Kingston Polytechnic, the emphasis was on the Barcelona Pavilion/Tugendhat house/American Mies. The Krefeld houses weren't even mentioned. It wasn't until 1995 that Kenneth Frampton's essay "Mies van der Rohe: Avant-Garde and Continuity" put the Krefeld houses back into the story of his work.
It was also interesting to me that they were a pair. I wanted to look at them to explore the connection between the two, as the Brick Leaf house was originally going to be two houses for two brothers and there was a question about the proximity of the two homes to each other. Visiting Haus Lange and Haus Esters was a way of testing the plausibility of designing two buildings side by side in a formal relationship.
The plans are certainly neither classical nor pure. Though basically the same shape, each house is slightly different from the other but these are marginal variations. In the published plans, rooms are labelled "Man's Room, Woman's Room, Child's Room", a degree of functionalisation which I have never come across before or since, though certainly it's organised. But the key move of making the main living room face north to the street is curious when any self-respecting homemaker would gravitate to the garden and the south. It's clear though that this main room was the place for formal entertainment, a kind of shop front versus the rest of the day-to-day rooms that orientate to the garden. It looks as though the client wanted the ability to keep the two separate from each other, which is pertinent as Lange was active on behalf of the National Socialist Regime. A preliminary, pencil-drawn plan gives us a clue — it shows the living room 5m-wide, compared to the 7m built, with the leftover given to what becomes the main room facing the garden. There are four rooms gradually diminishing in size as they wrap around the living room in a diagonal enfilade. They are clearly rooms to look at art in, each sized in relation to the other and stronger as a plan concept than in the built version. It appears as though this more coherent ordering idea of the plan was not what the clients wanted.
The key move of making the main living room facing north to the street is curious
As for the first floors, although each holds the same accommodation, Lange has en suite internal bathrooms that demand an awkward lowered corridor ceiling and front facade (to provide ventilation and light) while Esters opts for a central corridor and bathroom outside the room, so the facade parapet remains constant. Five of the six Esters bedrooms are linked together in enfilade, but none of Lange's are. Almost no walls in either house align vertically: spatial composition is the a priori language and structural implications are not merely irrelevant but consciously transgressed (records show the structural calculations alone ran to 85 pages). In the gradual undressing of Mies's constructional logic over the past 40 years, this particular project offers the most potent graffiti within his oeuvre.
One can speculate that Mies would've preferred to have one building since the contradictions are made more visible through their pairing. On the other hand, Lange was an extremely powerful industrialist who was instrumental in Mies getting his next 10 commissions. Academics, in their thirst to re-present the Krefeld villas as key works, suggest that Lange would have been the perfect client with his passion for art, but this is not always the case in my experience. I have learnt that, even for an influential art patron, there is a world of difference between buying art and commissioning it, particularly when it's your home, and clearly Lange was not someone to fall out with if you wanted to get on.
Mies's discontent seems to have been a general malaise rather than just frustration at not using more glass. He clearly felt the commission wasn't fulfilling his manifesto. He was dealing with much more complex social and political issues than he had to contend with in Barcelona or Tugendhat.
Haus Esters and Haus Lange were for real clients with real problems and the result was more of a compromise. Yet as you walk around them, you can certainly imagine enjoying them as homes. There is a generosity of openness with different rooms to dwell in rather than just the continuous movement you find at the pavilion. On the garden side, the houses step back to give a serrated edge towards the corner to follow the sun's path. Mies was said to be frustrated at the size of the windows but when you visit, the windows seem enormous and are certainly oversized for domestic windows. The houses have a substantial solidity to them (walls are 60cm deep) despite these large openings which lighten it up and frame views in a powerful way.
They were always places to display art even before they became museums, and that accounts for the large amount of wall space that Mies was asked to provide. In these "museum houses", he shows that you can have generous windows and still have generous walls. In this way, the houses can achieve an intimacy his others couldn't, and I love buildings where you can't determine what's going on inside.
I love buildings where you can't determine what's going on inside
One-off houses seem at first to be a great opportunity to realise a concept or showcase your architecture but they are possibly the ultimate challenge and the hardest places to design because they are inhabited in a very particular way. It is difficult to think of any houses designed by our most celebrated UK architects that could really be thought of as a home. An acid test is whether such buildings have the latent potential to take on other activities beyond their roles as family houses. A good building should be able to outlast its initial functional purpose and be inhabited in many different ways.
I am intrigued by the way artists have used the Krefeld buildings as something to respond to and re-interpret rather than simply hang their work in. It is precisely because of the ambiguities present in the architecture that it has borne such fruit. I'm thinking of the White Room, which was built by Yves Klein in the unlit room in Haus Lange and which in some ways rhymes with the glass-walled unseen lightwell in the Barcelona Pavilion, as well as others including Richard Serra and Sol Lewitt.
From visiting Krefeld, I learnt that there was nothing particular to be gained from two such close designs so close together. Meanwhile, the more my Brick Leaf House clients discussed what they wanted, the more it made sense to have their two houses as a single form. I was already thinking of using steel but wanted to see the Mies buildings in the flesh to understand how it worked, and this confirmed that was the best approach to take. There are large spans that would be more difficult to create in anything other than steel, which was also the most economical way of doing it. And Mies could also be very free with the positioning of the openings — the whole building is like a giant brick frame in which these spaces can be arranged.
The other big decision was whether it would be feasible to build the whole object from a single colour brick. At Krefeld, Mies used a quite pitted brick, while for my Brick Leaf House I used a brick with the texture of tree bark and the tonal colour of copper beech leaves.
It's clear that Mies won some battles with his clients and lost others. Studying them anew, it feels as though Haus Lange and Haus Esters, taken together, are an anagram of the ideal.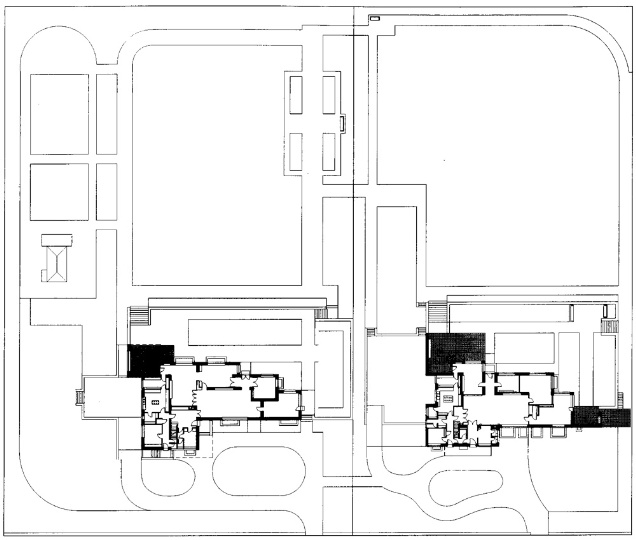 The houses that Mies van der Rohe preferred to forget
Hermann Lange, a wealthy textile manufacturer and art collector, commissioned Mies van der Rohe to design a private house for him in 1927. This led to a commission to design a house for his friend Herr Esters on the adjacent site.
The two villas were completed to different but complementary designs and were intended as "museum houses" to display their owners' private collections. Mies also designed landscaped garden terraces and the interiors, including a lounge chair, ottoman and table — later produced as the Krefeld Collection by Knoll.
Mies did not regard the houses as successful and did not like to discuss them. When asked about the commission in the sixties, he said : "I wanted to make this house much more in glass, but the client did not like that. I had great trouble."
The houses were only widely recognised as a major part of his oeuvre when they were included in an exhibition on Mies at New York's Moma 10 years ago.
Art exhibitions have been staged in Haus Lange since 1955 and Haus Esters since 1981, when the house became part of the Krefeld Kunstmuseen.
Installations include Yves Klein's famous Le Vide white room installation in 1961 and work by Richard Long, Sol Lewitt, Christo, Daniel Buren and John Baldessari.
The houses underwent extensive restoration at the end of the last century. For three days a year, they are the venue for a forum on Mies's architecture.