Jon Buck and Dominic Cullinan's inspiration: Leicester Engineering Building
Jon Buck and Dominic Cullinan of Scabal Architects explain how Stirling & Gowan's Engineering Building at Leicester University has been a point of influence for them and their work
Inspiration
University of Leicester Engineering Building
Architect
Stirling & Gowan
Completed
1959-1963
Location
Leicester
Jon Buck
I did my degree at South Bank University and as a busy undergraduate you'd see a picture of a building fleetingly in a lecture and decide on just that if you liked it or not. Before I saw the slide of the Leicester Engineering Building showing the main auditorium projecting out, it had never even occurred to me that something on the inside could have so much impact on the outside.
By the time I was 19, James Stirling was my favourite architect, mainly because of that auditorium. I quite liked other buildings Stirling built after his split with James Gowan and went to see the Florey Building in Oxford but couldn't ever find in them what I found in the Engineering Building.
Stirling's work was always difficult and I was drawn to this, in the same way that I was drawn to John McEnroe rather than Björn Borg. At architecture school in the eighties, you either went down the post-modernist route and decided you liked Michael Graves and Terry Farrell, or you liked Richard Meier, Richard Rogers and hi-tech instead. But Stirling was both a modernist and a post-modernist and I couldn't let go of him. Sometimes I loathed his work but at the same time I was drawn to it. Having been brought up to believe that it was a good thing to undermine the status quo, I also wanted to be able to create something that was that difficult and discordant.
Source: Edward Tyler
While my early relationship with the building had been through the auditorium, when I later saw photos of the Toblerone roof lights on the workshop I realised there were so many more aspects to it, and so many inconsistencies — the best things about it. The building does feel incredibly English.
Having visited it, I'm delighted with the discovery that the architects weren't precious about the details, and I'm delighted with the penicillin pink handrails which work so well against the concrete steps, though maybe not so well against the terracotta. There are also the chamfers — in order to get softness and interest in a plan we still go there first, knocking corners off until we get the right chamfer. It feels like a very friendly experience.
When I went to the Staatsgalerie in Stuttgart for the first time having for years enjoyed the worm's eye perspective of it — and pictures of its big fat handrails — it was disappointing not to be able to experience it in the same way as the drawing. But Leicester Engineering Building hasn't been a letdown. It's flawed but magnificent.
We're meant to be impressed by it from the outside, but I'm impressed by it inside. I find it very delicate — the architects have filled the space beneath the water tower at the top with a great deal of tenderness. There are just a few simple ideas, then the detail gets on with itself.
The thing that strikes me most is its tininess and spatial generosity. I want to live on the landings — there is something very domestic about them. The quality of light is of a kind you only get between very solid masses.
The engineering block is something you can cuddle rather than something that overawes you. When I was 18, I thought it was heroic and barnstorming and about five times bigger than it actually is. Instead, it's small and delicate, and that's what appeals to me now. It was before hi-tech, which was obsessed with engineering and the authenticity that structure gives to your building. This is interested in other things but just happens to be an engineering building. Hi-tech has gone out of fashion, but this building hasn't.
Dominic Cullinan
This is not a building I've always had a deep knowledge of — it feels more like the words to a Madonna song that you just know without ever learning them because you can hear it everywhere.
Visiting it for the first time, in a strange way it seems totally familiar. The language of the building is so commonly used now, and I'm reminded how many times you see its likeness. Its clear expression of content and its shapeliness, its fluidity, its elegant lines, as well as its generally apparent easy design. Seeing the wooden model lying around in the foyer — did they leave it out for us? — it's clear that the apparently complex workshop roof shapes are made from 1in x 1in softwood, glued, painted grey and simply cut at their ends.
It's so inside turned out, a very visceral building, almost intestinal with its blood colours and oesophagus staircases complete with fluid pipes running up inside them - like an anatomical diagram occupied. It's a body. And of course its 45 degree angles are like my own very first set square in its folded state, ready to use and an easy alternative to the right angle.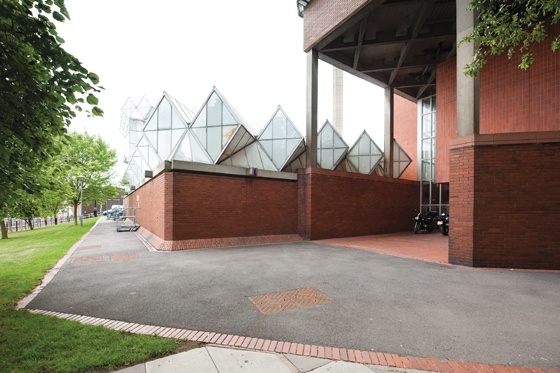 Source: Edward Tyler
It's very idiosyncratic in that its design takes on a lot of the imagery of engineering but in a naive way. They're discovering a connection for the first time between architecture and engineering before hi-tech made a fetish of it. But this is done in a very sophisticated manner and, without being cynical; it does manage to openly display its authorship and a deep sense of knowing. Maybe this is why the current head of engineering, Professor John Fothergill, calls it Stirling's first post-modern building.
Its smallness and interconnectivity is what makes it special for me. I'm impressed that this great icon of engineering and architecture is actually a very tiny, dinky thing although at the time I bet they thought it was huge and majestic. Because it's so small, you almost think you're in a single dwelling when you're inside, the engineer's house. It's great that it's preserved as nicely as it is.
But one of its problems is that it's a very finished piece of work. Nowadays, and you can see this on the campus around it, buildings are (and should be) expected to be able to grow and distort — people say "morph" — in response to their changing fortunes, like engineering itself. But this one is so precise and perfectly conceived as a limited object. But it's so wonderful it could be as wonderful even it had to be empty.
Ten years ago Scabal was invited to write and illustrate a design guide for future City Academies for the then DfEE (now Department of Education) and so "de facto for all future secondary schools". The government then was keen on these schools being much more a part of the community so we reimagined it as a 24 Hour High Street School.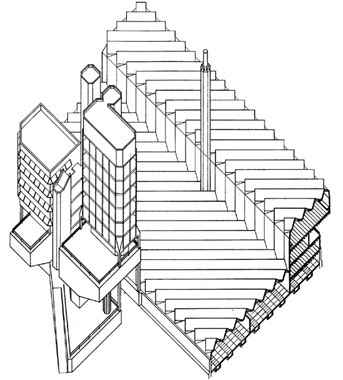 Rather than using illustrations of the latest schools built by other architects, we presented an animated sequence of drawings incorporating buildings that weren't necessarily schools, including the Leicester Engineering Building that came and went over the course of the day as the school curriculum required them. This is because the "schoolness" of schools was and still is too absolute, too constraining for this brave new vision, too constraining for how children learn.
In some ways this idea was too abstract for the proposed publication and therefore not enjoyed by the client at all, but we're reviving it as an actual animation and it's going to be shown at the RIBA in the autumn as part of a formal response to the James Review of the school building programme. Because not building schools seems to be the new idea.
Visiting Leicester Engineering Building is a nice day out that reminds us of who we want to be. Looking at the building back then as students we were looking at the possible ideal of what it was to be an architect. One day it will surely be our turn.
We will be asked by intelligent people operating at the meeting point between the academic and the practical to design them a building not only ideally representing but actually accommodating that precise place — intelligence, good looks and physical activity — making things work.
That idea or ideal remains strong in our minds and still clearly defines what we would like ourselves to be as gentlemen architects.
A building designed to be exciting
Leicester Engineering Faculty was Stirling & Gowan's last building as a partnership.
It had an immediate and enduring impact, proving hugely influential in both its structural feats and its knowing referencing of modern movement forms from a generation earlier.
For this reason, it has often been considered the first post-modernist building in the UK. Critic Kenneth Frampton has described it as an "eclectic tour de force" that recalls the work of Telford, Brunel and William Butterfield, as well as the industrial and commercial vernacular of Stirling's native Liverpool.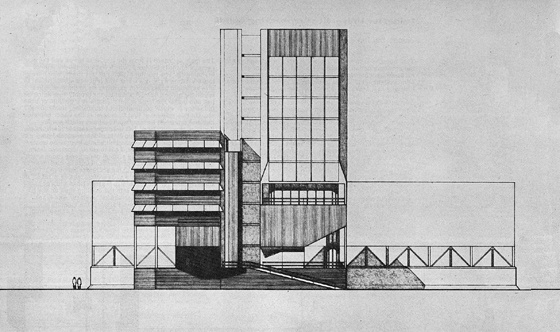 The building consists of a tower plus adjacent laboratories and workshops covered in a saw-tooth glass roof. The tower's lower three floors are taken up by two projecting lecture theatres. On the southern side are laboratories from floors 3-6.
In the main 11-storey tower each floor contains four offices for teaching staff, with the exception of the head of department's office which takes up floor six and the water tank on the top floor. This supplies a pressure head to the hydraulics laboratory on the ground floor via pipes that run up the main staircase.
Next year the faculty celebrates the building's 50th anniversary. It now serves 600 students, twice the number it was designed for.
It was grade I* listed in 1993 and has had considerable maintenance problems over the decades, in particular its leaking windows and roofs, plus difficulties with heating and cooling. The glass in the main tower was changed in 1988 and the faculty has talked to English Heritage about the best way to replace the "Toblerone" roof glazing.
Despite these challenges, the department is very proud of its building, described by department head John Fothergill as "designed to excite and to be exciting".