Hans van der Heijden's inspiration: Museum Boijmans Van Beuningen
The co-founder of BIQ on how his relationship with Rotterdam's Boijmans museum has shadowed his own evolution as an architect
Inspiration Museum Boijmans Van Beuningen
Architect Ad van der Steur
Completed 1935
Location Rotterdam, Netherlands
My fascination with the Boijmans has everything to do with the evolution of my own architectural thinking.
This building is a very important art museum, so I knew it first from going to exhibitions when I was studying in Delft, which is quite near Rotterdam. Because it was the 1980s, modernism was dominant and we were all designing white boxes. As a result, I wasn't really all that taken by the Boijmans building. My real fascination with it came later when I was working at Mecanoo, where the architects were real white box babies. Gradually, I became interested in Rossi and other Italian architects and I began to find the way Mecanoo buildings hit the building site problematic. They imposed an architecture on the site that was technically very difficult and we were battling constantly with contractors to get it right. It took a lot of energy and hard work, and I began to feel dissatisfied with this approach.
I come from a building family — my grandfather was a carpenter, my father an architectural technician, and their view was that a building should be the product of a collaborative construction team — a very different view to that of the Mecanoo world. I started looking beyond modernism. In Rotterdam, I found a collection of buildings, including the Boijmans museum, that were made of brick and although these were not consistent in style, they were all self-consciously public buildings. There's also a row of three bank buildings on Blaak, including one by the Boijmans architect Ad van der Steur, which work together well as part of the city. They were communicating in a low-key way with bricks, plaster and stone. I like that a lot. Because of their technology and their use of architectural history, they are very acceptable buildings. They don't shout.They are extremely civilised.
Back at Mecanoo, I showed my slides of the Italian buildings to colleagues and they were, of course, appalled. I had learned a lot at Mecanoo — it was very dynamic — but I now knew precisely what I didn't want, and it was necessary to start an office with like-minded colleagues to run our own programme.
Our interest in tradition and brick wasn't in vogue and we were desperate for dialogue with likeminded colleagues. I developed a friendship with Richard Lavington and, after we won the Europan competition, our connections in England were important too. We started talking to David Dunster, Tony Fretton, Stephen Taylor and Adam Caruso, who were looking at similar references, but from an Anglo Saxon perspective.
Buildings that are the product of Rotterdam's economic expansion have been forgotten. Before its destruction by the Luftwaffe in 1940, Rotterdam must have had a rich urban image. The city had quickly expanded after the growth of the harbour economy. There was a galleria that was as impressive as the one in Milan, which used a classical architectural repertoire to mark out Rotterdam's Belle Epoque. The city competed with the large metropolises in the world - not just economically, but also culturally.
That has gone. Post-war reconstruction was an economic affair, ruthlessly executed by a second generation of modernists. Even today, brick buildings like the Boijmans aren't really recognised as architecturally important and have been excluded from the design canon. But they could be a very good antidote to the self-image that Rotterdam cherishes: of itself as a city in a constant state of renewal. It's very unstable, partly because it has traditionally been a harbour city. But that activity is no longer happening in the city centre, and the issue now is how to reinvent those parts of Rotterdam for more domestic use.
I showed my slides of the Italian buildings to colleagues at Mecanoo and they were, of course, appalled
The Rotterdam city architect Van der Steur, designed the Boijmans and the garden and the interior as one, which gives it a great coherence. The Boijmans has a classically enclosed park with a wall, but this is almost full at lunchtimes, unlike the park at the nearby Kunsthal, which people seem to just use to walk through. To me, it seems that although people might not be that aware of the beauty of the architecture, they do accept the place as somewhere familiar and pleasant. Today, the relationship of the building to the garden isn't the same because of an extension near the water, which is used as a restaurant. Since people don't appear to be precious about this building, the extension wasn't at all controversial like it would have been in Britain.
When it was built in the 1930s, the Boijmans was the most modern museum in Europe. During the design process, the client and architect took a tour of the 20 best museums in Europe and as part of the research, they built full-scale mock-ups of roof-lit galleries to test the light and shadows. Only the ground floor, where the galleries were made to display crafts and design, has windows — the upper floors have rooflights because of the paintings. Technically, the building had all the state-of-the-art novelties, including air conditioning. Amazingly, it took just four years to conceive and construct the entire edifice.
The building has the ethos of being traditional in a modern context. For a big institutional building, it doesn't have a really monumental appearance, but uses brick as an expressive material. In essence, it's a brick shed with a bell tower. At first glance you think it's quite a harsh building, but its nuance is in the details. Modernism has difficulty with what I call the zoom factor — close by, a white box looks the same as it does from afar. But this building is like a painting. As you get closer, you see more details. It's quite delicate.
The original main entrance is really special. There's this classical way of how you develop an entrance using a small space, then a bigger space, then an even bigger space, while developing the spaces off to the side. The biggest space is an oval rather than a circle, and suddenly there's a green floor and a black plinth, a linguistic turn that you don't find anywhere else in the building, yet here it makes sense.
Inside, everything is very axial and incredibly detailed. The building does not want to be ostentatiously precious. Yet, everything is considered — not necessarily by the architect alone, but also by those actually putting the building together. In the galleries that are designed for sculpture there are stone plinths, but in the rooms where paintings are shown, the plinths are wood.
What's also interesting is how the rooms connect — the design is very much about how you navigate through the space. You move from room to room — there are no corridors or fluid spaces. I particularly love how the curved seating is incorporated into the wall of the galleries along the circulation route — it's beyond beautiful and is a baroque twist on the otherwise axial space.
Classicism is often dismissed as a closed system that excludes the imagination of its author, but this is full-on imaginative
I took our Bluecoat arts centre clients here when we were designing their extension in Liverpool, and they appreciated how there was a great intensity to the spaces, and they were also taken by the use of brick as an architectural material. I learned at the Bluecoat how difficult it is to design circulation around a wing — the way you stop a wing is tremendously important. Here, Van der Steur was very clever to add a small chapel-like space for sculpture at the end of the wing to connect the two end galleries. From a theoretical point of view, it's a classical building. Classicism is often dismissed as a closed system that excludes the imagination of its author, but this is full-on imaginative.
You never know where you get ideas from. At the moment I'm working on a mixed-use scheme for the Dom-Römer Areal in Frankfurt. There, the question is very much about how we should interpret the neo-Gothic language of the former domestic architecture, houses that have timber frames, no thermal insulation and a lot of informal additions and changes. I suddenly realise now that our design contains the same juxtaposition of curves and straight lines that you see in the galleries here.
Today, I still go to visit the Boijmans quite often. Like Dudok's town hall in Hilversum or Berlage's Gemeentemuseum in The Hague of the same period, it's a building in which you can wander around and see different things in the architecture every time, and there are very few buildings in which you can do that.
Solid classical principles informed Rotterdam's 19th century gallery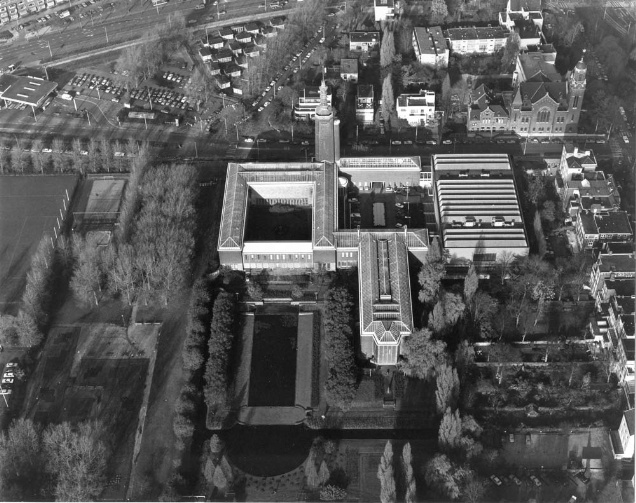 Ad van der Steur (1893-1953) was municipal architect of Rotterdam and was commissioned to design a new building and park for the Boijmans Van Beuningen Museum. Founded in 1849, this gallery is today particularly known for its surrealist collection.
Although some well-known modernist buildings were being built elsewhere in Rotterdam, Van der Steur, together with the municipal urban designer
WG Witteveen, envisaged a city of solid brick and stone buildings forming classical streets and squares. They clad the building in red brick and included a stately tower, which was illuminated at night. Inspired by the domestic interiors of private collectors, Boijmans designed a series of
small-scale galleries with subtle detailing.
The museum survived the bombing in 1940 that destroyed much of the city centre. Originally arranged around two courtyards, the building has since been expanded several times, most notably by a new wing for temporary exhibitions by Alexander Bodon (1972) and a pavilion designed by Hubert-Jan Henket (1991), which greatly altered the building's relationship with the landscape. Originally designed as a gallery, this extension is now used as a restaurant. An extension by Robbrecht & Daem (2001) to the Bodon building — a narrow block along the
street — includes new galleries and a library.
A new main entrance was created in the courtyard where the original staff entrance had been. A restoration programme by Molenaar & Van Winden working with Jan Walraad architects is underway, which will include the creation of a new central security position. The same architects have already completed an alteration of the Robbrecht & Daem extension.