David West and Christophe Egret of Studio Egret West look to OMA's regeneration of the Zollverein coal mine in Essen as an example of reinvention that maintains a connection with place
Project Zollverein Coal Mine
Location Essen, Germany
Architect Martin Kremmer & Fritz Schupp
Built 1927 (OMA-masterplanned regeneration from 2002)
David West
Zollverein has become a shorthand reference for us to explain to clients, communities and stakeholders a type of post-industrial environment that isn't sanitised through regeneration, but instead uses landscape and narrative to create a rich new platform for sustainable development. This creative re-use appeals to us because we enjoy the obstruction of retaining as much as possible as an as-found layer and using resonance with the past to help discover new uses and place specific designs.
Zollverein is just one of a series of regenerated former industrial sites in the Ruhr that takes this collage approach. Part of the reason it stands out for us is not just the nature and sheer ambition of the regeneration, but the quality of the original industrial architecture itself. You can see why it has been described as the most beautiful coal mine in the world. With its rigorously planned brick blocks, chimneys and chutes, it is designed to be absolutely utilitarian yet somehow the architecture becomes really playful and, when we visited, we all discovered something of the fairground about it.
The dramatic juxtaposition of old and new is very raw and very strong
Because it's such an unusual collection of buildings and spaces, Zollverein is good enough to have a second life, and this is an inspiration for any architect to make their buildings good enough for another incarnation. Sanaa's new college building at Zollverein, for example, although cast rather adrift from the original coal works, would be good enough to find a new use and adaptation in the future if need be.
We admire the ambition that has sought this second role at Zollverein — it takes amazing commitment to turn such a raw industrial site into a cultural and business centre. As a practice, we spend a great deal of energy discovering the essence of a site in order to create places that evolve and adapt in combination with the strength of a completely new layer of programme and design. Zollverein has the potential for all this and more on such a monumental scale.
Everything about it is extraordinary. The dramatic juxtaposition of new and old is very raw and strong. One of the key reasons that Zollverein has been such a pin-up for us is the untamed-yet-structured wilderness nature of the landscape.
It's not too cosmetic or precious. Near the coal washery, the memory of the railway tracks is amplified when it would have been very easy to clear it all away.
OMA's interventions in and outside the coal-washing house are very effective. We like how the regeneration avoids clearing up the place to within an inch of its life. As a result, Zollverein retains a lot of its grit and specialness. So often architects overcomplicate things but this is a simple, pared-back restoration with one clear big move that brings it alive — the giant orange escalator, which adds a new, memorable element without dissolving the narrative of the past. We employed a similar tactic at the Park Hill estate in Sheffield where our biggest new move was the shimmering new spiral staircase.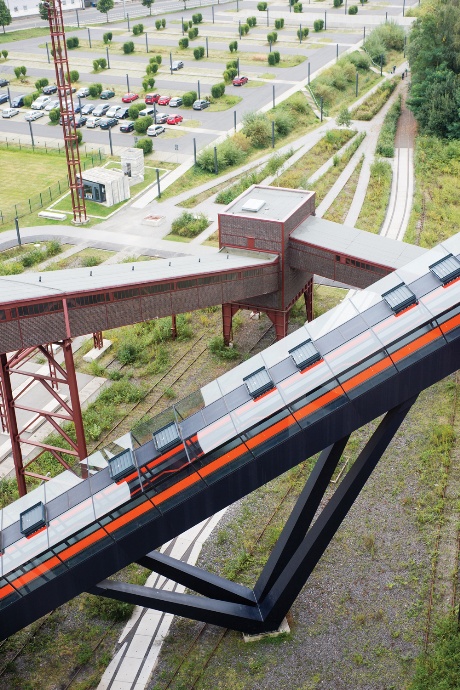 Source: Ed Tyler
Zollverein has been an inspiration for us on many of the post-industrial landscapes we've worked on that have needed reinvention. We like to pull out stories from the history of a site and show its layers — such as at the Old Vinyl Factory, the original home of HMV and latterly EMI, in Hayes.The site was previously branded London Gate but, together with our development partners Cathedral Group and Development Securities, we have renamed it with specific reference to its former use and are combining large scale refurbishment with mixed-use new build where the spirit of the past underpins the plan for the new.
So many developers take a corporate and banal route when creating what they think people want rather than concentrating on what differentiation a place can offer. There's no reason that business parks and offices have to be so dull. Why can't they be the inspirational working places of the future?
Reinvention does take time and at Zollverein they're taking a piece-by-piece approach to building out the masterplan including some memorable "meanwhile" uses such as a 500m-long ice track and swimming pool at the coking plant which we like — our approach has always been that meanwhile is worthwhile. It's about slow-cooking change to gradually evolve a place, although because of the recession and the Unesco restrictions the pace might have slowed down a little too much at Zollverein. There's a very long way to go, but they're just 10 years in and, at Zollverein, they're in it for the long haul.
Christophe Egret
This project has been one of our inspirations since we started our practice eight years ago — a reinvention of disused, post-industrial heritage to create an active leisure park through a blend of urban design, inspired raw landscape, contemporary architecture and the reuse of old buildings.
A lot of architects are inspired by the architecture of individual buildings, but both David and I are particularly interested in the nature and architecture of a place as a whole, and on every site we work on we immerse ourselves to find the specificity of the site. We have referred to this scheme many times in our work but until last month had never been.
It is harder to adapt a building than design anew, but preserving can be the catalyst for reinvention
Zollverein is about sustainability. Here, industrial land is becoming a cultural landscape and it's a testimony to the place that it can evolve so well. This is inspiring for us because one of the important things for the future is adaptability and, while Georgian and Victorian architecture was immensely flexible, in the late 20th century, the trend was to demolish and start again after 25 years.
It does go against the architect's ego and it is harder to adapt a building than design anew, but preserving rather than wiping the slate clean can be the catalyst for reinvention — if we keep that building, that tree, that landscape, we can keep a connection with the pulse of the place. Zollverein is a good example of this. None of the spaces are beautified. They still have a raw quality, apart perhaps from Foster's Red Dot museum. But there must have been a time when it would have been quite attractive to demolish Zollverein instead but someone found the will to stick with it. Now the point has been made and it's a success.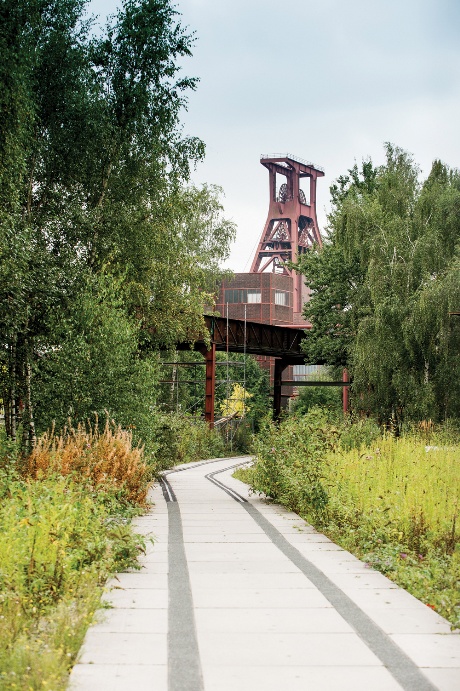 Source: Ed Tyler
Industrial architecture is interesting in that its shape does everything as efficiently as possible. Like a uniform, it's an aesthetic to do with function rather than fad. Zollverein is dramatic but also harmonious and elegant. The approach of the regeneration has been to keep the soul of the past industry as an anchor for the creation of contemporary new uses. The danger, especially with the restrictions of its Unesco status, is that it might have become a monument rather than a catalyst to regeneration.
We like how the regeneration avoids clearing up the place to within an inch of its life
What works so well is the meshing of the wild landscape with the tough, industrial environment. That for me is the magic moment. It draws the whole thing together and in our projects, we've always found that the one thing that really holds the spirit of the masterplan is the landscape — the paths, the streets, the squares.
Visiting last month, one of the most amazing parts was the room in the coking plant with the coal bunkers that resemble great concrete udders. You couldn't ever justify building something like that but because it's already there, you end up with a space that has so much more character and is volumetrically more interesting than if the whole lot had just been swept away.
I regret we didn't visit when we could see more of the new leisure activities in action such as the wheel or the swimming pool in the coking plant which create another layer and make the site all the richer. I think Zollverein needs more of this sort of thing and I really hope they keep the wheel permanently.
So many places that have been restored end up being sanitised — like the Fiat factory in Turin, which is now a mediocre shopping complex. Zollverein is full of resonance with the past. It just needs a bit more contemporary life, but that, I hope, will come.
From coking plant to cultural centre
Once the largest producing coal mine in the Ruhr area, Zollverein is now a Unesco World Heritage Site and is being regenerated as a
mixed-use development.
The mine, which covers 100ha in the north of Essen, was active from 1847 to 1986, when it was the last of the Ruhr mines to close. The coking plant operated from 1961-1993. The diverse site was rationalised to maximise productivity, with architects Martin Kremmer and Fritz Schupp in 1927 designing a new central shaft on form-follows-function principles with buildings in strict symmetry in uniform red brick with steel frames.
After its closure, the owner, Ruhrkohle AG, applied for demolition but the North Rhine-Westphalia authority wanted to preserve the facilities and architecture and the site became a protected monument.
In 1987, a decision was made to conserve the buildings and develop cultural and business uses for Zollverein and it became a Unesco site in 2001. OMA developed a masterplan shortly afterwards. This included the refurbishment of halls and open areas and the conversion of the coal washing plant, the largest above-ground building, in 2003-6.
As part of this, a new 58m long gangway — Germany's longest freestanding escalator — was added, leading directly to the Ruhr Visitor Centre entrance 24m up.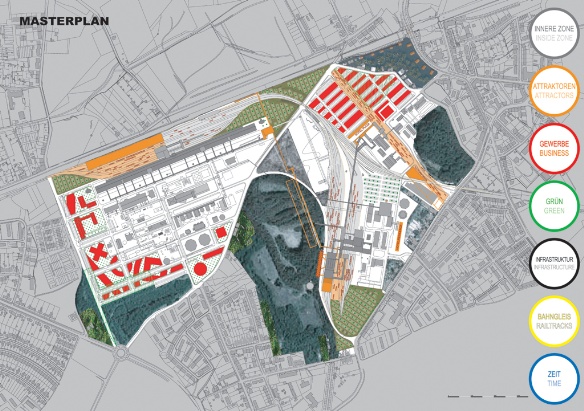 Sanaa completed a new design school building in 2006 on the edge of the site, now occupied by Folkwang Academy. Foster & Partners' Red Dot design museum is housed in a former boiler-house and there are new offices and studios for start-ups in Shaft 1/2/8. The whole site is a local recreation area and events venue, with art installations in parts of the massive coking plant.
The regeneration is likely to take several more decades to complete. There are plans to build university housing and possibly a new hotel on the site.