Gerard Maccreanor took inspiration from Adolf Loos for his suburban townhouse in Rotterdam — but building it was a painful five-year saga
Having spent the larger part of the past decade living on a building site for reasons entirely of my own making,
I took a certain comfort from hearing what a nightmare Gerard Maccreanor had put himself and his family through to build them a house. Maccreanor and his wife, the photographer Ann Bousema, are of one mind when I ask them if it has been worth it.
"It has taken almost five years from when we bought the plot," Bousema says. "I think if we could have foreseen this we wouldn't have done it, because it was too much stress."
Her husband adds ruefully: "The first year was exciting. We wasted a lot of time looking at reference images. Then we spent a year and a half getting permission when we had thought it would take three months. It was at that point that we sent the drawings to a quantity surveyor, who quoted an astronomical amount of money — a problem that I decided to solve by saying: 'I am an experienced architect, I know what I am doing, I will be the contractor!' And that was a really bad move…"
The saga unleashed by this cocktail of hubris and prevarication makes for all-too-familiar listening; but Maccreanor and Bousema do at least have the compensation that, at the end of it, they are the proud owners of a quite exceptional house. It stands in Rotterdam, a city where Maccreanor has lived since his practice, Maccreanor Lavington, won a Europan competition for a site in the Netherlands in the early nineties. Soon after settling there, he and Bousema refurbished an 1860s house in the city centre; but they were prompted to embark on the construction of a new residence by the recognition that there were not too many years left before their two children would be leaving home.
Maccreanor explains: "We had spent 10 years in our previous house and realised that, if we spent another six or seven years there, then a very big chunk of our memories would be attached to that place. The prospect of moving after the kids had gone to university felt negative. We wanted to move in between, when we had a memory of them in different places."
The new house stands 5km east of the city centre, in a well-to-do suburb that developed in the early 19th century to either side of what was then a country lane. The earliest buildings here originally served as summer houses: cottage-like dwellings set in large gardens and faced in uninsulated single-brick skins. As the century progressed, these plots were infilled by larger and more architecturally ambitious townhouses.
The tentatively bohemian leanings of the residents are reflected in streets like Wagnerhof, where art-nouveau-inflected villas bear names Tristan, Isolde and Parsifal in attenuated gold lettering. Rich in mature trees and characterised by a marked architectural pluralism, the atmosphere is not so dissimilar to that of Hampstead in London.
Unlike Rotterdam city centre, the area in which Maccreanor and Bousema now live was relatively untouched by wartime bombing. However, the house that originally stood on their plot was one of a number that did get hit. It was replaced in 1957 by a two-storey dwelling of an anomalously suburban character and, as with much post-war construction in the Netherlands, the quality of materials used was poor. From both urban and environmental perspectives there was a strong argument for replacing it.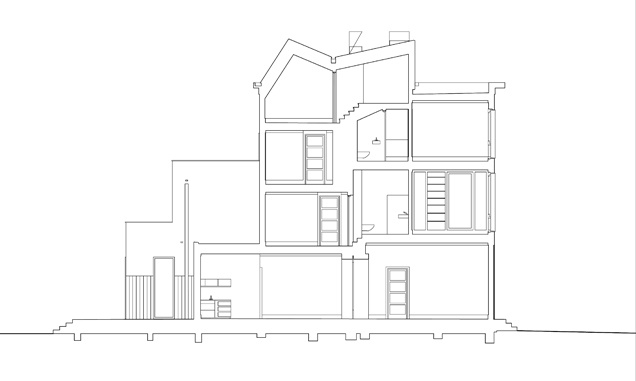 SECTION
And yet, perhaps surprisingly given the readiness with which the Netherlands undertakes large-scale redevelopment projects, Maccreanor says the idea of buying a house and knocking it down remains an alien concept in the country: "In London people have been doing that for 30 years, but when we were in talks to buy the house it became clear it hadn't really occurred to anyone."
That cultural prejudice explains something of the length of time it took to secure permission for redevelopment, but argument over the appearance of the new building also inevitably proved a factor.
The city authority determined that the design should accord with a strongly predefined three-dimensional envelope.
There was also an expectation that the design should provide a contextual response to its neighbours while still offering a contemporary expression — a demand that anyone familiar with his practice's output will appreciate sat comfortably with Maccreanor's own interests.
Like a number of the older buildings on the street, the house he has designed is faced in white render. Flat-roofed and presenting a three-storey street elevation punctuated by an even distribution of vertically proportioned and grandly scaled windows, it proves a sympathetic intervention without drawing directly on local precedent.

The design does clearly have a model, however, in the domestic architecture that Adolf Loos was developing in Vienna at much the same time as many of the houses in the neighbourhood were being built. "I have always liked those buildings, particularly the clear play of solid and void and the way the backs are more modelled than the fronts," Maccreanor acknowledges. In another part of Rotterdam, the geographic discrepancy between that source and the building's location on the other side of Europe might invite suspicion, but here the presiding spirit is one of well-mannered eclecticism and the building's exoticism feels like a viable addition to the mix.
Maccreanor's interest in Loos also has much to do with the architect's example as a modernist who was comfortable working with historical reference. "He was operating in a culture where architecture had become over-burdened by detail and wanted to strip it back," he says. "We are coming at the issue from the other direction. The dominant architectural culture is minimalist and we are investigating what we can add to make the work richer."
One ambition for the project was to achieve an environmental performance well in excess of the lax standards that govern Dutch housing. Maccreanor looked at using Finnforest's engineered timber construction system but was put off by the levels of formaldehyde that result from the copious use of glue. In its place he specified a system of timber frame cassettes, packed with wood-based insulation and faced internally with two layers of 18mm Fermacell board. Manufactured and installed by the German firm Holzbau Sauer, these allowed the shell of the house to be erected in 10 days. They have proved impressively robust, presenting none of the acoustic problems often associated with timber frame and providing a thermal mass that means the house is not too susceptible to overheating.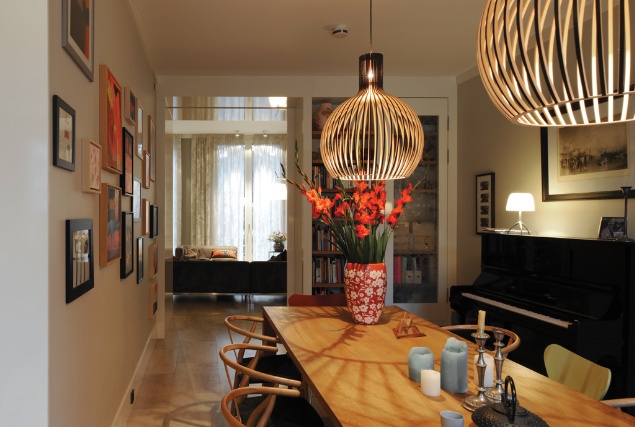 Source: David Grandorge
Of considerably slimmer section than any product available on the Dutch market, the timber windows are also German and achieve a level of airtightness that meets Passivhaus standards. Natural ventilation has been kept to a minimum but every 45 minutes each room is monitored for carbon dioxide, with automated ventilation kicking in as needed — a strategy that Maccreanor argues best responds to the needs of a house that is generously scaled for the number of people living in it.
Following the Loosian model, the interior is characterised by a surprising spatial complexity, with a wide variety of room sizes and wall treatments. The spaces have been tailored to specific functions, making for a highly characterful environment — if one that allows little possibility of the rooms' future reassignment to new uses. The plan bears a strong relationship to that of a traditional Dutch (or English) townhouse, with entry by way of a hall which gives onto a staircase shunted against one side wall.
Where it primarily differs from that model is in the more expansive provision of circulation space and the more open relationship that the kitchen and dining area present to the large garden. The section is more of a departure. It is split, with three very tall rooms — the floor-to-ceiling height in the ground-floor living room is a majestic four metres — fronting onto the street and four more compact levels facing the garden. The planner-designated envelope has also required that the building step back from the garden as it rises, creating west-facing terraces at first and second-floor levels. On the side elevation the resultant complicated profile combines with the freely placed windows that light the staircase, establishing a pointedly less formal impression than the street-facing facade.
For all the challenges that realising the project has entailed, Maccreanor speaks positively about the hands-on education, particularly in environmental techniques and prefabrication, that it has afforded him. The houses built by young architects frequently have the character of advertisements, their formal exuberance serving as an announcement of a new and radical talent. As the director of a long-established practice, Maccreanor has perhaps felt freer to focus his ambitions on the not inconsiderable challenge of making a beautiful and technically sophisticated home that sits well within the city. The project's radicalism ultimately lies in its very normality, in the sense that so many of its advances could be readily applied to the kind of volume housing in which Maccreanor Lavington excels.
It is an impressive project in its own right, but its greater value might lie in its role as an exercise in research and development.
PROJECT TEAM
Architect Maccreanor Lavington
Structural engineer Pieters Bouwtechniek (Jaap Dijks)
Timber frame Holzbau Sauer
Interiors Waldemar Roszak
Environmental consultant Sabine Groeneveld
Gerard Maccreanor's Hoflaan 15 sustainability strategy
The house was never intended to be a demonstration project but it was to be a learning process both personally and for the office. Therefore we set a high ambition to achieve zero carbon in construction and low energy in usage (equivalent to passive house standards). These were targets and not absolutes that we wanted achieve with minimal means. Initially we intended to build a certified passive house but during the design process dropped the aim to achieve certification, although we still build with passive house principles and to the passive house standards on airtightness, U-values, and thermal bridges. 
We were aware that the act of building a 300-1200m³ house, for a family of 4, was in itself a decision that was at odds with the aim of achieving optimal energy use and a low carbon footprint. The choice of site was also not ideal as it meant an East-West orientation and therefore reduced solar gain from a southerly aspect. The site was narrow and led to a 4 storeys house, rather than building a more compact 2 storey house. It sits in the context of a historic street which is in a conservation area, and our own architectural desire to respond to that context and design a building that would 'fit in' was an additional constraint on sustainability. 
We realised early on in the design process that architectural aims would sometimes come before sustainability. Therefore each decision was weighted against either its carbon footprint and/or its energy use. Sometimes the architecture was modified to enhance the performance and sometimes performance was sacrificed to the architecture. 
Of influence in the design process was the writings and collaborations with Howard Liddell from Gaia Architects. As an office we collaborated with Howard on a zero carbon, low energy, golf club in Wigan and a similarly specified visitor centre in Rainham London. I was always impressed by his no nonsense approach. 
Howard has for the last twenty years been on something of a crusade against what he calls Eco-bling or the tendency to waste a lot of money in the name of sustainability in order to be "Seen to be Green" rather than looking at obvious strategies of insulation, draught proofing and use of healthy materials. 
A paragraph from his book Eco-Minimalism is worth quoting - " If they are putting costly photovoltaic cells, hot water solar collectors and personal wind turbines on their becalmed, north facing, turf-roofed, toxic timber clad, non-airtight, poorly insulated houses, finished in high emission materials- and they are sinking electricity- powered heat pumps and rainwater - filtration systems down deep holes- then they could just possibly be spending money more wisely" 
An early decision was therefore taken to limit the amount of technical equipment to be installed. Therefore, no wind generators on the roof, because they don't perform well in built up urban areas; no PV cells, as the payback period is not sufficient; no heat pumps, because they use more electricity than is stated in manufactures literature and no mechanical whole house heat recovery ventilation, because in many cases it just does not work and/or does not provide a desirable internal environment.
We have now lived in the house for 1 year and can now look back at how it has performed in terms of energy consumption and water usage.
Water usage is currently 105lts/p/day and is somewhat over the codes 5 requirement of 80lts/p/day, which is generally understood to be difficult to achieve without grey water recycling. We did however specify the lowest water usage taps and showers that we could find and the lowest water usage appliances. We expected to be nearer the 90lts/p/day usage target. The difference we put down to having two teenage girls who spend increasingly amounts of time in the bathroom. 
In terms of energy use, the UK typical medium consumption is 16,500 kwh at a cost of £608/yr for gas and 3,300 kwh at a cost of £425/yr for electricity. We are currently using 17,000 kwh of gas at a cost of £374yr and 4910 kwh of electricity at a cost of £420yr. Our total energy bills come to £66/month which is 1/3 of our energy cost of our previous home which was built in 1865 and is of a similar size.
Some products and details of the various energy saving strategies are worth mentioning. 
Hot water and heating is provided by a Rotex gas-solar high efficiency gas boiler. We used a dry paved, grooved clay tile, floor heating system to the ground floor, the first floor study and the bathrooms. This system from Lithotherm combines high thermal mass with a very fast surface heating time and can run using low flow temperature water. Energy savings are around 15-20%. In addition to the floor heating which is run at 17 degrees for 7 months of the year, we also have a traditional wood burning stove in the living room which is not only wonderful to sit next to but can give up to 10kw of heat which is enough to heat the whole house on the coldest days in winter. The kids' rooms have small radiators to give additional heat during periods of study. They are rarely switched on. Other savings on hot water come from the drain heat recovery on the showers. This saves 30% on hot water usage and is a no maintenance simple copper pipe in a copper pipe assembly.  
Ventilation is provided by an Itho Demand flow installation. This is a demand controlled ventilation based on CO² measurements in every room. In practice the ventilation is only switched on for short periods and therefore the energy consumption is very low. The decision not to seek passive house certification as mentioned earlier was because we decided against a whole house heat recovery ventilation system which is mandatory for passive house. We believe the Itho system has advantages and none of the problems of a whole house heat recovery installation and is a more simple and practical choice
Timber frame houses are typically characterised by overheating in summer. To combat this we decided early on to introduce sufficient thermal mass so that the house would behave as a traditional heavy weight construction house. Floors which have floor heating are covered in 25mm Beauvillon limestone from the Bourgogne and all walls and ceilings are covered in two layers of 18mm Fermacell which significantly improves the thermal mass ability of the house over plasterboard linings. In addition Velux roof lights are placed in the roof which is open to the staircases and to the ground floor. These are electrically operated on remote controls with external and internal blinds and equipped with rain sensors. During the summer they are programmed to open for 1 hour each day at midday and through the stack effect vent the warm air out of the house. In practice the house is cooler inside in summer than our previous, traditionally constructed house, and even on the hottest days provides a pleasant interior temperature.
One measure that we decide not to implement was the installation of low energy lighting. Instead we have installed traditional tungsten and halogen lighting. This decision was based on the disappointing colour balance of low energy lighting. The harsh stark and cold light from low energy fittings is the main reason why there is not more take up of low energy lighting. All the manufactures are working hard to solve this problem and a lighting consultant advised us that within 5 years we will be able to change in all our high energy bulbs for low energy ones with the same colour balance. We decided to wait!
Postscript:
Photos by David Grandorge